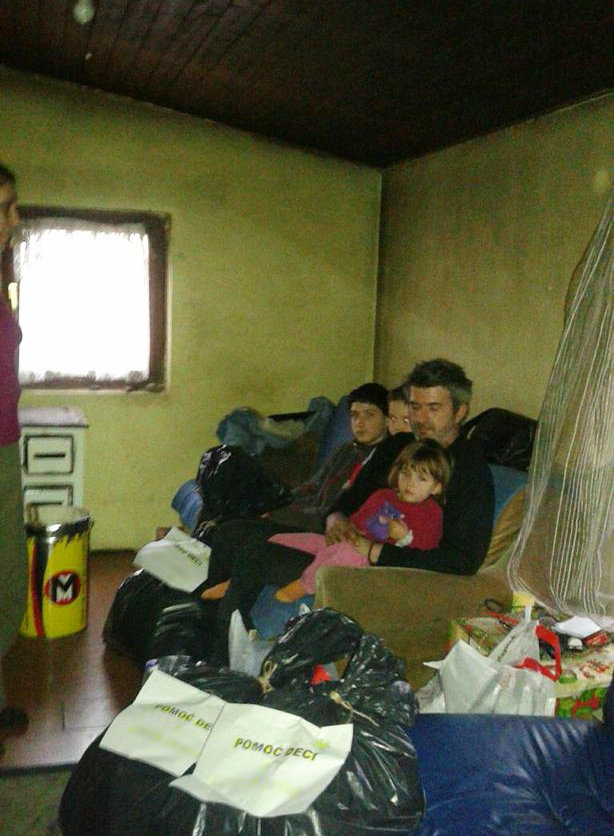 Dear Friends,
Over the last three months You have helped us raise additional 3,000 US Dollars and and so far, within only nine months, we have gathered almost 50,000 US Dollars!
Just last week, we visited a family in Obrenovac, the town that was almost completely under water last Spring and took clothes, food, toiletries and some toys to six children who are still without any electricity or water in Zvecka, a suburban part of the town.
Marija B who is only 13 years old and still in the elementary school, introduced us to her siblings and parents.
"My eldest brother, Stefan, is 20 years old and my youngest sister Katarina is only 3 years old. We all live here and it is very hard to live without electricity and light, especially during the winter when it gets dark early in the day. Danilo (15), Stevan (14) and I are in the elementary school, whilst Jovan (4) and Katarina should be going to kindergarten, but we can't afford it. Sometimes, if I want to learn and do my homework for school, I have to wake up as soon as the Sun rises to be able to see what I need to read and write."
Both parents used to work and provide for the family, but they are both out of work now. The bakery where Nebojsa, the father, used to work, was completely destroyed together with all the machines in the floods and since then has not been opened. "I try to find work wherever possible. I help other people, who have been flooded clean up the debris and rebuild their homes and I sometimes get paid", he says with an uneasy shrug. Tanja, his wife is taking up any kind of work she can find (cleaning homes, ironing, gardening etc.), but they both can hardly earn enough for food for the family.
In addition to the things we gave them, we also signed a contract for the stipend for Marija and are looking for the ways to help them get back the running water and electricity.
We would like to help the youngest two children start going to kindergarten and we can only do that if you continue supporting our efforts to assist the children hit by the terrible floods not only last Spring but also by a new wave in south Serbia just less than a month ago.
We hope you will join us and help OUR children get the food, clothing, and education they need to be happy and healthy and to feel equal to other children!

Thank you very much for the interest and support for our project. Please feel free to contact us with any questions, comments or ideas at pomocdeci@eunet.rs
Links: