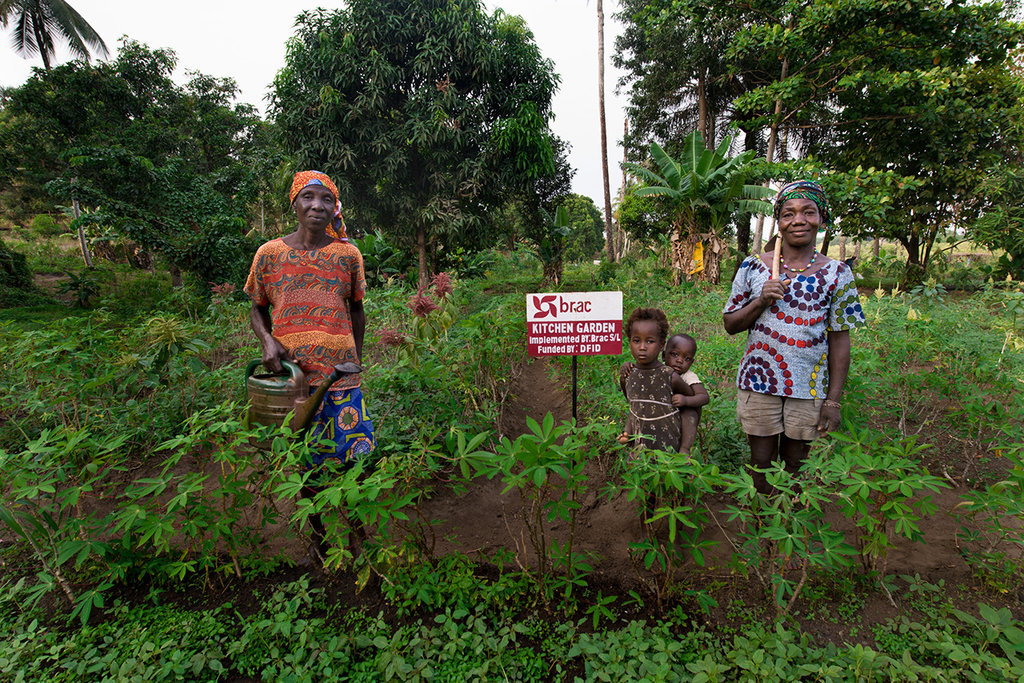 Sallay Mansaray and Tennah Kamara work in the fields, watering their crops in Waterloo, Sierra Leone. With your help we can help these women get back on their feet.
Although the situation in West Africa is by most measures under control, the impact of the Ebola outbreak on community and farming activities in Liberia and Sierra Leone has been catastrophic. As governments closed or restricted cross-border transactions, there was a scarcity of agricultural inputs such as fertilizers, seeds and agro-tools. This lead to a drop in output from farming activities and also caused disruption to the regular farming cycle. Although all BRAC operations in Sierra Leone and Liberia resumed in November 2014, the farmers are still struggling to produce crops due to a price hike in seed prices.
BRAC intended to make the program self-sufficient in the third year of its operation, but had to reassess this goal and reallocate funds to maintain farming activities during the Ebola crisis.
BRAC is taking necessary steps that aim to accelerate the recovery process for the farmers affected by the Ebola crisis. This includes developing a program that will build the capacity and resilience of Agriculture systems in order to achieve long-term positive social, economic and nutritional results. The recovery program also promotes entrepreneurship and improvement in food supply production. BRAC will also provide financial and credit support for farmers and micro-entrepreneurs who have been directly affected by the outbreak. We are looking to raise funds that would allow us to provide cash transfers to the farmers in order to support household income and help replace raw inputs, such as seeds and fertilizers.
Thank you for donating to support this work. As we look to build further resilience in West Africa we appreciate your help to put entreprenuers back on their feet!