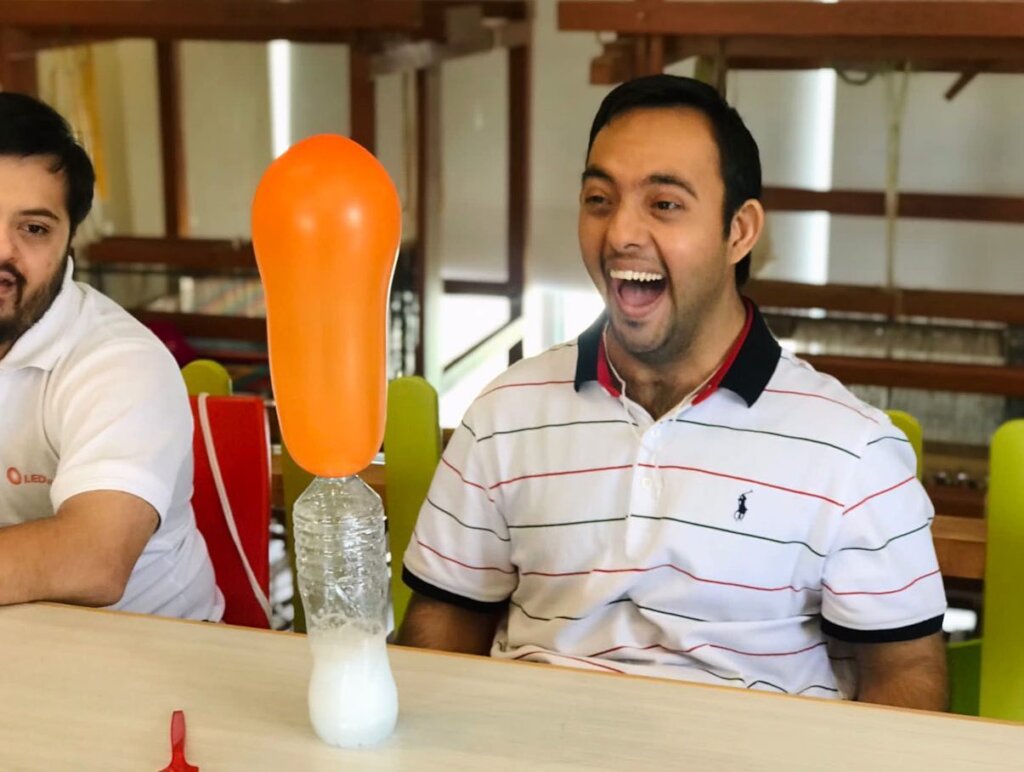 Dear Supporters,
The last quarter at the Karachi Down Syndrome Program has brought new horizons of growth and a new facility, called the "KDSP Learning Centre" (KLC) - A second KASHTI* joining KDSP's fleet. The theme of 'Pyaar Baanto' continues this quarter and is manifested into reality with KLC, a feat only possible with the love and support of you, our supporters. With this new facility, KDSP now has the infrastructure to expand the scale of their services and offer more programs. The facility hosts two of KDSP's essential services – Education, and Enrichment & Skills Development.
Below mentioned are some of the highlights from this quarter:
Family Support:
KDSP organized a training on Supporting Your Child with Down Syndrome through Puberty on the 11th and 12th of March which benefited 17 parents and caregivers of individuals with Down syndrome. The session was conducted by renowned professionals within their fields working for individuals with Down syndrome, including Dr. Salman - Pediatrics, Ms. Aamna - Clinical Psychologist, Dr. Kishwar - Pediatrics and Ms. Mahrukh - Psychologist.

Review:

"The sessions were very impressive and motivational. They surely are very helpful and informative for guardians of individuals with Down syndrome. I appreciate KDSP's efforts in arranging these sessions and I look forward to attending more in the future". – Shahnaz, mother of Mahad
Early Preschool Program Parents Support Group:

An emotional processing support group was launched for parents and caregivers of children enrolled in Early Preschool Program in May 2022. The group was led by an Integrative Psychotherapist and Counsellor Ms. Zahabia. The support group was aimed at providing parents with a safe and open space to share their thoughts, challenges, emotions and feelings and to find strength, motivation and support. So far 4 sessions have been conducted which have benefitted 15 parents and caregivers.
An abstract Art Workshop for siblings ofindividuals with Down syndrome to provide them an opportunity to gain peer support was held on 11th June. Although being a sibling of a person with Down syndrome can be a wonderful experience, it may sometimes feel isolating. This workshop enabled 11 participants to learn Abstract Art techniques led by Ms. Fatema, in a safe and positive space while also allowing them to creatively express themselves and seek support from shared experiences. After the art class a Sibling Mentor- Ms. Fizza also spoke to other siblings about her journey of being a sibling of an individual with Down syndrome.
Awareness:
KDSP continued conducting awareness sessions at schools and organizations. The purpose of these sessions is to sensitize students and employees on what Down syndrome is, the preferred language that should be used and showing to them the importance of including such individuals within society.

Sessions in the past quarter have been conducted in multiple organizations such as Total Parco, and The Body Shop amongst other local organizations. Along with this, we had guided tours within KDSP for people to experience firsthand interactions with beautiful souls while being part of different activities and for them to learn more about our journey. As we believe in integrating individuals with Down syndrome into mainstream society, awareness sessions were also conducted at different educational Institutes.

A total of 1050+ individuals in the past 2 months have been educated regarding Down syndrome.
Every year, in the holy month of Ramadan, KDSP runs a campaign to build awareness about KDSP and raise funds. This year the campaign took place in April 2022.
The CEO, Co-Founder & Director and the Head of Speech and Language Therapy at KDSP attended TV shows to raise awareness about Down syndrome along with families from our Family Network.
KDSPs CEO - Ms. Samar and KDSP's Co-Founder and Director – Mr. Ali were on several popular local podcasts where they talked about KDSP.
Renowned Pakistani Politician - Ms. Sharmila,visited KDSP to co-conduct a storytelling session in June 2022
Healthcare:
In April, the Healthcare Department at KDSP signed a MoU with Aga Khan University Hospital to provide high quality healthcare services at subsidized costs for individuals with Down syndrome all across Pakistan. 80 individuals have already benefited via this fruitful partnership, and we hope to continue aiding many more.
KDSP organized a one-day workshop at Indus Hospital in April 2022. The workshop invited physicians and residents of the hospital to attend a training covering the basics of care delivery for individuals with Down syndrome. The workshop was divided into three parts – awareness, family support and health care - because it is vital to involve multidisciplinary personnel to contribute to the team approach that is required to provide effective care and management of health concerns faced by individuals with Down syndrome as we make the shift to a more inclusive society.
KDSP hosted a Pediatric Cardiology Clinic with Dr. Fatima (Pediatric Cardiologist, Aga Khan University Hospital) in June 2022. 10 individuals with Down syndrome consulted with Dr. Fatima at the clinic, while 12 individuals had their test checkups completed. Dr. Fatima provided guidance on precautionary measures and future steps for individuals requiring treatment.
Enrichment and Skills Development:
Education for Life Program was officially launched in May 2022. The program offers life skills classes, vocational training and physical activities for young adults with Down syndrome. This Program has 10 participants.


For the first time, KDSP has also introduced Photography classes as part of the Education for Life Program. This class is conducted by a photojournalist, Ms. Ayesha. She provides individuals with Down syndrome the opportunity to learn about camera angles, lighting and editing. The class incorporates field trips to allow students to photograph new spaces and landscapes. Students are also taught and encouraged to create a curated photo gallery which can be edited and showcased to parents, teachers and peers. 10 participants are benefitting from this currently.


Another exciting new venture is the introduction of Cooking and Baking classes conducted by culinary student Ms. Zainab. Students learn a variety of different skills such as using kitchen equipment in a safe and independent manner, accurately measuring ingredients, and using their sense of taste, touch and smell to create their own food items. Students are encouraged to create their own recipes and take pride in their achievements. 10 participants are benefitting from this currently.


Another addition to the program is the Pottery & Painting class conducted by Ms. Sadaf. The class provides students with a creative outlet and the opportunity to use a range of painting mediums and clay art material. The goal is for students to communicate through art and create sculptures, decorative pieces and functional items that can be used in their own households or sold elsewhere. 18 participants are enrolled in this.


The Enrichment department in collaboration with the Education department planned a summer camp, in the month of June, for children with Down syndrome between the ages of 7-14. Daily classes focused on crafts, painting, storytelling, music, field trips and endless opportunities for these children to learn and have fun. This program has a total of 27 participants.
Education:
KDSP arranged a field trip for the Early Preschool students and their parents to the Spark Play Center on 19 April, 2022. Their facility has different activity rooms for the kids like an art room, a ball pit, and reading room, pretend play area, sand play, pottery, free play with a child-sized playhouse and cars. 27 children enjoyed maneuvering from one room to another exploring the variety of different activities that each room offers.
We had our open house with the new Early Preschool batch on 28th April. We had different activities such as circle time with everyone, mess-free painting, hand-print caretaker-and-child activity and Eid cards. This event allowed 14 parents to get to know the team and for teachers to have their first proper meet up with the children.
KDSP celebrated Mother's Day13th May by arranging different activity stations including an art corner where children made a mother's day card and headband with their mother or caretaker, a face painting station, and a hairstyle and nail painting station and a food corner. There were 27 participants.
The Early Preschool Program Team arranged a graduation ceremony for the August Batch of 2021-2022 on 12th June, 2022 where 13 kids graduated. Parents of the graduating students and donors were present along with the Education Department. There was a puppet show followed by a photo shoot for the families and refreshments.
KDSP organized a parental involvement day on 28th May, where 21 students along with their parents made crazy hats and enjoyed the activity to its fullest. Kids were eager and excited to indulge in the crazy hat activity. Both the kids and their parents showed their extraordinary creative skills and had a fun time together. The kids also did a fun parade wearing their colorful crazy hats!
A comprehensive online training session was conducted for the third batch of one of our educational program's candidates. 21 candidates were given a detailed overview and step-by-step guideline on how to write SMART goals and develop effective Individualized Educational Plans (IEPs) for their children.
An in-person training session was conducted for the outgoing Early Preschool Program's batch parents by the educational team. It focused on making parents aware of the importance and use of Individualized educational plans in mainstream schooling and also trained parents on how to write SMART goals and develop Individualized educational plans
Early Childhood Intervention:
13 new children were enrolled in physical, occupational and speech therapies during this quarter
275 occupational therapy sessions were conducted during this quarter
273 physical therapy sessions were conducted during this quarter
243 speech therapy sessions were conducted during this quarter
Some stories from the field:
"The session was really nice, I had a lot of fun. The entire workshop had a really positive vibe. I personally enjoyed the painting session but the latter session was very insightful. Even though I myself am a sister to a brother with Down syndrome, I learnt so many new things today. I feel great" – Momina , sister of Yahya on the abstract art workshop for siblings
"Immediately after coming into this world Ali got extremely sick. Doctors' visits soon became the norm. It was during one of these visits that we were told by the staff that Ali had been diagnosed with Down syndrome. As new parents, we were overcome with fear and anxiety. Ali kept getting sicker and soon caught pneumonia. To make matters worse, we were told there was also a hole in his heart and would probably need injections for the rest of his life. At the recommendation of one of the doctors, we found our way to KDSP and they provided us these injections Ali needed for the next 7 to 8 months absolutely free. We enrolled Ali in Occupational, Speech and Physical therapies and saw tremendous progress and Ali now walks independently and has developed a very active personality. I recommend KDSP to everyone who has a child or knows someone with Down syndrome. KDSP is the chance my child deserved." – Mother of Ali
"My daughter started off with mainstream schooling however, after a while she had to leave as the school did not cater to my child's needs. But then it was here at KDSP through which my daughter had a significant change in her development! Eman was home-schooled because of the educational programsand taught skills I would not have imagined my child would develop, if it wasn't for the support we found at KDSP." – Mother of Eman
"Wajiha was diagnosed with Down syndrome soon after her birth, but it took around six months for us to process it. Wajiha's physical and behavioral development has been incredible from the beginning, however her intellectual development in regards to education was tough as I was not sure where and if my child could get education. However, when we came to KDSP those worries of mine went away as my daughter is doing so well in this regard due to her educational programs at KDSP." - Mother of Wajiha
"Muhammad was a premature baby born in Lahore. Soon after his birth he was diagnosed with Down syndrome and not long after battled double pneumonia. Due to his compromised immune system he was kept in the Intensive Care Unit. As a mother, this period of my life was especially difficult. Muhammad's diagnosis was one matter but societies faux sympathies were another matter altogether but neither me nor my husband lost hope. With the support of our close family and friends, and on the recommendation of Dr. Kirmani, we moved to Karachi and came to KDSP. Now at age 4, drastic improvement can be seen in Muhammad's behavior. He benefits from the Occupational, Speech and Physical therapies at KDSP and is also enrolled in the Early Preschool experience Program there. My son now walks independently and love spending time with his peers and therapists. We believe that children with Down syndrome have incredible potential and advise new parents to seek early intervention for their children and invest in them while paying no heed to what society dictates, so that these children can have a far better shot at life than what the society affords them currently."
All of these amazing feats of were possible only with your love and support! Here's to a more inclusive society. Slowly but surely!
Love,
Team KDSP
* KASHTI : An acronymn for our services. The word originally means boat and is metaphorically used for the journey the family takes with us.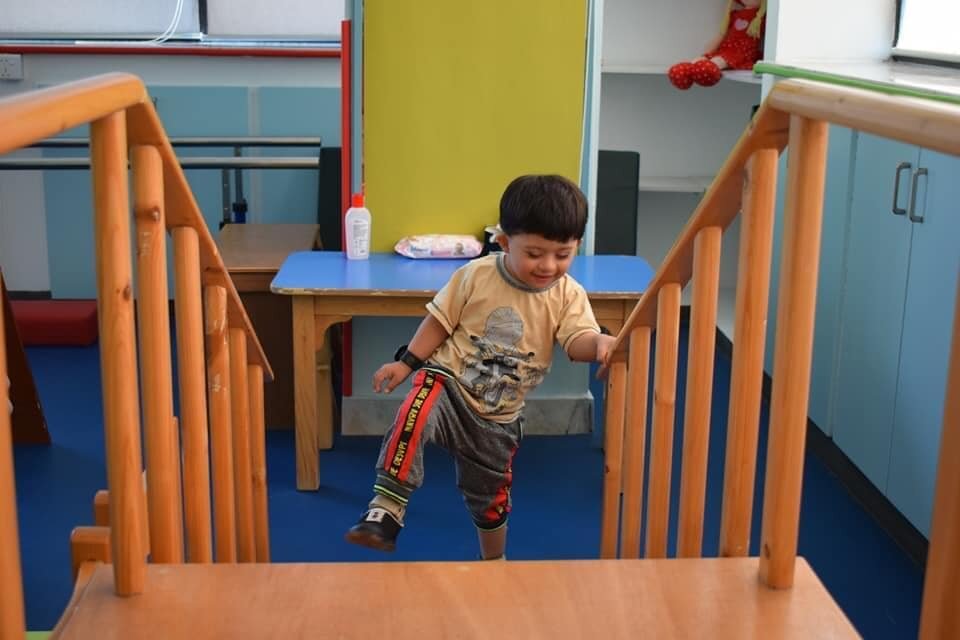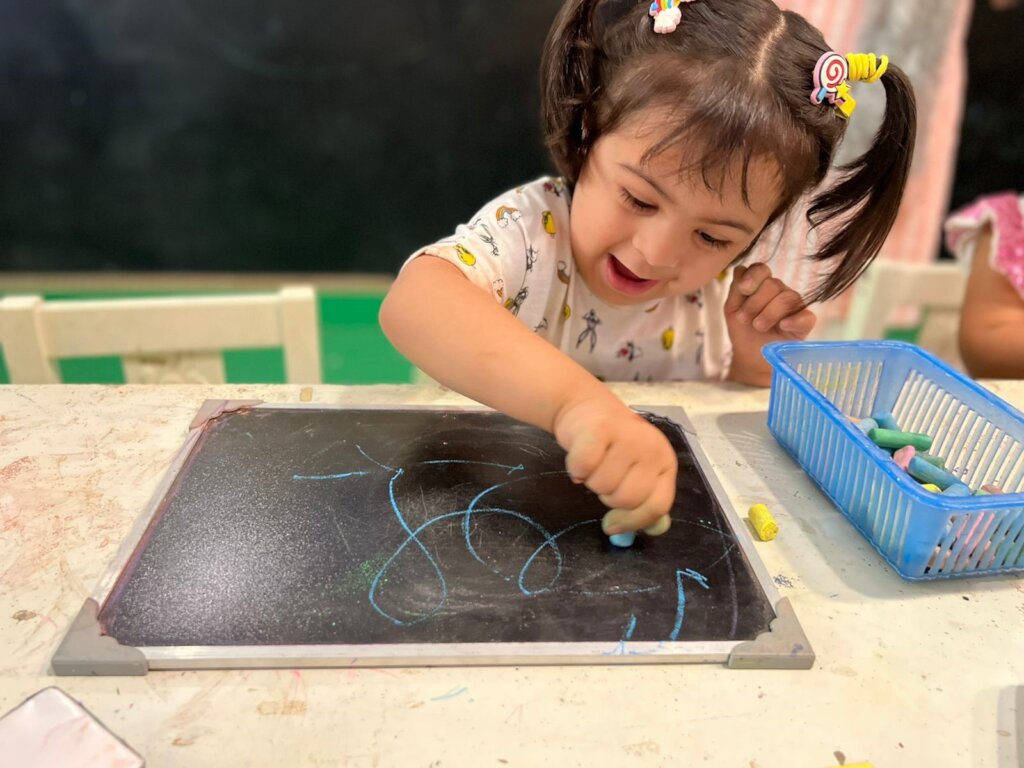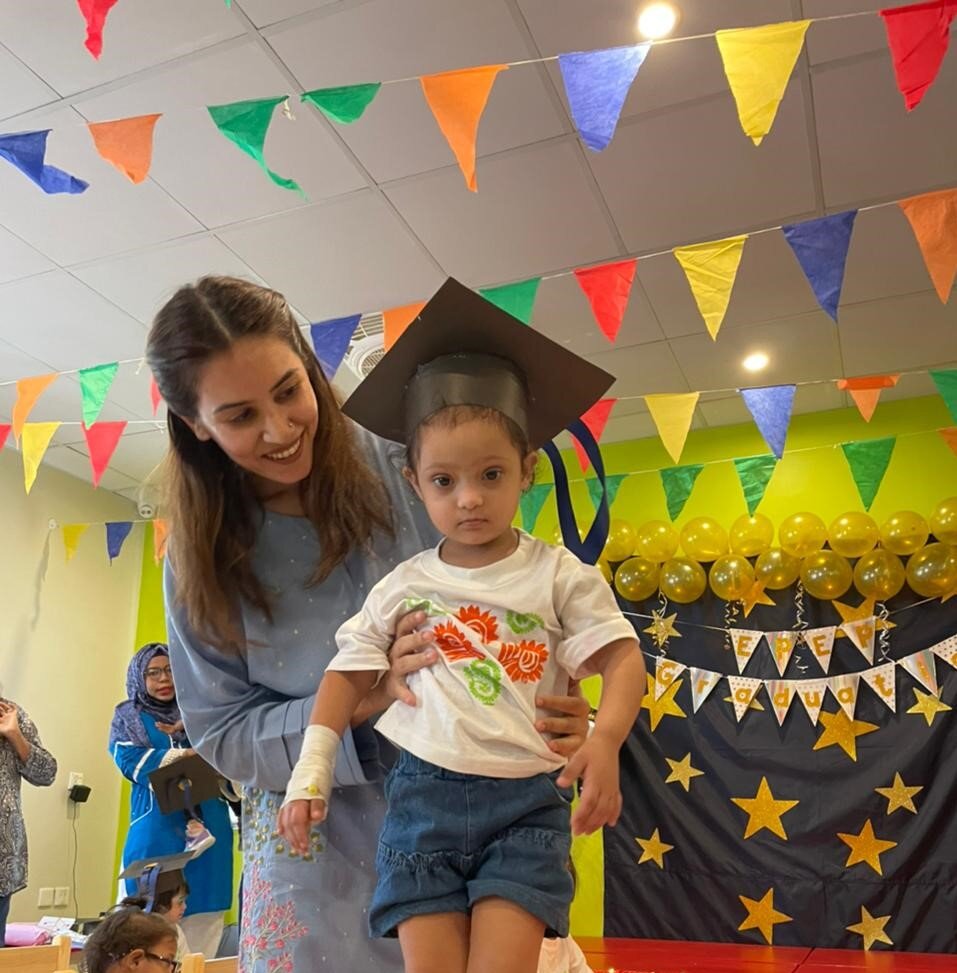 Links: