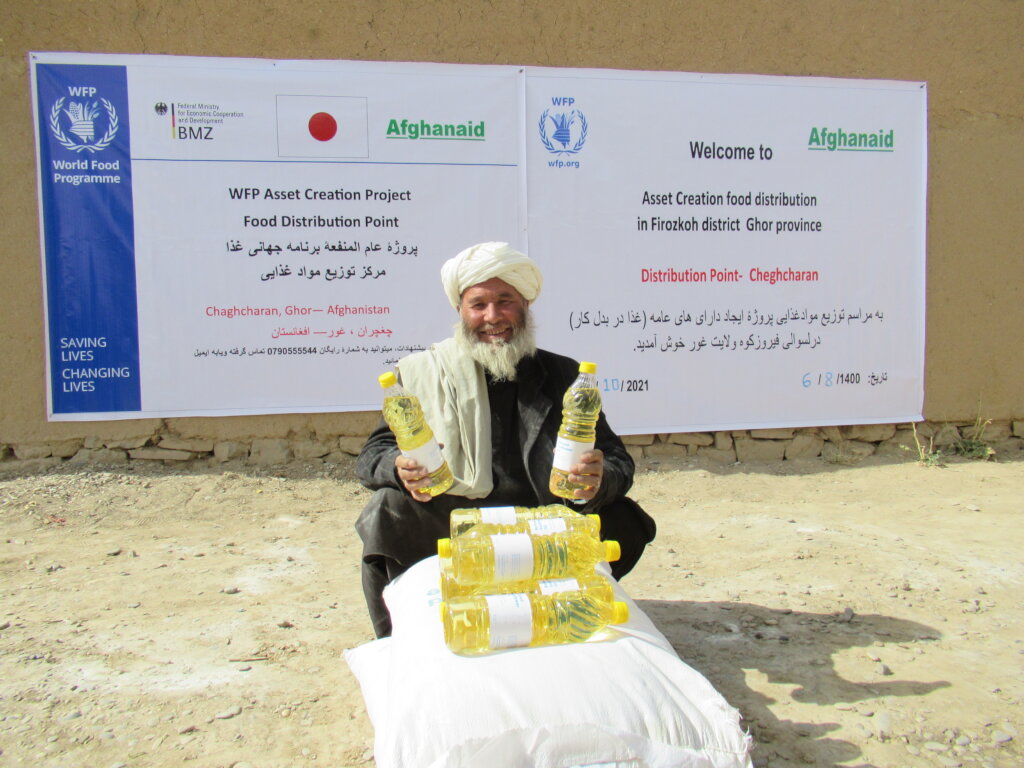 Our update as of January 2022
Following the collapse of the Government in August, we were quickly able to re-open all of our offices across the country and bring both men and women back to work. We conducted a robust review of the most urgent needs facing communities at this time of grave humanitarian crisis and have continued to monitor evolving the situation as it develops. In August, we also launched an emergency appeal. Thanks to your generous support, we have raised over £1.3 million from the public, and we have raised an additional £3 million from institutional donors.
The impact of your support
This money has allowed us to greatly scale up our emergency assistance to support people in Afghanistan to get through this difficult time, meaning that since August 2021, Afghanaid has so far reached over 278,400 men, women, boys and girls with humanitarian support.
This widespread humanitarian relief programme has included activities such as distributing:
Food packages to some 19,558 families, providing enough food for 4 months to get them through the winter. These food packages include things like flour, rice, pulses, oil and other essentials.
2 months' worth of soya-based supplementary food to treat malnutrition for over 3,500 babies and young children from 6 months to 5 years old.
Cash for work and cash for vital household essentials to over 9,430 families.
Emergency shelter and household kits including heating, cooking and hygiene equipment for 2,500 families.
Wheat seed, vegetable and fertiliser as well as training sessions on agriculture best practices to 10,449 farmers including 673 at-risk women.
Abul (picture 1) lives with his wife and their four children in a small village in rural Afghanistan. "We were living in a very bad situation and things were getting worse," he said, "most days we had no food and my children went to sleep hungry. I was worried and stressed. I tried but I could not find a job to feed my family."
"Then Afghanaid came to my village and distributed good quality food packages to families who needed it. This included wheat flour, pulses, oil and salt - enough to feed my family for two months. We will receive another two batches over the coming months, which will see us through the winter."
"As well as this, Afghanaid employed me and other local people to build irrigation structures in our land, to help us grow more food next year. Thanks to this work, I started to receive a wage. I am so relieved - I have enough food for my family and I also have a job so I can support them properly. So now I can say that, thanks to Afghanaid, we are happy."
"Thank you Afghanaid and to everyone involved for making us smile!"
Looking ahead
Thanks to you, we have also been able to plan ahead. This means that in the coming months we will be reaching over 357,300 additional men, women and children with emergency humanitarian assistance, as well as working with communities to recover, rebuild their lives and strengthen their resilience to face future crises.