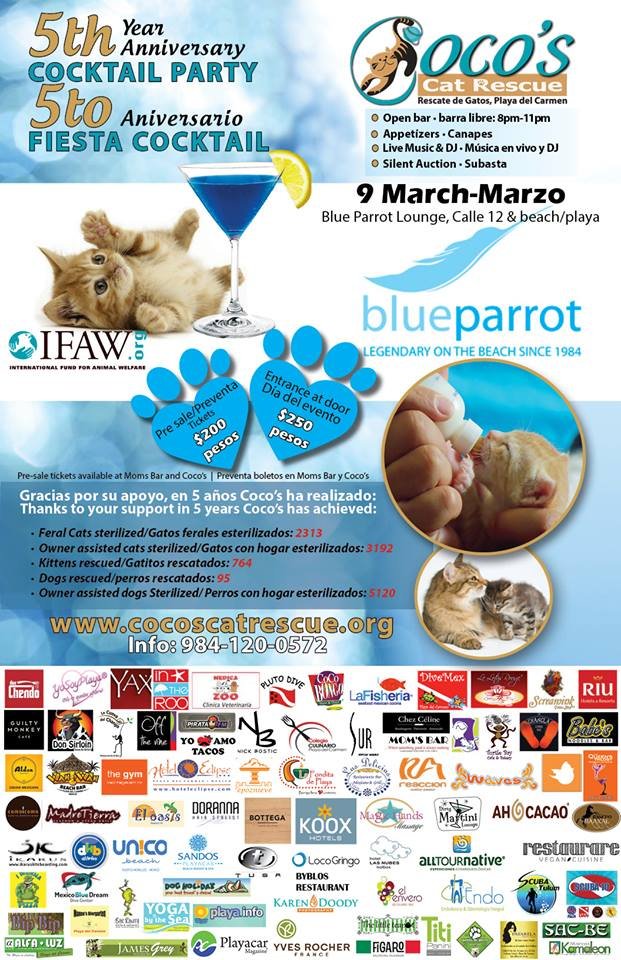 Dear Supporter,
This month we have been working tirelessly to aid our partners Coco's Cat Rescue in preparing for their 5th anniversary fundraising event. Coco's, which runs entirely on donations, provides valuable services to the cats and dogs within the community here in Playa. Their annual fundraising event is a large source of revenue for the team in Las Flores, without which they would struggle to remain in operation. It equally presents them with the rare opportunity to raise awareness on their activities and potentially increase support.
Coco's is run by a small and dedicated team whom we assist in the essential service they provide in Playa. However this team has neither the time nor resources to execute a large awareness campaign and gain sponsorship from the community. This is where we took up the mantle of fundraisers and official procurers of sponsors for the event. With clipboards in hand and our red GVI shirts gleaming in the sun, we took the streets of Playa to tell the world (well, the people of Playa) about Coco's and why we needed their help.
WE SECURED OVER 100 SPONSORS!!!
We managed to gain a large number of exciting and valuable items for both the online and the live auctions which would take place at the event itself. These included donations of art work, jewellery, dinners for two at local restaurants, tickets for tours such as The Jungle Maya tour (worth $2,250 pesos), entrances to the legendary Coco Bongo, diving equipment and instruction, tattoo vouchers, gym membership, yoga lessons and many, many more.
The fundraising not only served to gain donations and prizes for the event but also enabled us to raise awareness of Coco's mission, GVI's commitment to community development in Playa and advocate responsible care of animals. As representatives of GVI on behalf of Coco's we were active and highly visible within the community and fulfilling GVI's community outreach objectives.
All our work culminated in the online auction, which took place the week preceding the event and raised $3798 USD, and the actual fundraising event, tickets were $200 pesos in advance or $250 on the night which took place on Sunday 9th March. At this event the remaining items were displayed for auction. Coco's t-shirts were also on sale. And of course we were there in force supporting our partners Coco's and enjoying their contributions coming to fruition.
Coco's were extremely grateful for our assistance in this venture as they lack the resources and manpower to achieve this level of sponsorship. We do not yet know the final amount raised but we hope that the generosity of the public and businesses of Playa will be reflected in a large total which reflects the work, dedication and worthiness of this cause. We hope that the fundraising, sponsorship and event will enable Coco's to continue and expand (they have some advocacy campaigns and mobile clinic ventures in the pipeline) here in Playa and the wider Quinta Roo region.
Thank you for supporting this project.
All the best
GVI Mexico
Links: