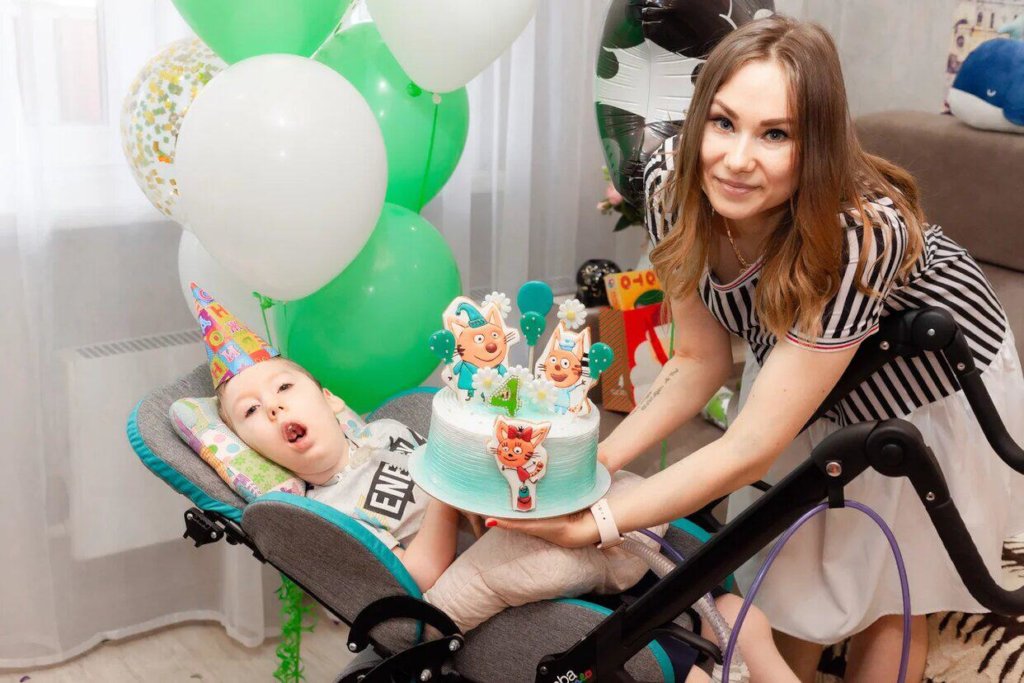 There were 340 children under the permanent care of the foundation in 2020. We purchased breathing apparatus, medical devices, supplies for them and a special meal. To support families, a whole team of help is working — lawyers, buyers, a psychologist and coordinators. The coordinators are in touch with families from different parts of the country — in the morning, in the afternoon, in the evening and at night.
When the child is not hurt and not afraid, he has dreams. So our ward Vanya from Tyumen dreamed of entering Yandex.Lyceum to study programming. Vanya has a serious genetic disease - spinal amyotrophy which takes away the boy's strength over the years. But despite his illness Vanya is always cheerful and patient and in many ways achieves success.
His mother once said: "You know, it's amazing but everything that Vanya makes a wish comes true." So it turned out this time. Vanya is already studying at the Lyceum. For example recently he solved an exam with 100% score — he completed all 4 tasks. Two hours were given for all the work and the timer automatically counted down the minutes. Vanya managed it in a little over an hour and was the first one. The teacher even laughed and said " Fantastic!"
102 families with terminally ill children received assistance in 2020 thanks to the campaign "Children instead of flowers". The idea of the campaign is simple: to give the teacher one bouquet from the entire class for Knowledge Day and transfer the saved funds to support children with serious illnesses.
Thanks to the participants of the campaign "Children instead of flowers" the foundation bought strollers so that children could learn despite the diagnosis. Or verticalizers without which it is impossible for children with spinal muscular atrophy to feel what it is to stand. As well as thousands of medical supplies that help children breathe, eat and live.
For example for 6-year-old Lera from Ryazan the foundation purchased a functional chair. The girl has a rare disease called Aicardi syndrome. She used to spend all her time in bed, but now she can draw at the table, watch her mother preparing dinner and sit at the common table with her grandparents when they come to visit.
And for 4-year-old Robert from Krasnoyarsk (in the picture) we bought a special medical bed. It easily changes her position — now it is much more convenient for Robert to eat, watch cartoons and listen to his mother's fairy tales. "As a man is happy with a car, so I am happy with this bed. When I roll it back and forth the child is so excited, he laughs so much " - Robert's mother Diana.
To celebrate the New Year we have prepared the First Moscow Children's Hospice. "Someone is bringing a package. Someone is turning our windows into a fairy tale. Someone decorates the Christmas trees, the hospice itself. Schoolchildren sew pillows and bake gingerbread. Baskin Robins sends ice cream. I just can't imagine how a magical New Year would have turned out without you! " - coordinator of the First Moscow Children's Hospice Sofia Rzhanitsyna.
And to collect children's gifts, we made a separate website where we collected 435 New Year's wishes of our wards of children across the country. These are children who are seriously ill, as well as their brothers and sisters.
Anyone could become a secret Santa Claus for them and buy gifts that will fly to different cities of Russia.
All of this would have been impossible without help of our benefactor. Thank you very much for your support!
During period July-March we've spend 1 358 889,71$ for our program including:
special meal 250 090,34$
financial support 30 343,65$
medical equipment and its service 574 729,52$
consumables 298 736,60$
funeral services 2 837,07$
medication 3 464,31$
transport services 20 043,32$
stuff salaries 177 527,20$
other expenses 1 117,70$