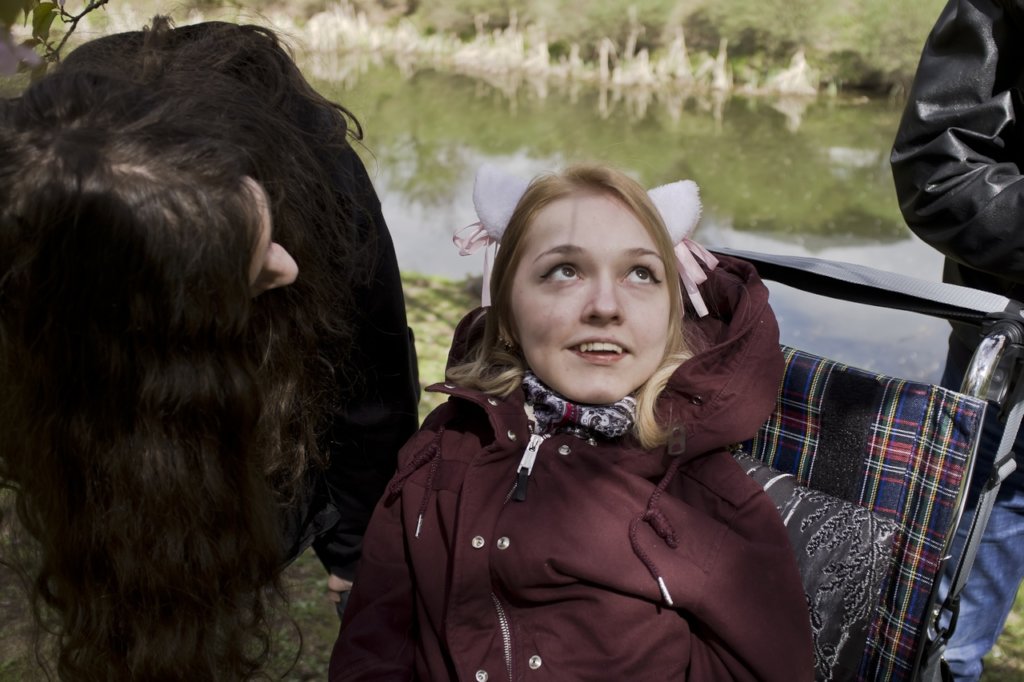 Over the past three months we made a lot of progress together with our volunteers and donors. Besides the daily efforts of the "Children's Aid" program, we have been running public fundraisers to provide specialized nutrition and medical equipment for our little patients all over Russia, purchasing the essentials, and organizing parties at the pediatric palliative care department of the Morozov's Hospital and the Moscow Children's Hospice... But there was one story that stood out the most and touched us deeply, and we would like to share it with you.
Five years ago, we learned that there is a girl in Kazan called Elya who is crazy about Japan.
She loves anime, where you can have superpowers, kiss under the sakura branches, cry an ocean of tears, scream so loud that your cry would be heard on the other side of Tokyo, and steal hearts. Thanks to Elina, we learned who Naruto is.
Elya was 16 years old then; she weighed 16 kilos and was diagnosed with spinal muscular atrophy type 2. The body muscles weakened, and her back folded like a closed book, which caused terrible pain due to the ribs sticking into the internal organs.
Secretly, while her mom didn't see, Elya opened a letter from a Moscow surgeon whom her mom asked to operate on her daughter. The doctor wrote that he was afraid that the fragile girl would die on the operating table.
Elya wrote back to the doctor herself, saying that she'd rather die than continue living like a closed book.
The surgery lasted for six hours. The surgery helped.
Plates (spinal braces) were inserted into her back, and her ribs stopped squeezing her lungs.
We bought a lung ventilator for Elya, which will support her breathing, and an electric wheelchair, which will help her move around independently.
Now the Fund regularly sends supplies and specialized nutrition to Elina.
But what can we do about her dream of seeing Japan?
We thought through various options, but no matter which way we looked at it, the long flight would be torturous—even a strong girl like Elya was not ready to take this risk.
Mt. Fujiyama is not in Kazan. And not in Moscow either. But sakura started blooming in Moscow in early May.
That's how the big Moscow-Japanese trip started. The Fund's friends helped us make this dream come true. There was sakura in the Botanical Garden, the "Japanese Beauty" exhibition in the Arts Center, dinner at a Japanese restaurant with a special menu by chef Hideki Kishimoto, a boat cruise, a visit to the observation deck on the 89th floor of the Moscow City tower, Japanese sweets, and a samurai cat which came to Russia from the Japanese city of Nara.
In a thank-you note sent from Kazan upon their return, Elya's mom wrote: "We even saw real Japanese—at the hotel and at the Bonatical Garden :) Everything that has to do with Japan, we saw enough of it in Moscow. Really, it is a stunning city; we didn't want to leave."
Thanks to the help of our volunteers and donors, we provide families of terminally ill children with the necessary equipment and supplies, and sometimes even make the kids' dreams come true.
Thank you for being with us and for helping us give terminally ill children the gift of real childhood with all its joys, big emotions, and discoveries.
Below is the data on allocated charitable expenditures this time:
01.04.19 through 30.06.19
Medical equipment and its service … $50849
Equipment consumables…………..... $50593
Special nutrition……………............... $76306
Financial help to families …............... $10003
Transport services …………….......... $7693
Funeral services ……………............. $4122
Work of team of this project (coordinators, psychologist, lawyer and etc.) …....…………….......……………........ $61143
Total …………….............…………….$260709
*We thank Veronica Demichelis for her generous help with rendering this text from Russian into English.