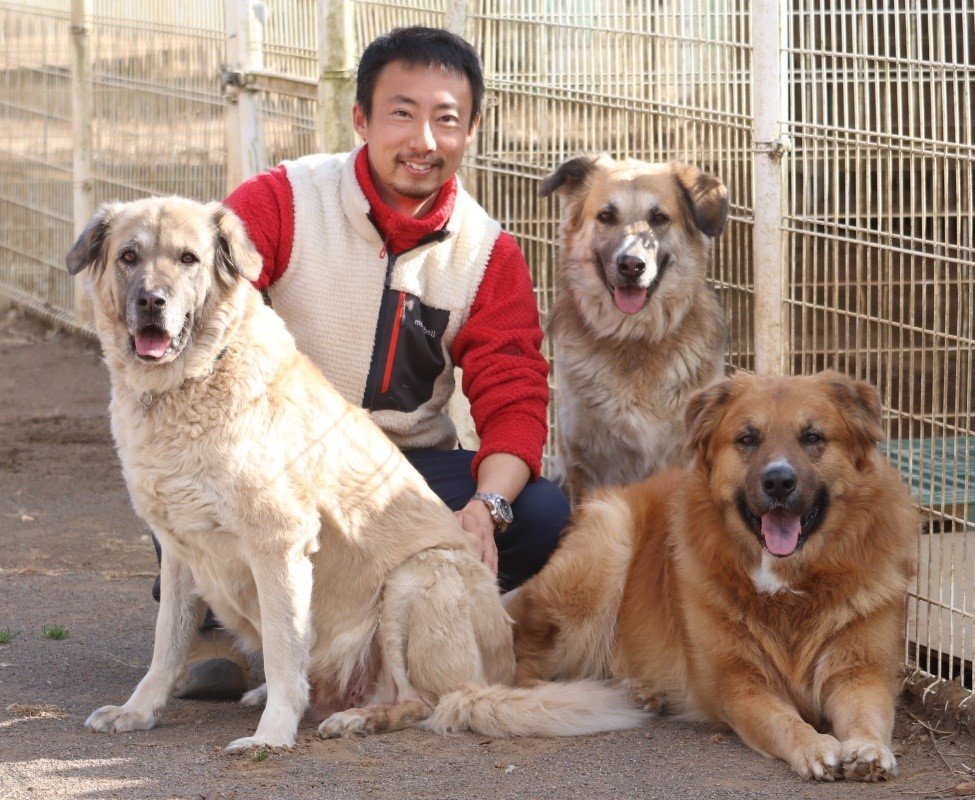 Hello.
Thank you for your continuous warm support for JATA's "Stray Dogs become therapy dogs" project.
Last time we introduced Ace, one of our Kangal-mix-dogs. Since this is a sequel, we will continue our report on him.
If you would like to read about his background, please see the previous report.
Fuji no Sato in Mishima in Shizuoka Prefecture, where Ace lives, is located on a hill overlooking the symbol of Japan, Mt. Fuji. Recently, plum blossoms have begun to bloom, making us feel the arrival of spring.
Ace will be seven years old in April this year, but he is as energetic as other younger dogs. However, having a weight of over 50 kg and strength, but with a slightly timid personality, there are still many challenges for him in building relationships with other dogs.
To overcome these challenges, our staff is trying hard every day.
This time, we would like to introduce some of the challenges we are tackling.
Challenge 1 "Becoming friends with other dogs"
This is the biggest challenge for Ace; he can get along with his parents and siblings, but sometimes he can get aggressive to others. One of the causes for a dog to be aggressive can be explained by a defensive reaction to protect itself. But it is also important that the diet, the amount of exercise, and the living environment are fully satisfied. Until recently, we had let him move freely in the outdoor plaza, but now we are trying to get him used to various stimuli by taking a walk with a leash and giving him the opportunity to meet other dogs and get used to cars passing by. He eats two meals a day and spends a relaxing time in a calm room where he can sleep comfortably on bed.
We are trying build the relationships with Ace and other dogs step by step, by choosing relatively calm dogs and putting on muzzles just in case, and letting them spend time with each other. There are still times when he gets aggressive, but even so, it is becoming possible for the Ace to regain his composure and follow our command.
Challenge 2 "Getting used to changes in the environment"
Ace has been living in the dog farm Fuji no Sato since he was born.
For Ace, going out of that place, even for a small walk, was a new challenge. However, nowadays, we take him outside every day, and even sometimes out of the prefecture.
He got used to traveling by car and can stay calm without getting motion sickness.
We have also begun to visit tourist destinations, take a walk there, and explore the city. Since Ace is a super large dog, he is an eye-catcher to many people. It's a funny story, but some people first think that Ace is a bear, not a dog.
Usually when a dog is placed in an unfamiliar environment, they can be restless, lose appetite, and become ill. At first, Ace seemed uncomfortable, but as the days went by, he got used to it, and now he can spend his time relaxed. While gradually expanding the range of activities, we will continue to do our best to maintain harmony with many people and dogs.
Challenge 3 "Performing animal therapy activities"
JATA conducts animal therapy activities more than 400 times a year, mainly in the Tokyo metropolitan areas. There are a wide variety of activities such as facilities for the elderly, facilities for the disabled, hospitals, and schools.
A specially trained therapy dog and a dog handler, or an animal therapist, will work together to create a relaxing place where people can interact with the dogs, soothing bringing positive energy. .
Ace has also started therapy activities little by little as a therapy dog trainee. The current place of activity is in front of the train station where many people pass by. Activities in front of the station is an important training opportunity for dogs, since there are many stimuli, such as the sounds of trains and cars running, people passing by and dogs taking a walk. It is important for dogs to get used to this environment, because when visiting facilities, dogs need to be calm and in harmony with many different people and noise.
Although at first Ace seemed to be uncomfortable, the repetition of the activity made him used to the environment. Now during this activity, he is very friendly and even approaches to people to get strokes. He even lies down showing his belly and is popular amongst young children that touch his large body and smile.
Many people are healed by Ace's gentle eyes and dignified behavior.
As the existence of handlers (animal therapists) who work together is also very important, we will continue to build relationships of trust with Ace, so that he can think that the time he spends with the handler is fulfilling than anything else.
So, these were the challenges of Ace.
Our staff is encouraged by the fact that the dogs who have never left Fuji no Sato are getting familiar to other environments and people. We will continue to fully support Ace's growth, and we strongly hope that he is truly happy!
Thank you for your continued support.
NPO Japan Animal Therapy Association
Social planner
TAKASHI OKUMURA
Profile
http://animal-t.or.jp/html/examination/animaltherapist-examination/to/01.html
https://japananimaltherapyassociation.wordpress.com/