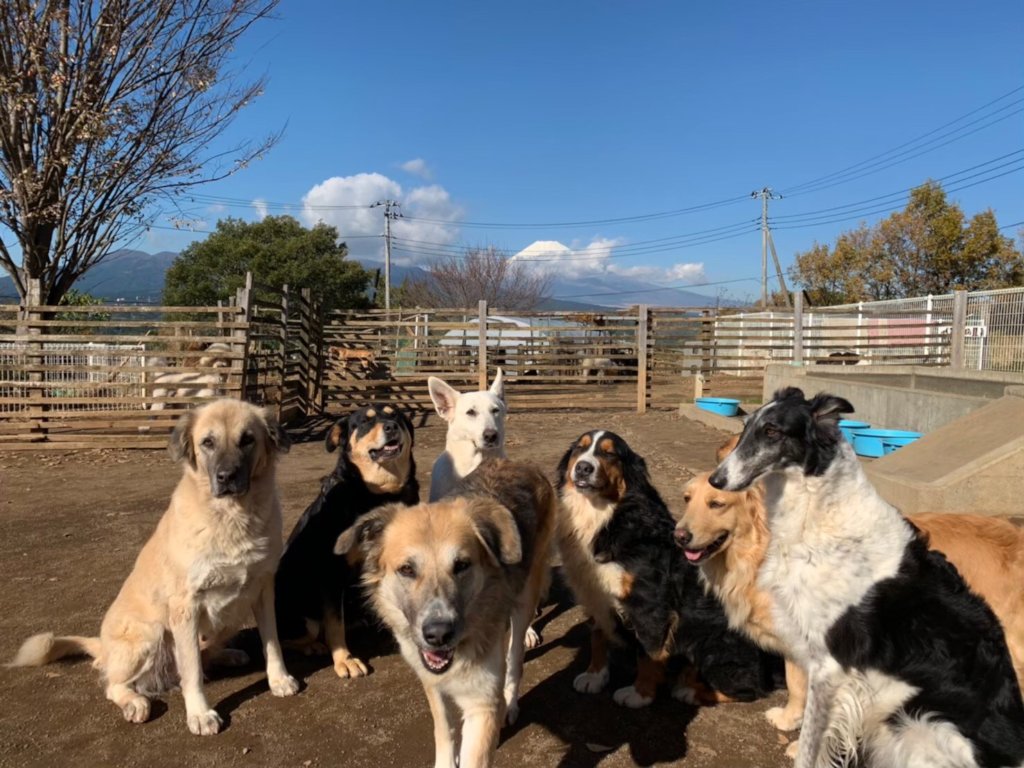 Hello!
Thank you as always for your warm support for JATA's "Stray Dogs become therapy dogs" project. This time we introduce you our facility, "Village of Fuji".
"Village of Fuji" is located in Mishima-city, Shizuoka prefecture at the foot of Japan's most famous mountain, Mt. Fuji. It is approximately two hours from Kanagawa prefecture where JATA's headquarters is located. In "Village of Fuji", dogs live freely and easily in a vast area of approximately 2,000m2. In the summer, they enjoy bathing in the swimming pool for dogs.
Kanagawa headquarters is located in the downtown and dogs are living indoors. Though the room temperature is controlled and it is comfortable as the risk of infection caused by insects is mitigated, dogs cannot run as much as they want given a limited space. For the purpose of mental and physical care for dogs, we periodically rotate dogs between headquarters and "Village of Fuji". Like humans, a therapy dog can heal people only if it is healthy both physically and mentally.
More than 40 large dogs are living together in "Village of Fuji". We carry out animal therapy that allows you to contact with dogs indoors and outdoors. Dogs that were once wild dogs are also active as therapy dogs. All dogs welcome anybody friendly. People who visit "Village of Fuji" feel open-minded in an environment where a magnificent view of Mt. Fuji can be seen and play with large dogs running freely around them. They go back to cities with smiles after being mentally and physically refreshed,
Frequent visitors to a salon in Kanagawa prefecture where they can contact with therapy dogs called "Healing Salon for Human and Dogs" come all the way to "Village of Fuji" to see therapy dogs who moved there in rotation. They are happy to reunite and so are dogs.
Johan who used to be a stray dog provided therapy to many people at "Healing Salon for Human and Dogs" and currently does his job in "Village of Fuji". There are many people who support Johan. Johan has gone to the far away "Village of Fuji", and the supporters living in the city miss him without being able to meet Johan. Having said that, they say if Johan is happy in a place he loves, they would also feel happy and strive. And they often come to see Johan.
In addition, "Village of Fuji" is an important place to train puppies to be therapy dogs. While it is certainly important for puppies to contact with many people in a period when they learn to adapt to society, it is also equivalently important to learn about dog society. In "Village of Fuji", among various kinds of dogs from small ones to large ones, they learn skills to communicate with other dogs. Not only Johan, but also other therapy dogs who used to be stray dogs have educated many puppies. Puppies who were raised in "Village of Fuji" have grown to heal people as therapy dogs.
Facilities in "Village of Fuji" are aging. Two years ago, we set up a new kennel with donations from everyone. Thanks to everybody who supported, they are able to survive in winter and summer and spend their time comfortably. We would greatly appreciate your warm support.
Now a fence surrounding "Village of Fuji" is deteriorating. In addition, several typhoons damaged it. Though we manage to maintain it by repairing it every time it is damaged, it is a quick-fix solution. It needs to be rebuilt. Then it would be much appreciated if you could provide us with your warm support for our effort to create an environment in which therapy dogs in "Village of Fuji" can live comfortably.