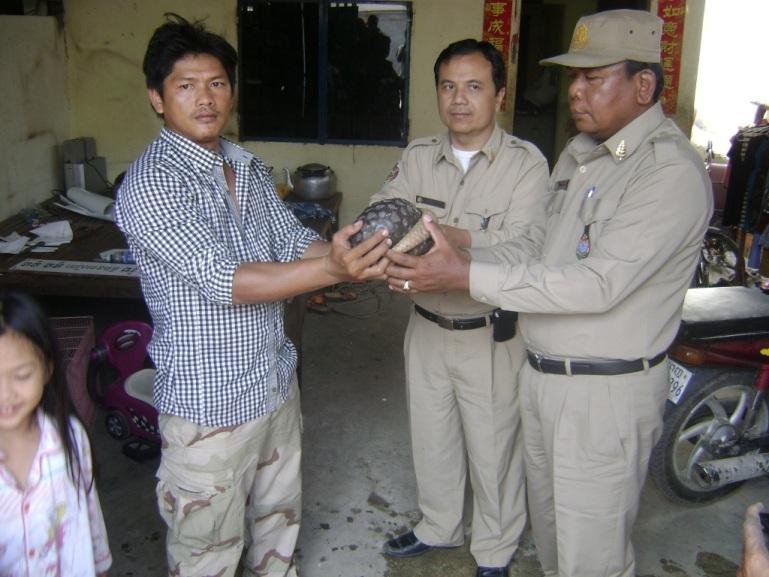 Last quarter, in an encouraging sign that our wildlife conservation awareness campaign is working, the Wildlife Rapid Rescue Team (WRRT) received a call on Wildlife Alliance's nationwide rescue hotline from a resident near Oressey Market in Phnom Penh, about a pangolin that they had found on their property. The team arrived at the address and rescued the pangolin that had probably escaped from a nearby trader. The investigation into the origins of the pangolin is continuing. Considered the most heavily trafficked mammal in the world, the illegal trade in pangolins has reached epic proportions, and these once common animals are now classified as Critically Endangered. In China and Vietnam, their meat is considered a delicacy and is sold for $350 per kg; their scales are used in traditional medicine, and can be worth up to $1,000 per kg. This lucky pangolin was transported to Phnom Tamao Wildlife Resuce Center where it was given a medical examination and then subsequently released.
As a 12-man operation, the WRRT works effectively by utilizing an informant network system and a 24-hour hotline number that allows the general public to provide information on wildlife trafficking. The hotline is manned by Khem Vuthyravong, the WRRT manager. Thanks to Wildlife Alliance's Anti-Trafficking Campaign which uses billboards and Public Service Announcements to improve awareness, the number of calls reporting on illegal wildlife has increased. Last quarter, the hotline received a total of 398 phone calls, of which 193 came from our own informants, 68 came from local Forestry Administration offices requiring our assistance or giving us information and 137 calls came from the public, either with information or the donation of an animal. Calls from the public came from both Cambodian citizens and foreign visitors. Little can be accomplished without assistance from local communities, and it is vital for the WRRT to continue to increase awareness and expand its informant network, and without these tips it would be impossible for the team to conduct nearly as many raids and rescue operations.
Thanks to your support and donations, so far this year the WRRT has conducted 303 operations, rescued 1,674 animals from the illegal wildlife trade, been able to release 1,674 healthy rescued animals and imposed $27,247 in fines for illegal wildlife trading. Help them continue to effectively work throughout the region and rescue victimized animals by making a gift today!
The WRRT is a Forestry Administration law enforcement unit led by the Forestry Administration, in cooperation with the Military Police, with technical and financial support from Wildlife Alliance.