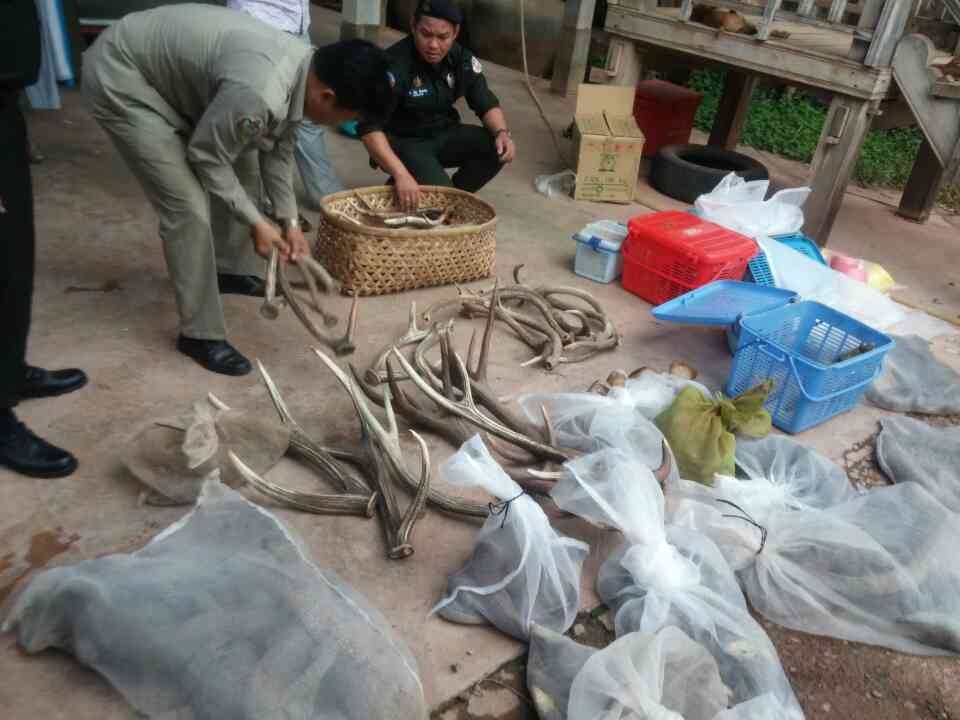 On June 2, 2015, the Wildlife Rapid Rescue Team (WRRT) conducted two major raids that resulted in the confiscation of 44 various horns and skulls and the rescue of 82 live animals. The day began with a house raid in O'Krieng Village in the Sambo District of Kratie Province. The team received information about the trader from its network of informants and subsequently conducted investigations and surveillance on the suspect. Once their investigations confirmed that the trader was involved in illegal wildlife dealing, the WRRT went into action.
At dawn, the WRRT surrounded the house, preventing the trader from escaping or destroying evidence. Once inside, the team apprehended the suspected trader and conducted its search of the property, ultimately rescuing 27 Bengal monitors, one water monitor, three elongated tortoises, five rat snakes, one myna, and one changeable hawk! Unfortunately, the team isn't always able to save every animal from this cruel trade. That morning, the WRRT also seized 31 various horns and 12 muntjac skulls and 0.2 kg of bear bone. These items are highly valued in traditional Chinese medicine, and the trade is putting a tremendous strain on wild populations.
Later that day, the team travelled to Tapaing Pring Village where they conducted a similar raid. The WRRT rescued four king cobras, 8 rat snakes, 23 tortoises, three civets, one softshell turtle, four Bengal monitors, and one python. In both instances, the traders were levied heavy fines, rescued animals were taken to Phnom Tamao Wildlife Rescue Center, and confiscated wildlife parts were destroyed.
Driven by the sharp rise in demand for rare animal products in countries like China and Vietnam, the prolific trade in illegal wildlife is estimated to be worth $19 billion. The WRRT works tirelessly to protect Cambodia's wildlife, by investigating traders and bringing them to justice.
Thank you for your continued support and dedication to stopping wildlife trafficking. Make your gift go further this Bonus Day! On July 15th, donations of up to $1,000 made through GlobalGiving will be matched at 50% while funds last - hurry because funds run out quickly! With your help, we can stop Cambodia's wildlife from being hunted to extinction before it's too late!
Mark your calendars for July 15th and don't forget to share this great opportunity with your friends!
The WRRT is a Forestry Administration law enforcement unit led by the Forestry Administration, in cooperation with the Military Police, with technical and financial support from Wildlife Alliance.