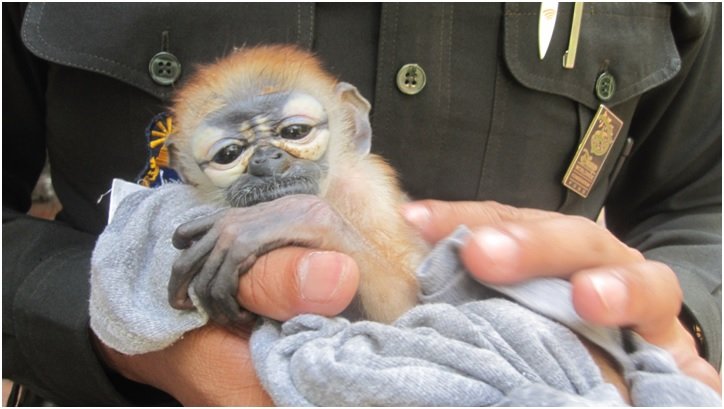 This week, we launched a microproject to help the Wildlife Rapid Rescue Team (WRRT) rescue trafficked primates in Cambodia. We would like to thank you for your continued support, and share some of the important work the WRRT does to combat this illicit trade.
There are 634 species and subspecies of primates in the world, from humans and apes to monkeys and prosimians. These incredible animals are known to show a range of emotion, have opposable thumbs, use tools and have complex, species-specific social behaviors. People are often fascinated by these diverse, highly intelligent, social creatures, because so much of our own behavior and evolution is reflected in them. Sadly the future of mankind's closest relatives is uncertain. Rampant habitat destruction exacerbated by poaching for food and to supply traditional Chinese medicine and the illegal pet trade are decimating primate populations. According to the International Union for Conservation of Nature (IUCN), 48% percent of all primate species are threatened, and over 70% of Asian primates are facing extinction. In Cambodia nine out of the 10 primate species are listed as either Endangered or Threatened. Entire families and troops are caught in order to be sold as food or for lab research, and infants are torn away from their mother and sold into the exotic pet trade until owners realize they cannot control these wild animals.
While the situation maybe dire, the Wildlife Rapid Rescue Team (WRRT) is actively fighting to protect these 10 species before it's too late. Since 2001, the WRRT, a law enforcement squad devoted solely to combating the illegal wildlife trade, has rescued over 2,500 gibbons, langurs, macaques and lorises. Last year alone, the team rescued 85 live primates from 8 different species. Seven of the 8 species types rescued last year are listed by the IUCN as Vulnerable, Endangered, or Critically Endangered, all with decreasing population trends. The WRRT's presence in Cambodia to rescue primates and halt the illegal wildlife and pet trade is critical. Every individual primate rescued is significant to the survival and continuation of the species. Rescued animals that can no longer survive in the wild are given a life-long home at Phnom Tamao Wildlife Rescue Center (PTWRC).
Caretakers at PTWRC work hard to rehabilitate the animals, and house them in spacious enclosures to facilitate natural behavior. These large, natural enclosures enable the process of de-humanization in order to make their offspring suitable for reintroduction into the wild. Wildlife Alliance has been reintroducing primates back into the wild for several years, most notably with the recent release of gibbons and langurs into the Angkor Temple Forest Complex. It costs the WRRT approximately $55 to rescue a primate and approximately $500 to conduct a successful operation. This consists of paying informants, researching trade networks, conducting undercover investigations, saving the animals, and providing care to rescued animals during transit to a release site or Phnom Tamao Rescue Center. This Bonus Day, make your gift go even further by supporting our new campaign to Help Rescue Primates from Illegal Trafficking! Your gift will help the WRRT continue to protect, conserve and save primate species in Cambodia!
Links: