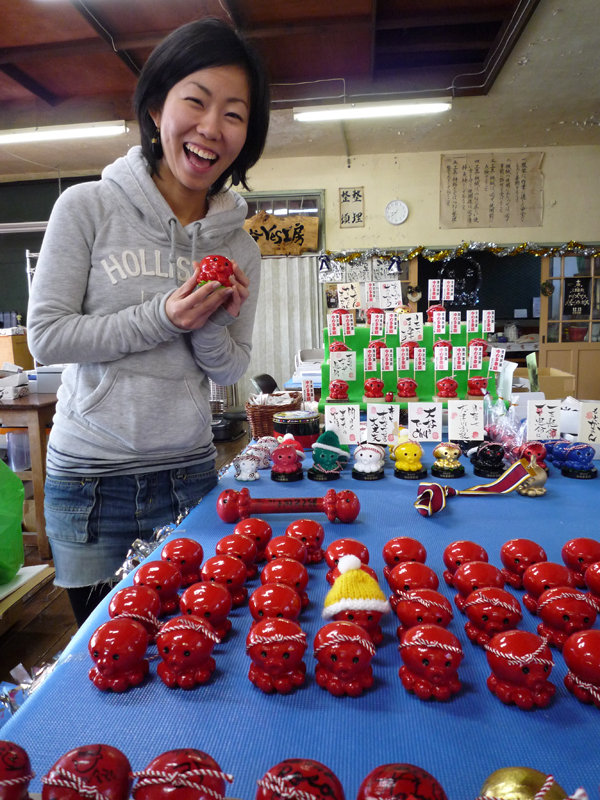 Minami-Sanriku, a small town devastated by the earthquake and tsunami on March 11th, is famous for its octopus fishing. In 2009, its tourist office started to produce and sell a good-luck charm in the shape of octopus, which has become very popular especially among entrance exam-takers. The pronunciation of the word "Octopus" sounds like, "Okuto-pasu" which means "place and you will pass" in Japanese.
After the earthquake, in order to create jobs for affected people, some local volunteers launched a project to restart production and sales of the octopus charm as the symbol for recovery.
In September 2011, Ms. Murai joined the project as a Fellow. Using her years of experience in a fair trade company and in a major travel agency, she has been in charge of sales channel development, product management, and online sales promotion and marketing.
Mr. Abe, the leader of the project, said, "She has played an important role in the project. She always empowers and motivates co-workers while making a large contribution to the sales."
Ms. Murai said, "The goal of our project is to revitalize Minami-Sanriku, where all residents will be able to have a hope for future, while creating jobs for them. I think that my main role is to provide local people with a place where they can work vigorously and creatively."
She added, "The town is now facing a population outflow. What I can do is really a small thing, but I will continue thinking about a vision for the future with local people. I believe there are lots of hints for Tohoku and Japan's recovery."