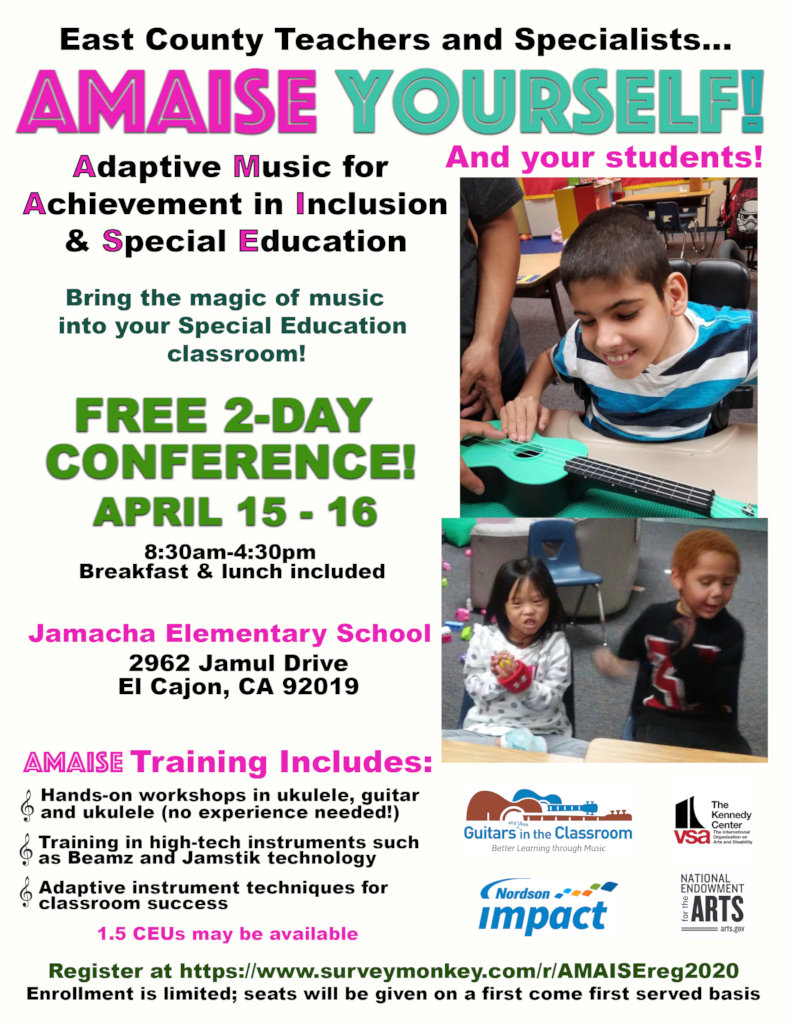 Dear Friend of Exceptional Children,
Thank you so much for your phenomenal support of GITC's efforts to make music accessible to ALL learners. We're writing to share some great news! Thanks to your gifts, we are able to stretch the dollars we were given by the National Endowment for the Arts, the Nordson Charitable Foundation and the Kennedy Center to offer a new - additional - 2 day AMAISE conference for special educators, therapists and teachers in inclusion classrooms this spring. We are heading to East County San Diego to serve there for the first time.
On April 15-16, 50 educators and specialists who work with children who are neurodiverse or have exceptional needs will receive two full days of free training in adaptive percussion, singing, ukuleles, songwriting and high tech instruments! We'll give special workshops on implementing music for social emotional awareness, for mindfulness, and for special techniques that help autistic students calm and integrate their sensory experiences and learn to self-regulate their responses to frustration during the school day. With better tools to help navigate the complex terrain of a busy classroom and school, our special students will be more able to learn, to connect with peers and to feel really good about themselves. The importance of all of this cannot be overstated.
The key skills GITC teachers and students will gain by learning to make music will far exceed the sheer musical value of the training. That said, making music for its own sake is exceptionally valuable for anyone and we are glad to provide this as well.
What we have seen so far after the Adaptive Music for Achievement in Inclusion and Special Education trainings end is remarkable. Many teachers are implementing music the very next Monday! They are sending us notes about profound, immediate student outcomes. Some are reporting that within 1-2 weeks, nonverbal students are actually speaking.
We will begin researching the exact reasons for these leaps and bounds with a small group of highly engaged teachers and students in San Diego beginning in 2 weeks. From the 20 participating classrooms, 2 in high needs schools will be selected and studied in depth by three supervisory level teachers in 2 regions of our school district. This is the first time we will have this kind of ongoing assessment taking place.
I look forward to bringing you news from the San Diego AMAISE-ing Classrooms later this spring. In the meantime, we hope you will continue to support this effort and share the good news of your involvement with your friends. Each of us has the power to encourage the people around us and these days, a little encouragement can go a very long way to making someone's day or giving them hope. You are helping us spread the light and we are very grateful.
With you, for the children,
Jess
Links: