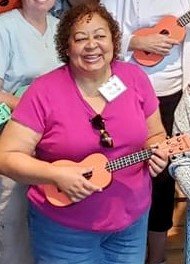 Dear Friend of Students with Special Needs,
Today's update is a close up interview with one of our most dedicated special educators. the AMAISE-ing Miss Terry, As you probably know, AMAISE stands for Adaptive Music for Achievement in Inclusion and Special Ed. And when Terry started coming to GITC classes, there was no such thing. Dedicated and caring teachers like her are the reason we took on the charge of developing a distinct and comprehensive approach to adapting music instruction for students whose needs span a wide array of medical, cognitive, behavioral, neurological and psychological conditions.
My name is Gail and I am the Programs Manager for Guitars and Ukes in the Classroom. At the GITC AMAISE conference in October, I had the opportunity to chat at length with special education teacher Terry. She works with special needs preschoolers in the Los Angeles Unified School District and is passionate about making a difference for her students, her school, and her community. Even though the recent conference was for teachers in San Diego Unified, Terry made the journey to join teachers here and help out.
GITC Founder, Director, Jess Baron introduced me to Terry and asked that I get to know her better. "She is always here with a smile, ready to learn, explore and assist, " Jess told me. "Let's find out where all that passion and dedication comes from. Terry is very special!" Fortunately the conference, funded in part by the National Endowment for the Arts gave me a chance to watch Terry in action and visit with her at length.
When I asked Terry how she became a Special Education teacher she laughed and said that throughout her career she always comes to something "backside first" - she takes an unconventional path to arrive where she is meant to be. We find this is the case with many people who become special educators, resource teachers or music therapists. They tend to have discovered the importance of the work and their own propensity to innovate.
Terry grew up in Southern California and she was marching to the beat of her own drum even as a teen. When she graduated from high school she rebelled against parental expectations and went into the workforce instead of continuing her education. After a number of years in a wide variety of jobs, Terry took a position working with residents of the Orange County Jail in Santa Ana, California. She discovered that their literacy skills were extremely low, severely limiting their opportunities as adults. In fact, a recent study showed that 70 percent of inmates in California prisons are functionally illiterate. When Terry saw the inmates low level of literacy it made a strong impression on her. She realized she would make a bigger impact if she helped young children gain those skills. So, in her 40's, Terry decided to go back to school and complete her education. She entered Mills College through their Resuming Studentprogram and in 1999 earned her teaching credential.
For the next eight years Terry was a general education teacher in grades Kinder and first. This gave her a close view of how students acquire spoken, written and visual language. It got her wheels turning! During that time she took Quinn's GITC training, and discovered how music could enhance her students' learning. GITC's songwriting Lyrics for Learning made sense to her. And like most teachers who come to GITC, Terry shared that she had no musical background "at all!" This did not dampen her enthusiasm a bit. In fact it made the chance to learn to make music even more important. She now strums the ukulele and writes songs for learning, integrating music into her classroom every day!
In the summer of 2007 Terry moved to Los Angeles. She thought it would be easy to get a job, but discovered there were no K-5 General Education teaching positions available. While standing in the Human Resources office she saw an announcement that the L.A. Unified School District was hiring general education teachers who were interested in teaching special education. Terry immediately registered for Special Education training and was assigned her first class that fall. She started using, and writing, songs and chants for her special needs students right away.
Terry has attended several AMAISE conferences as well as other GITC events. She says each deep dive into the GITC curriculum adds layers of knowledge, and she always gains more confidence in her abilities. I asked her what she would offer teachers who are thinking about taking the GITC training. She said, "I see my kids make so much progress! If I can pick up a uke, cold, with no musical background, you can do it, too!"
Terry's vision is to take GITC outside her classroom to become a more integral part of her school and ultimately make a bigger impact in her community through music. She wants to be known by all the kids in the school as "the fun uke teacher" and encourage other teachers to bring GITC to their classrooms. She loves how music crosses over into students' learning and their socio-emotional development. GITC brings more structure to her classroom, enhances learning, and makes everything more fun!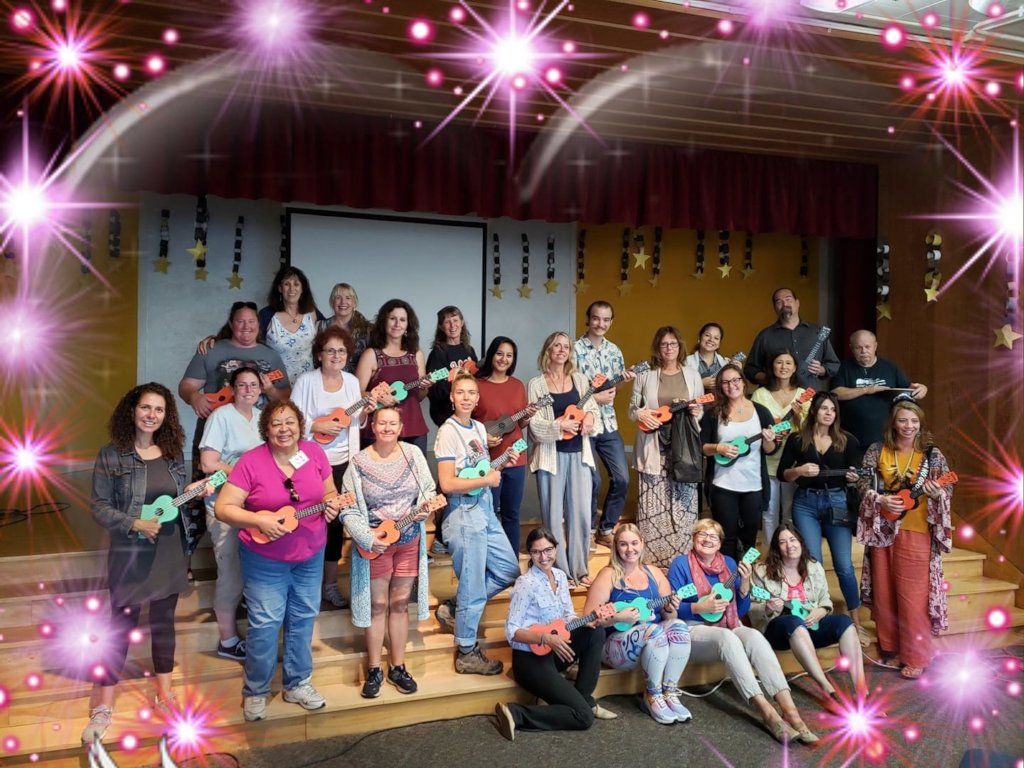 Links: