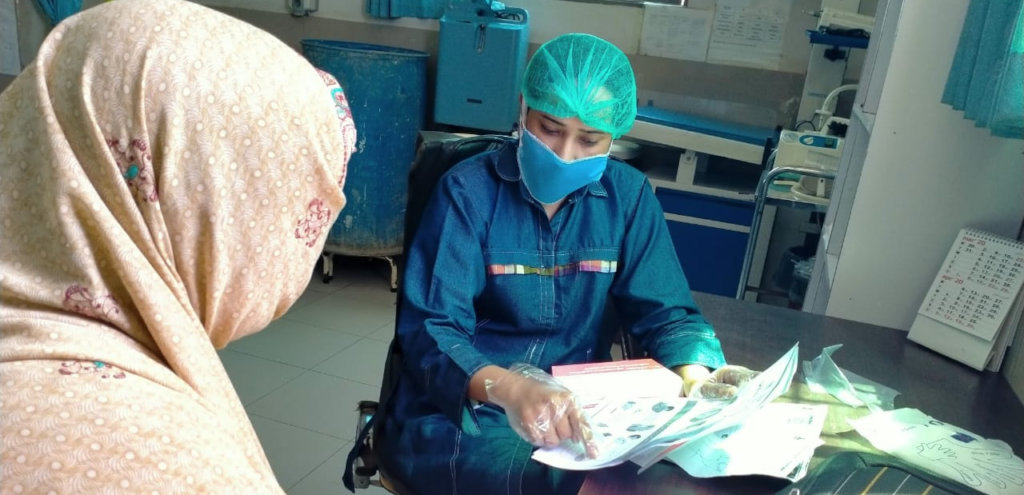 While I could share countless statistics about how your donation is making a difference for communities across South Asia, I thought I'd share some insights from someone on the grounds: Imkaan Welfare Organization Director Tahera Hasan. Here's what she had to say about overcoming the challenges brought on by this year's devastating monsoon season.
Q: What do you wish more people knew about how your community was impacted by the floods across South Asia?
A: The community we work with is one of the largest informal settlements in Karachi, with a population of approximately 800,000. The majority of residents are of Bengali ethnicity and are therefore stateless. The community is mostly on land near the sea, and the homes are makeshift without any quality construction. The homes are lower than the level of the [road]lanes, which even in regular rainfalls causes damage as they become filled with water. The flooding this August due to its intensity left no home unaffected. There was waist-high water inside people's homes with no place to sit, eat, or sleep. The aftermath of the rain left the community with diseases, damaged [road] lanes, and a lot of homes in need of rebuilding.
Q: How have the funds you received from the GlobalGiving South Asia Flood Relief Fund made a difference for your community?
A: We run several projects in the community, but the maternity facility, health facility, and solid waste management facility suffered the most substantial impacts during the floods. The maternity facility, which is the only one in the community, was inundated with cases. Our staff was present 24 hours at the facility in these challenging circumstances and dealt with emergency cases effectively. There was an increase in skin infections, respiratory diseases, and gastroenteritis cases after the flooding.
GlobalGiving's South Asia Flood Relief Fund has really helped us deal with the increased number of patients that have been coming to our facilities, as the same has resulted in an increased need for medication and support. The fund has also assisted our solid waste management program, which has had to work at twice its strength to deal with the state of the community post-flooding.
Q: What are the greatest unmet, long-term needs in your community?
A: Being an underprivileged community brings challenges for all services to meet basic community needs. The added circumstance of being stateless deprives the community of any state attention or relief. The major unmet needs of the community range between health, education, recreation, housing, and water and sanitation. Because of the high levels of statelessness within the community, members cannot access government health facilities and children cannot go to school.
There is general hopelessness due to the lack of a resolution to their issues. COVID-19 has been a major eye-opener of the vulnerability of the community after not being able to receive part of any government relief program. Even most NGOs had the prerequisite of an identity card to get relief.
Q: What about your local community's response to the floods makes you most proud?
A: The local community deals with the challenges of rain every year with an impact on their existence. People support and help each other—there was not one home where everyone around was not helping. It is this unity that strengthens a community.
Q: Real disaster recovery is a long and difficult process. What inspires you to keep at it?
A: I think the one thing that keeps anyone going in disaster situations is the desire to see things change for the better and the need to contribute towards the same. I have worked in several disaster situations where immediate needs are addressed as part of relief work. However, it's the rebuilding that takes time and long-term commitment. That can come for communities working for their betterment with assistance from organizations that work in those areas.
In my view, the fact that this particular community is deprived of identity despite there being a legal framework, purely because of non-implementation, is a disaster that has impacted every facet of their lives. We at Imkaan are committed to working towards advocating for their basic rights.
The generosity of donors like you make Tahera's commitment to long-term recovery a reality for communities in Karachi. We are incredibly grateful for your continued support. Keep an eye out for more stories of how your donations are being put to work across South Asia in the coming months.
With Gratitude,
Sami A + the GlobalGiving Team