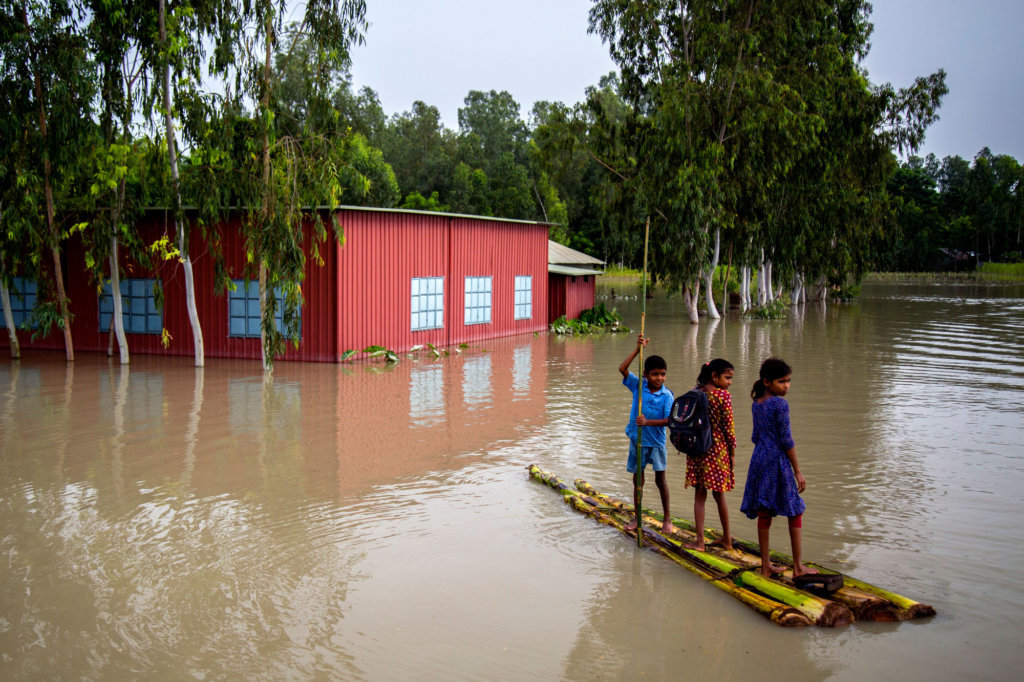 During the 2019 monsoon season from July to September, more than 25 million people were affected across Nepal, Bangladesh, Pakistan, and Myanmar. This prolonged flooding took the lives of hundreds of residents, damaged homes and schools, and devastated the livelihoods of small farmers. GlobalGiving's local nonprofit partners were often at the center of first response, providing immediate relief, such as food and medical attention in areas where government aid could not reach.
Thanks to your generous support of the 2019 South Asia Flood Relief Fund, communities received the resources necessary to make the jump from immediate relief to long-term recovery, with the goal of building resilience to future floods. Here are a few highlights from what these contributions helped to accomplish:
Immediate Relief
In Bangladesh, nonprofit partner Friendship used their extensive network of more than 400 emergency response volunteers to conduct search and rescue operations by boat. The organization helped 9,000 find safety in Friendship's schools that were converted into shelters. They also installed 153 emergency health camps to deliver urgent medical care to flood survivors across Bangladesh.
Multi-Dimensional Resource Center, Nepal responded at the grassroots level to the floods sweeping across Nepal this past summer through the delivery of food and safe drinking water. Once the flood waters had subsided, MRC Nepal supplied 30 families with new, clean-burning cooking stoves to help them prepare meals while their homes were under repair, focusing particularly on communities like rural farmers and Dalits, a marginalized minority in Nepal.
Learning routines for thousands of students were also disrupted admist the chaos of the annual flooding that is increasing due to climate change. GlobalGiving's education-focused partners such as Girl Determined in Myanmar and the Nepal Village Foundation responded to the needs of their students through direct support to families.
Disaster Risk Reduction
Near the Indus River, in the flood-prone Pakistani district of Muzaffargarh, the Association for Women's Awareness and Rural Development is strengthening communities to be better prepared for the upcoming monsoon season. Through a series of disaster risk reduction trainings, local residents developed community emergency plans of action, with special focus on the protection of vulnerable groups and empowering women to take an active role in disaster response.
Bangladesh Environment and Development Society (BEDS) has been implementing nature-based solutions to the yearly flooding in the Sundarbans coastal region. Through the restoration of mangrove forests, BEDS is working with local communities to lessen the destructive impacts of tropical storms and monsoons by preserving a natural barrier along the coast. This nonprofit also hosts disaster preparedness workshops for other NGOs and residents in their Cyclone Shelter and Training Center.
Despite the challenges these annual flood events present, local nonprofit leaders continue not only to build their emergency response capacities, but also to engage locals in disaster preparedness initiatives that have the potential to save hundreds of lives.
Thank you for choosing to support a community-led approach to disaster relief and resilience. Your generosity enables the local organizations invested in their community's long-term recovery to build a path towards a resilient future.
With gratitude,
Andrea + the GlobalGiving Team