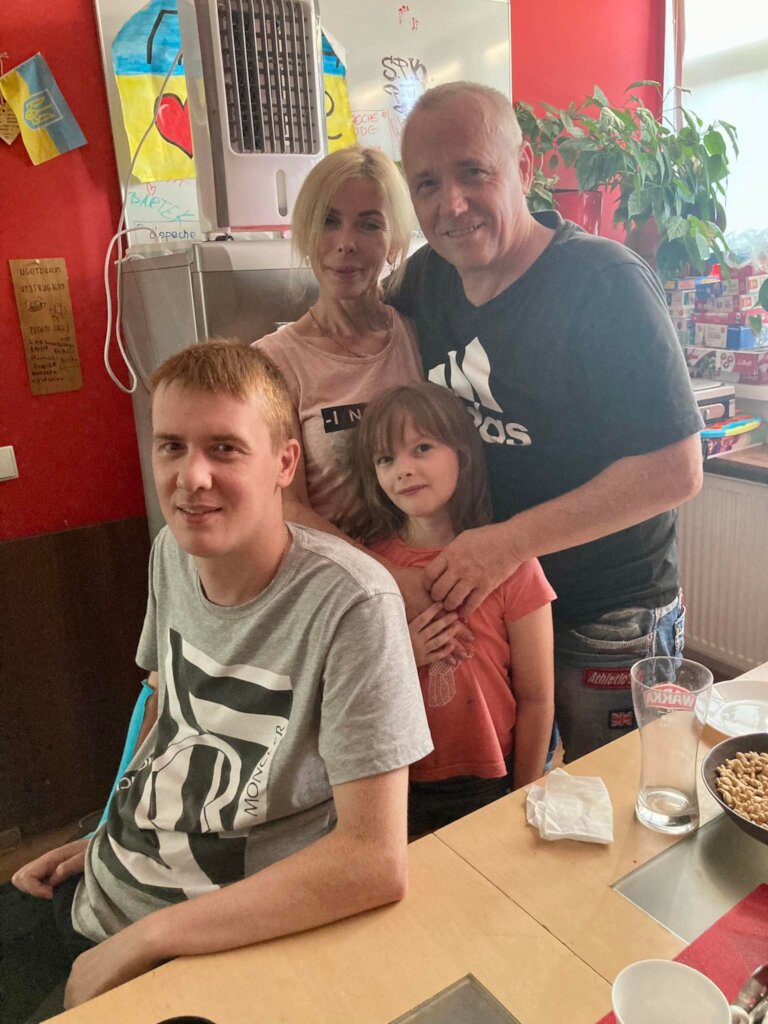 They met and fell in love at the beginning of the outbreak of war in Ukraine. He is a pilot of military aircraft, she was a cadre at a large factory. He takes care of a disabled son from his first marriage, she is a single mother raising two daughters.
- I fell in love immediately, but it was not easy to convince her that at our age, during the war, it was still possible to start a new life. Unfortunately, we did not know what was waiting for us...- says 53-year-old Viktor.
Olesia is delicate, beautiful, kind, smiling, and a little shy. She loves to cook, and her apple pancakes are finger-licking. I find them at the kitchen table, they immediately set a plate for me, and of course, aforementioned pancakes on it. Yummy. Next to her sits Viktor, born in distant Kazakhstan, a volcano of energy, funny, smiling, strong, so naturally cheerful (you never know when he is serious and when he is joking), resourceful, the kind of person who, if we get lost in the woods, will build us a house out of a scarf and two sticks, for survival. A pilot of military aircraft (he got his license in the USSR), a truck driver who has experienced more than one thing, seen more than one thing, a friendly chatterbox, but when he shows pictures of Nikopol, from which they escaped, he suddenly falls silent...

A bomb with mallows in the background
- Six kilometers from Nikopol is a power plant, so we expected the Russians to bomb the place. First the power plant was hit, then bombs were falling closer and closer to civilians, and finally the hospital was shelled. Houses, blocks of apartments, schools... Oh, here on the third floor was our apartment where we lived with Olesia and the children - Viktor shows photos of the well-kept block of apartments where they lived until a month ago. Around the block, tall trees (all of them!) knocked down, a salvaged bench, several burned cars, clothes flying almost everywhere, dogs huddling under the stairs at the entrance to the building, and huge, colorful mallows!
- The bomb hit the roof, fell right through the middle of our apartment. We have nothing to go back to.... - says Sasha, Victor's 29-year-old son, who became disabled 12 years ago after jumping into the water.
Imagine a small but strong man who carries the tall Sasha from the apartment on the third floor two or three times a day, drives him to school, to rehabilitation, to the pub for meeting with his buddies and brings him back home, carrying that affable redhead on his back.
- Dad is the best in the world! When things started to get messy at our place in Nikopol, he already had a whole evacuation plan for our family in his head. He prepared everything, packed our evacuation backpacks, but not in a way to scare us, he didn't tell us anything. He knows how to arrange everything. He is not only my dad but also my best friend - says Sasha.

Love military intelligence
And it was this strength of character, stubbornness, that convinced Olesya to him. They met at the factory and the petite blonde immediately caught his eye. But it was not at all that easy to win her heart.
- Olesia worked in human resources, I often visited her but she intimidated me so much that I acted like a schoolboy. I thought to myself that such a beautiful woman surely has a husband, but inside I felt that she was mine. But I knew nothing about her, so I had to gather intel the military way. Over a few days I found out everything about her: where she lived, with whom, what she did after work. I won! Olesia lived with her two daughters and was divorced! So I started the mating dance - laughs Viktor.
They fell in love, they say, in times of pestilence. They moved in together. Their life was normal, like ours. They worked, took care of their three children after work, cooked together, spent weekends at the seaside, and visited friends. An ordinary everyday life until things got dangerous in Nikopol.

Ordinary life
- And our pilgrimage for friends and relatives began. We moved practically every day. As they bombed one neighborhood, we slept at friends' house, as they bombed that one, we fled to our family where it was still calm. And so practically every day until our whole city was already leveled then we decided to leave for Poland. We ended up at the PAY IT FORWARD Foundation. Here we have a roof over our heads, peace, food, friendship, rehabilitation for Sasha, school for Katya. A little more and we will stand here on our own two feet - Viktor declares.
Asked if they miss anything, they answer that they miss their loved ones. But aside from that, do they miss anything else? All four unanimously agreed that they crave Ukrainian bread! Is there something they are afraid of?
- In the store next to the hostel where we are staying, there is a metal ramp for handicapped customers that is not bolted down to the ground, and anyone who drives up or enters it causes it to make a sound like that of a bomb falling in Ukraine and it cuts through the air... I am terribly afraid of that. I hope that all the worst is behind us, that now it will be a peaceful, ordinary, normal life - says Olesia and puts another fluffy and fragrant pancake on my plate.