ATC Circuits and Solar Workshop for Mayan Women 2013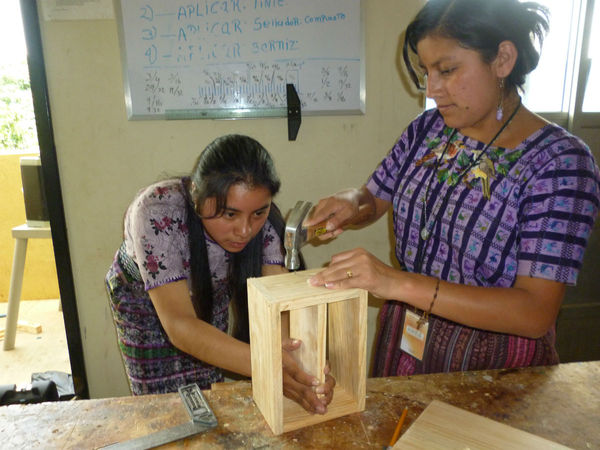 Mayan Women Learn Carpentry at CECAP School in Santa Cruz Guatemala
On July 17, 2013 we held the first part of the ATC workshop "Circuits and Solar" for Mayan women mentors and teachers who work with Mayan girls in Solola and Santiago, Guatemala, part of our Mayan Power and Light program. Our local Engineers,
José
Ordoñez and Carlos Alvarez taught the course at the CECAP school in Santa Cruz La Laguna. The four part workshop begins with an introduction to carpentry tools. The CECAP facility is perfect for this because they have a well equipped shop plus they have an ATC solar demonstration project on the roof.

For the carpentry course, the women were given an overview of the tools available and then given the challenge of building a wooden box to specified dimensions. For several of the women attending the workshop this was the first time they had worked with carpentry tools, and from their feedback they had a great time!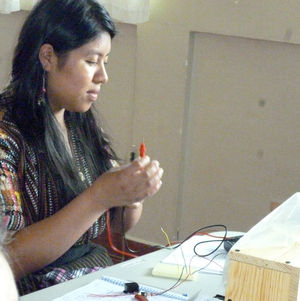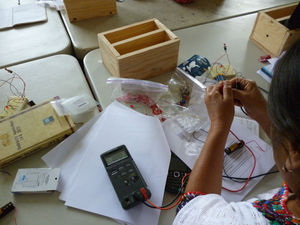 Learning About Electricity, Circuits and Controls
After completing the introduction to carpentry workshop, the women moved on to learning about electricity, circuits and controls for circuits. This part of the workshop includes the use of professional quality tools such as "bread boards" that allow you to easily connect various components of an electric circuit. The women used volt meters, resistors, LEDs and a variety of fun electronic components like buzzers and photo diodes. The women learned a lot in short period of time.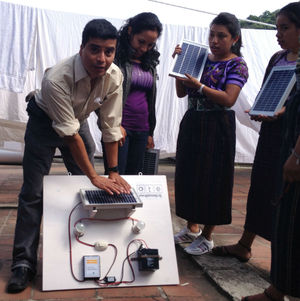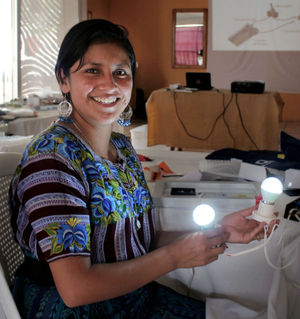 Jose Demonstrating and Women Learning How To Wire Together Solar Power Systems
The next day the workshop moved to Panajachel, near the office of our partners for this project, Starfish One-By-One. Each mentor received an ATC "Kit Solar". Each kit contains a complete solar power system that provides two lights plus a USB cell phone charger for homes that don't have access to electricity.

Note: Each home that lacks electricity burns candles and kerosene lamps to see at night. With candles and kerosene you burn a lot of fuel and get relatively little light. Also families that burn kerosene inhale a lot of toxic smoke, equivalent to smoking two packs of cigarettes per day for every member of the family according to the World Health Organization. Converting to solar saves lives!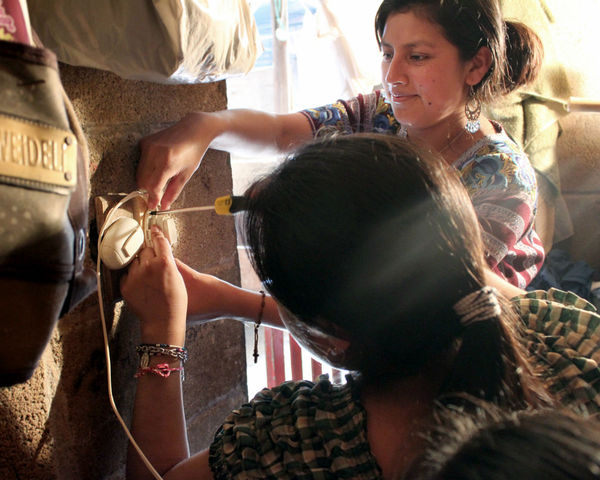 Hands On Solar Installation
The final part of the workshop was installing a solar power system on a home that lacks electricity. The women did all the work and they did it like seasoned professionals.

The family that has the new solar power system actually was once connected to the electric grid but the cost of electricity in Guatemala (and most less economically developed countries) is much more than in the United States. It is an unfortunate truth that the poor often pay more for basic services than those of us who are more affluent. However the high cost of electricity makes solar power a very attractive option for Guatemalans.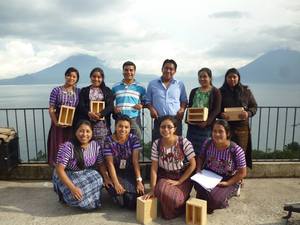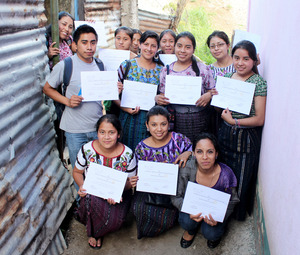 Workshop participants with Jose and Carlos Graduates of the Circuits and Solar Workshop

I visited part three of the workshop as the women were starting to test solar panels and wire together their "Kits Solares". There was a level of intensity and excitement in the room with the women asking lots of questions and having fun learning new skills. Several days after the workshop, I talked with Norma, the Director of Starfish in Panajachel and she said that for many of the women this was a life changing experience. They never had imagined that they could learn and accomplished so much in a technical field like solar power.

The ultimate goal of our Mayan Power and Light project is to help Mayan Girls start a solar power cooperative. The workshop participants have already asked us for extra solar hardware for additional installations.

Success:

We have been very fortunate to collaborate with Starfish One-By-One, an NGO which provides opportunities and mentoring for young Mayan women and our Engineers José Ordoñez and Carlos Alvarez, who make learning technical subjects fun. We also thank Michael Smith of Ann Arbor who created the original Circuits and Solar curriculum. We also need to thank you for your contribution to this project! Without you and our local collaborative partners, our Mayan Power and Light fproject would not be possible.

Mayan Power and Light is successful beyond our original goals. We started this program with the intention of providing the Circuits and Solar workshop to a total of 4 women mentors and 24 Mayan Girls. We are now on track to teach 12 mentors and 45 Mayan girls this year. (We also have a waiting list of over 100 for next year)

In order to continue our success we need to find more funding so each girl can get a "Kit Solar" ($100 ea.) and have the experience of installing solar power on a home that lacks electricity. We also need to pay for more teachers and additional transportation, books and materials.

Please consider a donation to this program through Global Giving: http://bit.ly/MayanPowerandLight

Thank you,
John S. Barrie
Executive Director
The Appropriate Technology Collaborative
3796 Plaza Drive