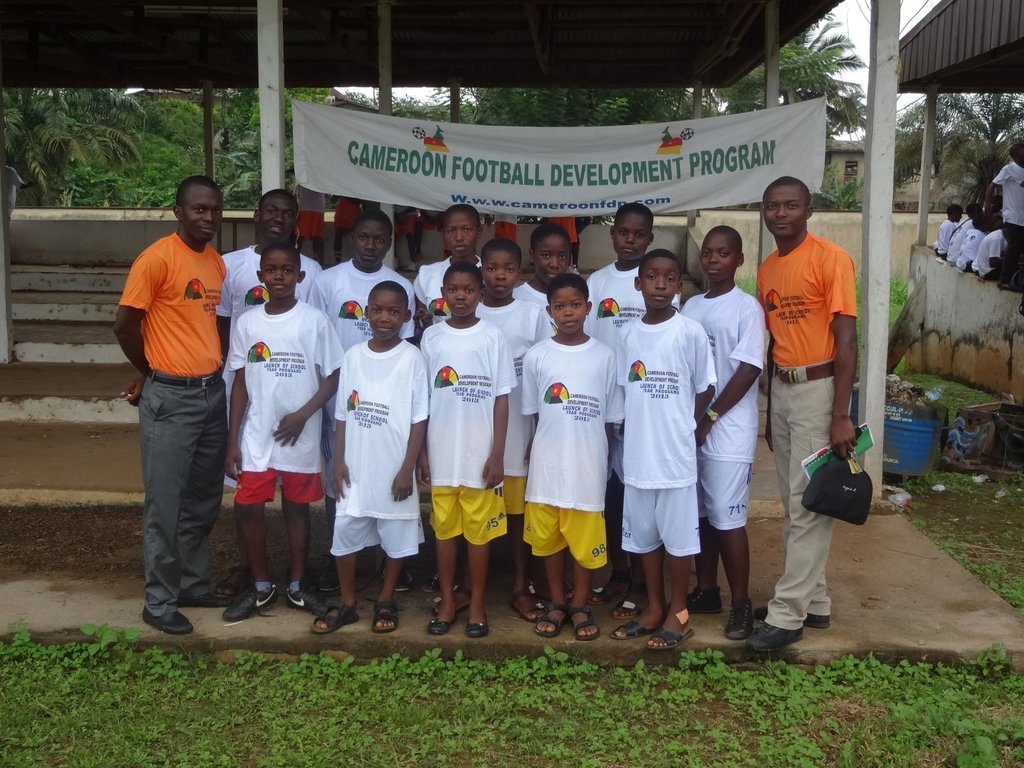 Happy New Year from Cameroon! It's a great pleasure to update you, our supporters, on our after-school programs in K-town. I am excited to write to you after returning from two weeks in-country, engaged with our team in a strategic planning sessions and discussing potential expansion to two cities in the SouthWest Region via two partner organizations – more on that in our next update! Out first semester of the 2013-2014 school year was one which involved new schools, new leaders, and several new students in our innovative approach to youth empowerment, health and social education.
We kicked things off in late September with the official launching of our programs with a 2-day event sponsored by a grant from our partners, the U.S. Peace Corps. Our own Peace Corps volunteer posted in the office, Ryan, helped coordinate things so that more than 200 students from 13 schools participated in soccer activities, quizzes, debates, and other friendly competitions. The weekend was completed with voluntary HIV screening for older youths in our program. More than 70 young men and women were tested and all of the CFDP youth tested results were NEGATIVE! The event was a wonderful opportunity to celebrate the good decisions our youth are making to ensure a healthy, long life.
Weekly sessions continued in each of the 14 participating schools in the months following until early December when the students went on Christmas Holidays. With creation of CFDP clubs in half of the schools (we are working on the other half now!), we are working towards sustainability to ensure student-driven programs continue for a long time.
To complement our after-school programs, our community-based youth enrichment football (soccer) league combines friendly competitions with health and social education. Every match that teams play has a theme. I was at the field to watch some games last week and the scene was nothing short of amazing. Team captains were engaging their players in discussions about the theme "self-respect" during their warm ups. Motivational statements were read via loud speaker right before the game to let everyone in attendance know that the game being played was about more than just soccer. I tell you, I was inspired! We are truly changing the way youth soccer is being played here in Kumba!
We look forward to a great second semester of activities in our schools. The focus for 2014 will be a shift to training more peer educators. Empowering this group is another step toward sustainability; plus, who else better to invest our training resources than the youth? They are our future. I invite you to stay connected with CFDP on our blog and via newsletters (sign up here) for more updates.
Wishing you all the best in the New Year!