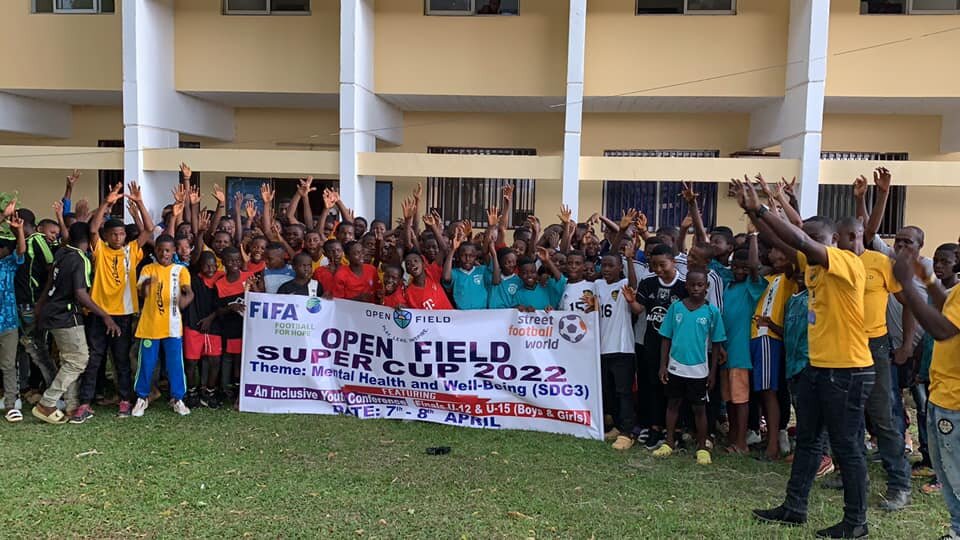 Over the last couple of months, the Kumba team has been working tirelessly to continue programming and activities, as well as to ensure the smooth running of the Super Cup 2022. This monumental event brings together finalists from all implementation sites and is a grand annual event that everyone looks forward to.
Day one was centered on the educational activities highlighted by the Conference on Mental Health and Well-Being for all the finalists from all 11 communities, including some few guests. This conference took place at Community Development Conference hall. See the full program below:
DAY 1 - FRIDAY
8 - 8:30am - Check in and Registration of participants. Ashu
8:30 – 9am - Meditation Rev Tiengwe Enusa
9am – 9.30 - Opening of the Conference by Country Director Peter Ngwane
9.30 -10am - First presentation, History of Open Field by Country Director
10am – 11am - Second presentation, Mental Health and Wellbeing.
Session 1:

Connect – Build Relationships

Session2:

Being Physically Active

Session3:

Learning New Skills

Session4:

Giving to Others

Session5:

Being Aware and Living in the Present
11am – 11:30am - Third Presentation Leadership for Community Service. Kingsley
11:30am – 12 - Questions and Answer sessions
12am -1pm - Coffee Break
1pm – 1:45pm - First Aid (Red Cross Facilitator)
1:45 – 2:15pm - Impact of Community Service. Adolf
2:15 – 2:45pm - Modalities and Conduct of the Super Cup (Wallace)
2:45 – 3:30 - Lunch
3:30 – 3.40 - Reading of Conference Resolutions
5pm – 5:30pm - Closing Remarks
DAY 2 - SATURDAY
7:30am - 8 am - Arrival of respective Teams/ Officials
8am – 8:30am - March pass (parade) of Respective Delegations
8:30am – 9am - Singing of the National Anthem
Speeches
Photographs/Interviews
9:30am - Kickoff of Matches
1:30pm - Boys U12 Finals
2:30pm - Girls Finals
3:30pm - Boys U15 Finals
Award of Prizes/ Certificates
After the closing of activities in the field, attendees made their way to the Buea Town Grill for a small gala to celebrate and continue the enjoyments into the evening. There was space for the youth and their coaches to dance and reflect on the joyous occasion to combine life skills learn and and their favourite sport.