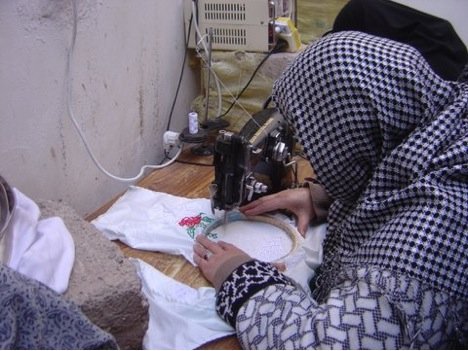 All of us at Creating Hope International (CHI) and the Afghan Institute of Learning (AIL) want to thank our donors for supporting tailoring programs for Afghan women. Your support is giving Afghan women the opportunity to learn a skill that will help them earn money for their families. Through July, we have hosted 88 tailoring classes and provided months of instruction to over 1,800 women. Many of these women have left the learning centers with a skill-set that will help them to clothe their families and feed them through earning money by sewing clothes for others. It will also give them something to be proud of; they will be able to create something that others will want to use or buy.
One of our learning centers in a rural part of Herat province offers sewing courses to the women in the area. One of the women who took a tailoring course here had this to say:
"The first day I came here, I didn't even think of finishing this class and becoming a professional tailor. I didn't have self-confidence and I thought it was impossible. But as time passed, I became interested and learned a lot in the class. Teachers encouraged me everyday and I had the talent to finish and become a professional tailor. Thanks to all the personnel for providing women such facilities."
This is but one story amongst many similar success stories. Women are told they can't do it, but they do and become breadwinners in their households. AIL learning centers offer many such specialization courses in subjects that provide applicable skills to the people who take them, including courses in computers, art, and carpet weaving. Like these other programs, our tailoring courses reach a large number of people all across Afghanistan and provide the necessary skills to make women more independent. We thank you all very much for your support, we greatly appreciate it!