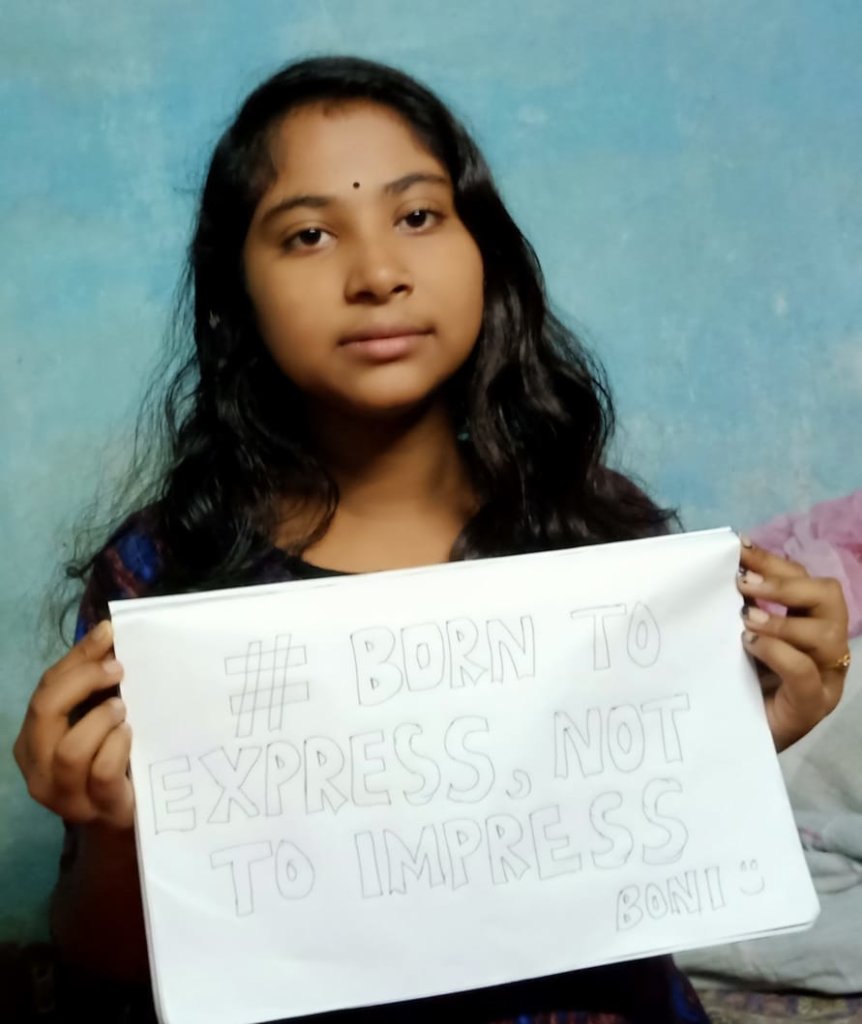 In India now everyone has started working slowly but there are some people who either they get a job with minimum income or they're unemployed. Everyone keeps thinking about sources of income and it is just not troubling only parent's minds with this thought but also their children who have been thinking, "How can we survive without income or low income?" Our Grantee Partners in India are constantly helping those girls and providing necessary things and supporting their family. Even our scholars are managing to attend online classes with the support of Shadhika scholarship in this pandemic. Scholars are so passionate about their studies and learning new things at home.
To value this time despite all the negativity we try to create a virtual learning space where Shadhika Scholars could learn something new. Shadhika has conducted virtual learning activities starting from May and have succeed to involve scholars through WhatsApp. We sent few videos where we talked about few basic but important topic like "Daily Exercise, Reading Inspirational Poem and Passions and Hobbies". They all liked the topics and started talking about their personal experiences and shared that they are feeling tired and not able to manage time for studies as well as household chores. But through these activities they are taking "Me Time" and they were able to start focusing more on themselves. Few of them have discovered their hobbies and passion, few of them started doing exercise with their mom and sisters and there are few scholars who get the confidence to write their poems and share them with us.
Later on, we continued this learning activity through a virtual Panel in July month, where we invited one girl from each site to share about their pandemic experiences like online classes, ration distribution, migration, increasing numbers of drop out in the community and child marriage topics. From this panel we all get to know the situation and how confidently they are doing their best.
We next moved to "International day of the Girl" with a 10 days awareness camp from October 1st to October 10th where our scholars reached out to more than 100 girls in the community and through the calls and messages they shared "Girl Bills of Rights". There are few girls who are really not aware that "Girls" have their own day to celebrate even if they get to know and learn "Girl Rights" from this campaign only and then we celebrate October 11th (International day of the girl) with a Facebook live to share such beautiful and amazing stories from scholars.
Currently, we just did a four day "Virtual Leadership for Change Summit" in the second week of November, where we discussed a lot of things over WhatsApp. First year scholars learnt Time Management, College Preparation, Negotiation and self-confidence. Second year scholars learnt about Leadership and got prepared for upcoming community projects which they will be doing. Third year and graduate girls have learnt about job careers like interviews, C.V writing and more things to get prepared for their job and self-confidence and awareness. We ended our Virtual Summit with an amazing graduation ceremony over a live Zoom meeting – we were able to see all of their faces – so nice to connect. This year would be not the best year but this Summit realised how important it is to learn and grow from any situation.
We are trying to make this time more valuable and interesting for our scholars where they feel comfortable and get to know new things. We have received feedback from scholars - one scholar says, "I feel so stressed to focus on online studies only, but these little activities make me feel I need to utilise my time to the best of my ability" and "I am happy that apart from my studies I am learning lot of important things from Shadhika".
Maybe this Covid-19 disturbed us but we all shouldn't stop learning.