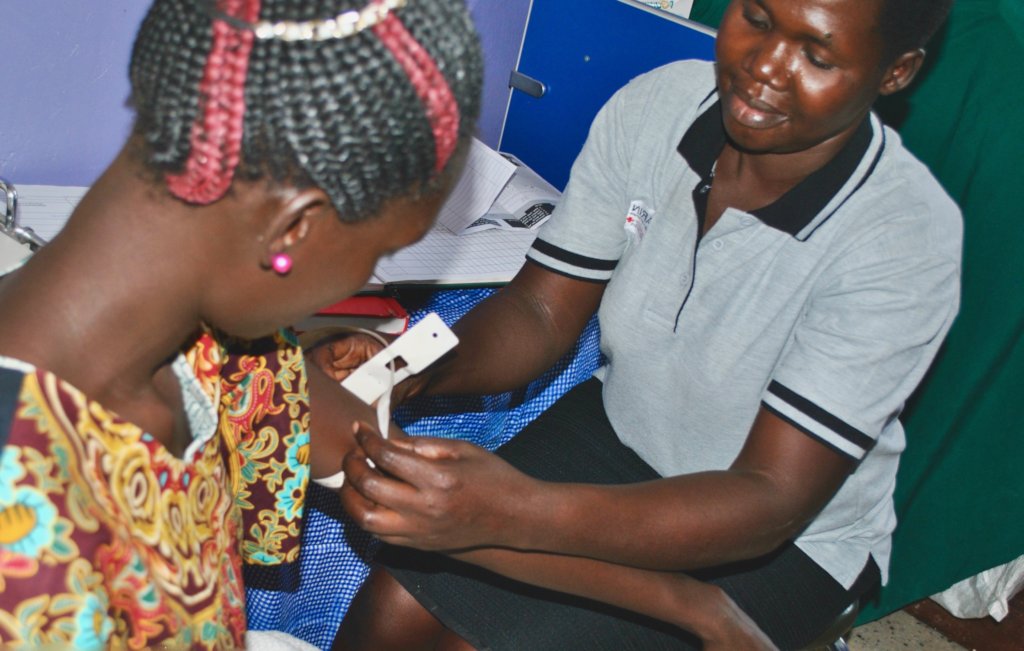 Atim was lucky to have seen a midwife during her pregnancy. Many young teenage mothers in the community don't.
"I felt very weak during my first trimester while I was pregnant, I hardly ate food, constantly sick and weak, but I did not know what to do. I had to go to the garden to weed my beans that I had planted with my husband," she explained. It never occurred to me that I could be in danger until one day I felt extremely weak and went to see the midwife," she added.
Atim was fortunate because she is under a voucher plus program that gives vulnerable expectant women subsidized maternity services. Under the program, she can attend four antenatal services, delivery and postnatal care, including family planning. Atim had been assessed by a local distributor who lives in the same village as her. When he realized that she was expecting a baby, he approached her and asked her a few questions. He encouraged her to start attending antenatal care at the Karin Medical Centre. Atim was very happy that this program exists.
"As soon as the midwife checked my blood pressure, she immediately said that I should be transferred to the nearest hospital. I was transferred to a hospital in an ambulance."
Atim does not want to talk much about this experience. It was very painful. The pregnancy ended in a miscarriage, but her own life was saved. "I am still grateful for the emergency care I received, I am also still sad that I lost my child," she said to the midwife.
Teenage pregnancy rates
While Atim's story was tragic, it could have ended far worse. She was lucky to be seen by a midwife. Atim is also one of the many teenage girls that have dropped out of school due to early pregnancy.
Uganda has the highest rate of teenage pregnancy in the Sub Saharan Africa region with 24 percent being pregnant or having a child before the age of 18. Uganda Bureau of Statistics also reports 63% of women give birth before the age of 20; the highest rate in the world (2016). Uganda also has the highest total fertility rate in East Africa, 6.2%.
Scaling down teenage pregnancy
Many tragic stories exist. Too many young teenager girls are being forced into early marriages for material benefits expected by the parents. In other instances, pregnancies are caused by rape.
Atim was encouraged to start family planning. And she is optimistic that it will work out well. And is committed to using family planning so that she can get her education before she having a baby.
"This time I feel good. I feel confident, I know how to not get pregnant," she said. "And the midwife tells me to come back in case I have any complications with the family planning I have chosen."
Links: