Project Report

| Jul 11, 2022
Partnership Strengthening to Amplify Impact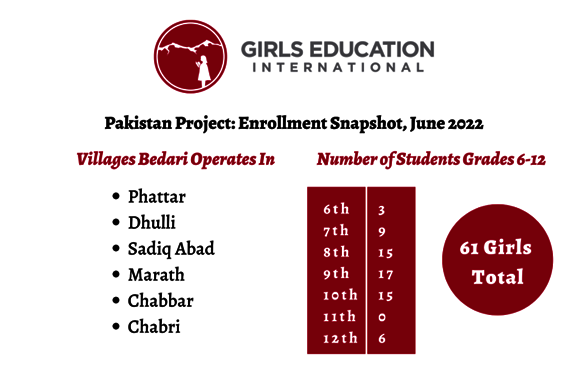 Dear Pakistan Project Supporters,
Warm greetings! On behalf of Girls Education International (Girls Ed), I sincerely thank you for your generous support of our project, "Send 60 Girls in Pakistan to School."
This project is a collaboration with Bedari, our partner in Pakistan, and I am delighted to share with you a few updates about our partnership. In recent months, we have been working together to enhance our data collection and management for impact reporting so that we can share not only more stories (like this one) about current students but also about alumni. We are also looking at ways to create opportunities for current students and alumni of the Girls Ed program to come together with their families and village communities to participate in creative arts, sports, and other social activities. Events like these would celebrate the girls' success and everyone's collective commitment to supporting girls' access to education.
We also hope to create new synergies with other initiatives aligned with the Girls Ed mission to amplify the impact of your investment in girls' education in Pakistan. Specifically, we are in the process of exploring ways we might partner with Bedari to enhance girls' access to co-curricular programming and informal learning experiences—including vocational training, self-growth workshops, artistic expression, sports, and exposure trips. You might recall that during 2020, when schools in Pakistan were closed, we were able to keep the girls engaged by supporting their participation in other learning opportunities, including Bedari's self-growth curriculum. We know that these kinds of enriching learning experiences can improve student retention and success in school—and we look forward to further discussion with our colleagues at Bedari about ways we might further partner in support of these kinds of educational activities. We hope you too are excited about these possibilities!
And of course, we will continue the heart of the work we do together: providing funds to cover transportation costs so that girls from remote villages can access secondary school. Girls Ed currently supports girls from across six participating villages in Chakwal District. Because the travel distance and transportation costs vary across villages, we are able to support one additional student at this time, so there are 61 girls currently enrolled in our program.
Each quarter we look forward to sharing updates about these efforts and the positive outcomes for the students–which are only possible with your generous support. YOU make all of this possible! If you would like to learn more about the work Girls Ed does in Pakistan and beyond, please check out our podcast, follow us on social media (Twitter @girlsed), or reach out to us at info@girlsed.org. We would love to hear from you!
With deepest gratitude,
Mercedes Ward
Pakistan Project Manager
Girls Education International