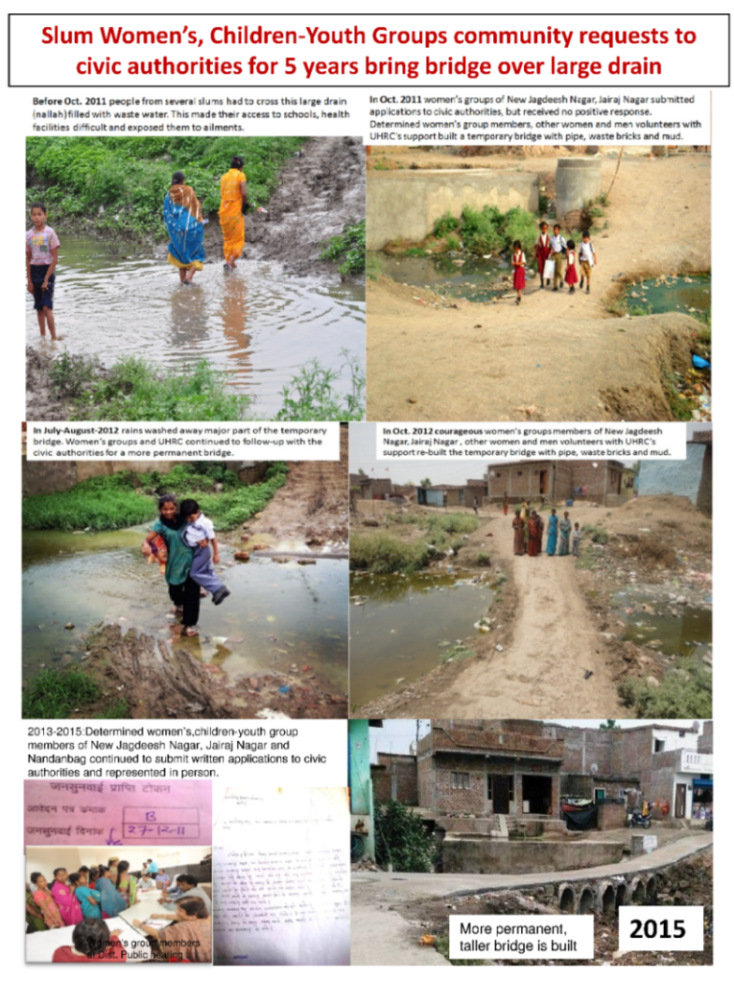 This is one story that has been unfolding over the past 5 years. The more permanent bridge you will see in the picture is a fairly important step for over 120,000 slum and informal settlement population in a very large slum cluster in Indore.
We (women's, children-youth groups groups and UHRC team) had been making regular requests to civic authorities for five years. In 2011, women,men and youth volunteers put together two pipes, broken brick-pieces and mud to make the first temporary bridge. This was washed away in the rains and rebuilt in 2012.
With continued requests to civic authorities a more permanent bridge as 

you can see in the picture has been made in 2015. The attached picture 

depicts the sequence over 2010 to 2015.

 
Children can now walk to school and back, women can walk for meetings, to small market, 

health

 centres with dignity, which is important to their lives. Knowing you are very sensitive towards challenges of underprivileged populations, I thought of sharing with you.Please share with those you feel will be interested. This is linked to the mapping and 

urban

 planning that you may be undertaking in some of your work.
https://www.facebook.com/media/set/?set=a.853247114744193.1073741889.130125503723028

 
Your solidarity and support is very important for over 400,000 slum, 

urban

 vulnerable population where 1700 slum women's, children-youth groups endeavour towards improving overall well-being and lives of their communities.

 
Links: