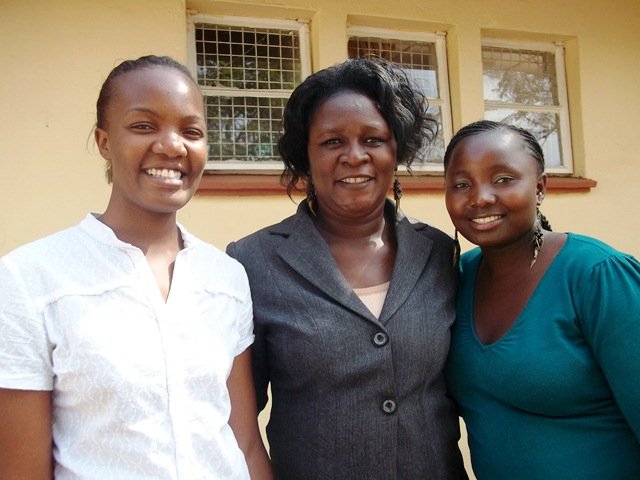 The theme for this year's International Women's Day was "Connecting Girls, Inspiring Futures" and that is exactly what happened at our Seed of Hope Centre in Nairobi on the 8th March.
For the first time in Seed of Hope's history, boys were also present for the International Women's Day celebrations as the students from Clayton's Mechanics were also prepared to be inspired by the guest speakers. In fact, the boys actually asked more questions than the girls – men taking advice from women shows just how far we have come since the events that initiated International Women's Day over one hundred years ago.
The two guest speakers were graduates from Seed of Hope. Rosabella was one of the first Seed of Hope students to graduate back in 2004 and Mercy followed her in 2005.
Rosabella was the first to speak after being introduced to the group by the headteacher, Florence. Rosabella told the students "Seed of Hope came to my rescue and they're helping me right now in my life. I thought it was the end of the world and the end of me when I didn't go to secondary school. We all believe going to school is making the future for us." She then went on to explain how Seed of Hope helped changed her life, the successes she's had so far and how Seed of Hope can lead to great things. She was given a round of applause when she told the students "You here can go on to employ someone who has been to university!"
Rosabella was definitely an inspiration for the students as she told them that having graduated from Seed of Hope she went on to start her own business which she has built up over the years and is now very successful. She then decided to return to her studies and take herself through secondary school while still maintaining her business. In fact, she just received her final results last week and was congratulated by the Seed of Hope students who had many questions about how to juggle studying and running a business. The advice they were given was it is hard but you have to plan and if you want to achieve in life you have to sacrifice. Her final comment was "I don't want to ask for favours. I want people to be asking me for favours. I'm from a family of seven and I'm helping my people".
Mercy then took to the floor and explained how she had joined Seed of Hope when she had no-one to care from her after her parents passed away. She said "It's a great blessing for me to be here. Spiritually and emotionally I learned a lot at Seed of Hope. I had no-one to care for me and Teacher Florence is now like my mother." Mercy had a different experience to share as someone had seen her determination during her time at Seed of Hope and decided to pay for her to go to secondary school after she graduated from her course. After completing her secondary education in 2008, she found employment and is now studying a certificate in Business Management with the hope of doing a diploma when she completes the exams she is currently studying for.
Mercy told the students "I am not ashamed to say where I've come from. In fact, it's an encouragement." Her family was not interested in her before she joined Seed of Hope but now that she is educated and earning Mercy says "I have proved them wrong, I proved that I am someone." Her advice to the current group of students was to focus on the positive rather than dwell on the negative. She says "Be confident and know what you want in life. If you are determined and have a goal, you will make it. I have not reached where I want to reach. One day I want to be a successful manager of a very big company. One day I'll come here in my car."
International Women's Day 2012 was about "Connecting Girls, Inspiring Futures". For Seed of Hope this is an on-going theme and we are proud to see graduates like Rosabella and Mercy achieve their goals and share their stories to inspire more girls to work hard and become successful in their own right.
We would like to thank everyone who has supported Seed of Hope by donating via Global Giving. With your support, we can educate and nurture more girls to be confident and self-reliant like Rosabella and Mercy.
On Wednesday 14th March, our friends at GlobalGiving are matching all donations with 30%. Please help us spread the word to your friends, family and colleagues who would like to make the kind of difference that you have made by supporting our girls at Seed of Hope.
THANK YOU!!