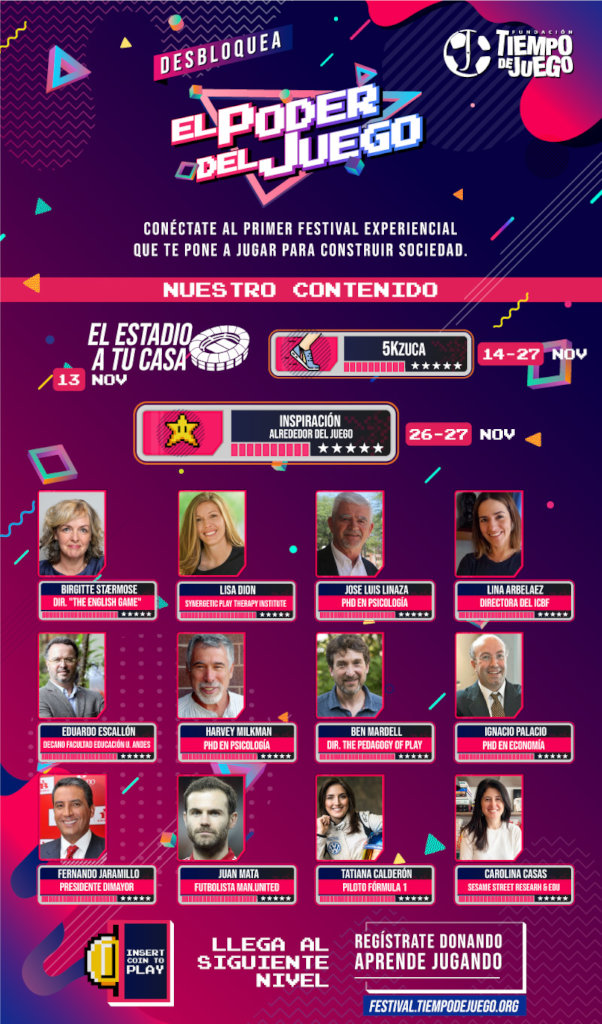 For more than fourteen years, Tiempo de Juego has used game-based activities to promote Colombia's social change. COVID 19 made us put all of our efforts and creativity into creating alternative education content for more than 3000 children and youth in different Colombian territories: How can we still provide a quality service in territories where there is a lack of connectivity and technology?
During these months we have created radio programs for children that lacked access to the internet, a virtual platform to promote peer education and interaction between children, educational booklets, among other strategies - Now, more than ever, children need recreational activities to keep their emotional, cognitive and motor development -
To keep financing these actions and increase the number of children and youth learning through the game, we have created the digital festival "The Power of the game," which will take place on November 26 and 27th. This event seeks to gather different perspectives around the transformative power that the game has to create more equitable and inclusive societies. Therefore, diverse professionals and specialists from various disciplines - psychology, politics, sports, videogames, film, literature, among others - will discuss this transformational power from their experience. Now anyone, in any part of the world can attend Tiempo de Juego's fundraising event!
Additionally, we have launched a virtual race named 5Kzuca. This athletics event will bring together hundreds of people to support and make visible that, through a great sport, Teenage Pregnancy may be prevented. This race seeks to strengthen sports schools and to guarantee better performance and transformation in children's lives. This race will take place from November 14th to 27th, and athletes may run 5k or ride 35k in bicycle wherever they want to - in parks, roads, treadmills, bike rollers, etc. - in any country. Want to join us?
Links: