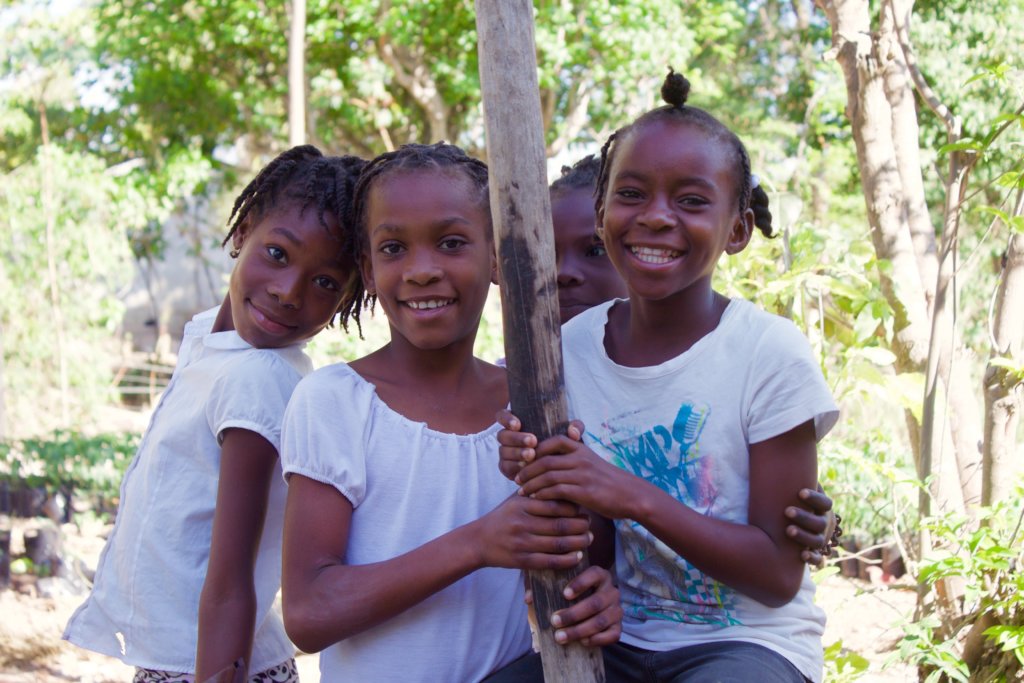 We are Grateful for Your Generous Support!
Thank you so much for your generous support for Schools Not Slavery! We are deeply honored by your commitment to partner with us to keep children free, safe, and in school.
The 2018-2019 School Year Is Underway
The 2018-2019 school year is well underway on Lagonav Island and thanks to you, girls and boys in 16 rural communities are growing up free, safe, and enrolled in quality schools.
Fourth graders Nadia, Ruth, and Clarancia are excited to be back in school. Because of your support, they are learning in classrooms where teachers are trained in nonviolent, participatory, native language classroom management techniques that encourage curiosity, creativity, and critical thinking in every student.
"I want to be a pharmacist," Ruth told a recent visitor. "And I want to work with computers," Clarancia said eagerly. Not to be outdone, Nadia quickly added: "I want to be a nurse!"
Protecting Nadia, Ruth, and Clarancia from Slavery
Your gift to Schools Not Slavery supports a host of school and community-based initiatives that work together to prevent children like Nadia, Ruth, and Clarancia from being enslaved and ensure that they grow up in homes and communities where they are loved, protected, and educated.
Your support for Schools Not Slavery is equipping parents, teachers, school directors, religious and other grassroots leaders to organize and transform their communities to stop the flow of children from the countryside to the city, where they risk becoming enslaved, to end violence and inequality against women and girls, and to ensure that even the very poorest families can earn a dignified living.
Your Support Expands Training for Grassroots Leaders
Each year, with support from people like you, Beyond Borders expands the Schools Not Slavery initiative to reach more rural communities and schools on Lagonav Island. The Schools Not Slavery initiative's five year arc of intervention in these communities includes organizing, training, and equipping grassroots leaders with the skills they need to:
−Free and reunite children with their families,
−Keep other children from becoming enslaved,
−Step up to protect children from violence,
−Help parents and guardians use nonviolent methods to raise children,
−Enroll children in quality schools with well-trained teachers,
−Lift families out of extreme poverty,
−Balance power between women and men, and
−Step up to stop violence against women, at home and in society.
To realize these ambitious goals, in all 16 communities where the Schools Not Slavery initiative is working on Lagonav Island, Beyond Borders is using a suite of interventions designed in part and led by grassroots Haitian leaders. Many of these tools are proven globally and in Haiti to create change that is sustainable well beyond its initial introduction in a community. By empowering communities to transform themselves using these tools, we ensure local ownership that last well after the five year Schools Not Slavery initiative is complete in a community.
Empowerment Strategies Made Possible by Your Support
Here is a look at some of the strategies used to empower schools and communities and to strengthen families -- strategies made possible by your generous support for the Schools Not Slavery initiative:
Open Space: A participatory approach to collective decision-making used to facilitate town hall-style meetings to encourage reflection, exchange, shared leadership, and local initiative.
Education is a Conversation: This child rights training program uses stories gleaned from ethnographic interviews to help participants examine root causes of violence against children. In 22 weekly sessions, participants examine physical, sexual, and emotional abuse of children, parental responsibility, and activism. Participants practice intervention skills through role-play exercises.
Child Protection Brigades: Volunteer committees become lifelines for children needing protection services. Brigades raise awareness, intervene to protect children, and help children access protective services, including family reunification.
Adult Survivors' Network: Adult survivors of child domestic slavery participate in neighborhood groups to find solidarity and healing, and to use their voices to make change.
Accelerated Education: Specialized classes help unschooled youth recapture six years of primary school content through an intensive three-year program.
Tuition Matching: Provides schools with financial stability to support operations and pay staff.
Textbook Banks: Provides Creole-language textbooks to students for minimal rental fees.
Adult Agro-Literacy Education: Illiteracy is a key obstacle to dignified livelihoods. Classes introduce sustainable agriculture techniques while building basic literacy, financial and entrepreneurial skills.
School and Family Gardens: School gardens create experiential learning, serve as laboratories for sustainable agricultural practices, and improve nutrition of school lunches. Outreach supports families to plant home vegetable gardens.
SASA!: A community mobilization approach to prevent violence against women and HIV. Created by Raising Voices in Uganda, the methodology cuts the risk of partner violence in half. In 2015, Beyond Borders completed the adaptation and pilot of SASA! for Haiti. SASA! is both a Kiswahili word meaning "now" and an acronym for its four phases: (S)tart, (A)wareness, (S)upport, and (A)ction.
Asset-Based Poverty Reduction Program: By employing a graduation model, over the course of 18-months Beyond Borders is able to train, support, invest in, and mentor each family, ensuring that they are able to sustain themselves even through challenges. Families receive cash subsidies, dignified housing, healthcare, weekly coaching visits, and a small business, usually livestock. Graduates are supported by Village Committees made up of local residents who volunteer to serve in solidarity with their neighbors.
Village Savings and Loan Associations (VSLA): Groups of people save together and take small loans from those savings. Beyond Borders has recently introduced this strategy with the Adult Survivors' Network and Child Protection Brigades.
Families Empowered to Lift Themselves Out of Extreme Poverty
Marie-Ange and her family were one of the very poorest families in their community. They were selected to take part in Beyond Borders' 18-month anti-poverty initiative made possible in part by Schools Not Slavery supporters like you.
The integrated investments they received as part of the program included building materials for a sturdy new home and a sanitary latrine, the choice of two productive assets (animals or the goods to start a small business) that allowed the family to begin earning an income, a water filter to ensure they had access to clean water, and training in animal husbandry and basic business skills.
The weekly coaching they received provided ongoing training and encouragement, helped them resolve issues, and showed them how to begin to save and plan for the future. To ensure that they didn't prematurely sell their livestock to respond to a crisis or hunger, they were provided a small weekly stipend (less than $6 US) for six months and free healthcare.
Soon, the goats and pig they chose as their two assets gave birth to piglets and kids, which they sold to earn money for other expenses.
In September 2018, Marie-Ange and her family graduated from the program and now they are able to meet all their basic needs for food, shelter, clean water, health care and education, and save money -- even buying more animals.
Two-hundred and twenty-nine families have successfully completed the 18-month program on Lagonav Island since its launch in October 2016. Later this fall, we hope to begin work with 110 new families. You can learn more about the program on our website: http://beyondborders.net/rise/
"Life has changed for me now," Marie-Ange said. "I am not the same person anymore."
Thank You Again!
Thank you again for your generous support for Beyond Borders' Schools Not Slavery initiative. We are deeply grateful for all that you are making possible for vulnerable families and children in rural Haiti
If you have any questions about what you read in this report, please feel free to contact Beyond Borders' Donor Relations Director Brian Stevens at (305) 450-2561 or b.stevens@beyondborders.net.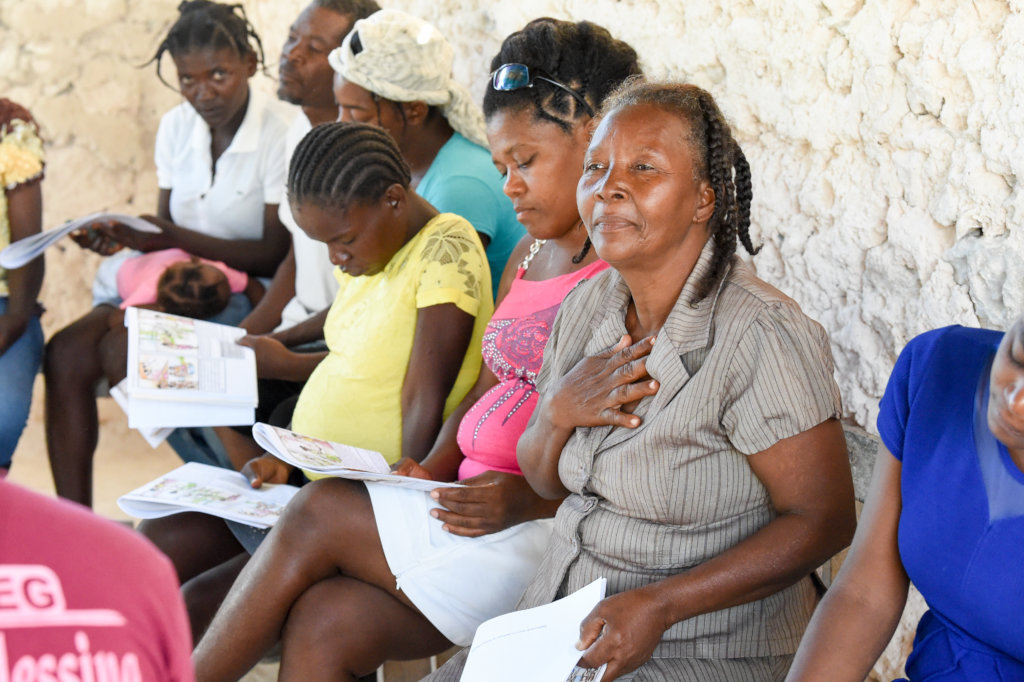 Links:
Attachments: