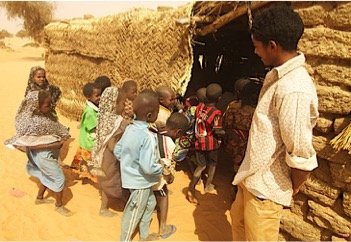 Like most children living in remote desert regions of Niger, students of the Tillaberi region walk several miles daily to school in temperatures reaching 100-110 degrees. Providing nutritious lunches - which often times may be their only meal of the day - is imperative to their success in school. As the demand for quality education in our partner communities grows and schools see increased attendance, School Market Gardens must provide the food and income to support more students. 500 sq. meter gardens are being expanded to 1,000 sq. feet along with the addition of income generating cash crops such as fruit trees. Time and natural disasters take their toll, and several of our current gardens are in need of modifications, improvements, and refresher trainings.
This past fall and winter, Abdul Salam Dourkari, Coordinator of Agriculture, and field agent Ahmoud Mouwala visited the Tilliberi communities of Tchirboye, Nassilé, Ingui, Lemdou, Bonfeba, and Tagantassou to renew, repair and evaluate the progress of their School Market Gardens.
The objectives of the field visits:
Monitor the development of nursery crops
Check the health and production levels of the gardens
Provide support and guidance on organic techniques
Demonstrate the preparation and application of bio pesticides.
Nassilé & Tchirboye
Repairs & installations:
RAIN enlisted a mason to dig and build a wall with solid bricks for the well and a staircase to install the pump at the bottom.
Installing a network of PVC tubes to irrigate the garden areas that are outside the drip-irrigation system.
The nurseries were in good condition overall: cabbage, lettuce, tomato, onion and chili seeds were transplanted in mid-November, only to be destroyed by a locust invasion. However, the next generation of transplants are protected by a mosquito net and intact. A new cabbage, lettuce, potato and tomato seed nursery was installed in the Nassile garden - onion and cabbage transplants in Tchirboye. Happily, the mango, guava and moringa trees show good signs of development. In order to protect the galvanized wire fence surrounding the garden, Jatropha seeds were planted to form a lasting live-fence for both garden sites.
Bio-pesticide training
Crop pest control is an important step to optimize agricultural production. Garden participants were trained in how to create bio pesticides using easily accessible and low cost sources, including tobacco, pepper, soap, and neem seeds. The solution of tobacco, pepper or neem is combined with a liter of water, steeped for 24 hours, mixed with soapy water and applied to crops.
Ingui
Repairs & installations:
Installing a network of PVC tubes to irrigate the garden areas that are outside the drip-irrigation system.
Sand was found at the well bottom to due inherent design flaws.
A new pump was delivered to replace the old one that often breaks down.
Garden development has been delayed due to a major locust invasion on crops after transplanting. However, tomatoes, onions, carrots lettuce and bell pepper can be found in the developmental stage. The seed nursery holds the promise of future onions, cabbages, lettuce, bell pepper, tomatoes, carrots and potatoes.
Lemdou
Repairs & installations:
Installation of a new gate to protect the garden. Strengthening of wire fence.
Repair of the well pump.
Although the drip-irrigation system was down for at least a week as a result of the pump breaking down, the crops were unaffected, thanks to the gardener and his efforts to water the garden manually until the repair team arrived. Crops include tomatoes, lettuce, cabbage, green peppers, onions, carrots, potatoes, melons and some corn, as well as blooming moringa trees, four lemon trees and a pomegranate tree. The gardener and community received the organic pesticide training.
Bonfeba
Repairs & installations:
Repair of the wire fence along the perimeter of the garden.
Installing a PVC pipe connecting the tank to the water pump.
The holes in the drip irrigation pipe system were blocked by river water impurities, leaving the gardener to use a watering can to irrigate the crops. As a temporary solution for this season, PVC pipes were installed to transport water from beds created for this purpose to the garden.
Tagantassou
Repairs & installations:

Repair of damaged garden well parapet.
Repair of the connection between the garden water tank and the schoolyard tap to facilitate water supply to students.
Garden crops include tomatoes, lettuce, green peppers, cabbage, carrots, onions, potatoes, melon, squash, cowpeas and corn, as well as moringa trees.
Challenges
This field visit to the Tillaberi region communities presented many well and pest issues and underscored opportunities for continued training to fill in knowledge gaps of participants. In order to make the most out of the School Market Gardens throughout the year, we will continue to:
Train gardeners on how to repair of motor pumps;
Solve the issue of insufficient well water levels to avoid jeopardizing the crops until the rains come;
Continue to provide close supervision and recruit additional field agents so we may conduct more regular monitoring.
Your continued support allows us to keep the promise that "RAIN always comes back." Our partner communities know we are here to help keep their food security on track, with you standing behind us as programs evolve and grow. Thank you!
"Thanks are due to RAIN for the garden and both wells in our village. Nassile has a serious problem of having no potable water. So, these two wells have helped us to solve the problem for us and our animals. The garden is a gem for the population and for students in particular, as most do not know tomatoes, cabbage, lettuce and potatoes." - Nassile Garden Committee Present Yacouba Bilan
Links: