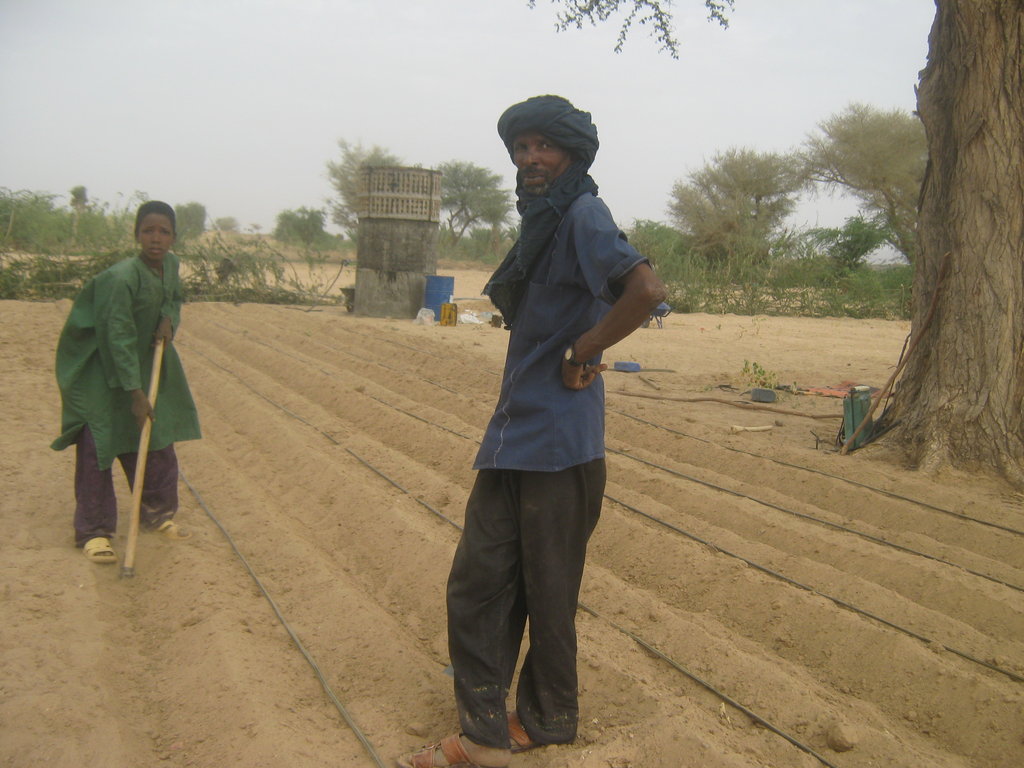 2012 has seen alternate droughts, flooding and locust invasions for agriculture in Niger, and RAIN's gardens have been no exception. Though we continued to install several new gardens in the Agadez and Tillaberi regions with your support, we are also focusing on repair and rehabilitation where needed. The following is an update of the status of some of our School Market and Cooperative gardens.
Lemdou and Tagantassou
This growing season, School Market Gardens generated food for 311 students in the community of Lemdou, and 128 in Tagantassou. Supplemented with eggs from poultry, the peanuts, melon, pumpkin, manioc, corn, okra and moringa provided by both gardens are an important nutritional addition to the staple millet. In Lemdou, tomatoes were affected by flooding but have recovered.
Mari
99 nomadic women in Mari have formed an agricultural co-op, sharing a 5,000 sq. foot plot with great success, learning from the newly created curriculum addressing modern agricultural techniques (drip irrigation), bio gardening to prevent soil destruction, nutritional and healthy food cooking, and hygiene. Mari is now experiencing flooding, and when the water recedes later this fall, the well installation will resume, providing the first step in drip irrigation installation. Also planned is the building of a small protective wall to protect from future flooding.
Bonfeba, Tagantassou, Soulifiet and Tchintouloust
Gardens are successfully producing crops, including tomato, potatoes, lettuce, cucumber and melon.
Tangushman
Due to flooding, Tangushman is currently inaccessible. When waters recede, RAIN staff in Niger will visit the community to evaluate garden damage, if any.
RAIN staff in Niger are closely following all gardens to better educate committees on management and techniques to best maximize crop output. The new garden curriculum, in the final stages of development, will be an integral part of all RAIN agricultural projects in the future.
As the school year begins and families return, we will have more updates on the progress of existing and new RAIN gardens. In this time of so much need, the bounty of a garden in the desert is a testament to your caring support. Thank you!