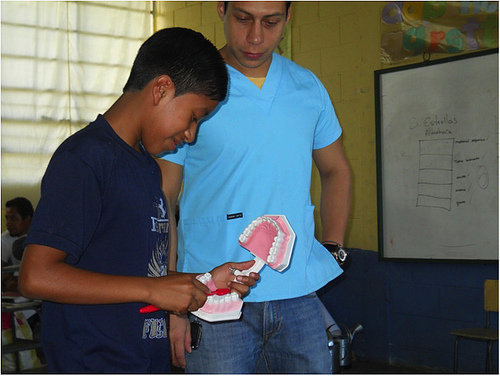 The school year ended in Guatemala in mid-October, but our Water, Sanitation, and Hygiene (WASH) and Organic Gardens project teams have been hard at work running summer camp in several of our partners schools. The first two sessions were held in early November in elementary schools in Tzanchaj and Pacoc.
To help organize a series of WASH activities, we enlisted the generous guidance of several local health professionals. Dr. Jose Contreras Alegria, a local dentist, gave a wonderful presentation on the importance of dental health and hygiene. He talked about how to brush your teeth properly, the basics of mouth anatomy, and why eating well and brushing your teeth regularly contribute to a healthy body and mind. At the end of his presentation, Dr. Contreras gave every student two toothbrushes and toothpaste.
Psychologist Danila Salvador talked with the children about the importance of self-esteem. Together they listed the characteristics of a person with good self-esteem and a person with poor self-esteem, and then the children separated into groups and talked to each other about why self-esteem was important in school. At the end of the session they presented their ideas and questions to the rest of the group.
After both presentations the children played health and hygiene-related games and prepared to bring this new, healthy knowledge home to their siblings and parents.
The third and fourth sessions of camp are taking place now in elementary schools in La Cumbre and Totolya. For WASH activities, we have invited psychologist Ruth Juracán from Santiago's Health Center to discuss self-esteem and school bullying, and nurse Araceli Rodriguez from San Lucas Health Center to present on basic health and hygiene and common illnesses around Lake Atitlan.
We are so excited that our students are learning AND having fun this summer vacation. Stay tuned for updates and, as always, thank you for helping Pueblo a Pueblo make these summer programs possible!