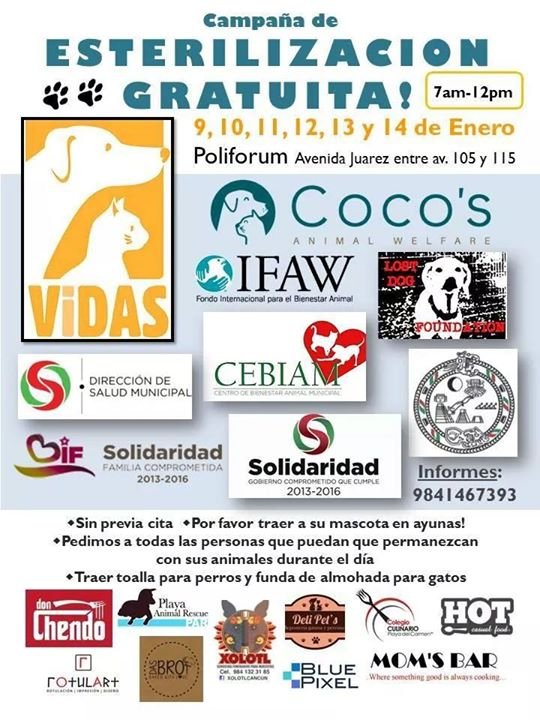 Dear Supporter,
Whilst it is the holidays for most, the team at Coco's Cat Rescue in Playa del Carmen are busy preparing for the VIDAS free spay and neuter clinic from the 9th -14th January 2015. Recent donations from amazing people like you have helped to provide surgical equipment that wil be necessary to run this clinic.
Our last report talked about the last clinic VIDAS and Coco's successfully ran. In 2014, VIDAS broke their record. 1613 animals were spayed and neutered in only 6 days at the yearly ViDAS clinic in Playa del Carmen.
Registration of the animals begins at 8am sharp and often people line up for hours to wait their turn. The animals are weighed and tagged, receive the deworming and pain medication and then the next steps begin. Not only are pets accepted, but many strays are brought in, as are the animals from the local pound.The owners wait in line until their number is called and their animal is taken into surgery. The surgery room team will then operate on the animals – there is a separate dog and cat operating room.
The second step is the first recovery room. While the dogs are still semi-anesthetized, their nails are clipped, if they have any ticks they are removed and if they need flea/tick meds, they are applied here. The animals are monitored and once they are awake they are transported to the second recovery room.
The second recovery room is set up with sheets and towels on the floor and the owners can sit with the dogs as they are becoming more aware and in control of their bodies. The volunteers and vets in this room spend time assisting the owners and animals as well as educating them regarding the aftercare that will be required. The owners are provided with the necessary antibiotics for the animals, and pain medication when necessary.
Once the dog is up and able to walk on their own, they are ready to go.
Thank you for all your support and happy holidays.
All the best
GVI Charitable Trust
Links: