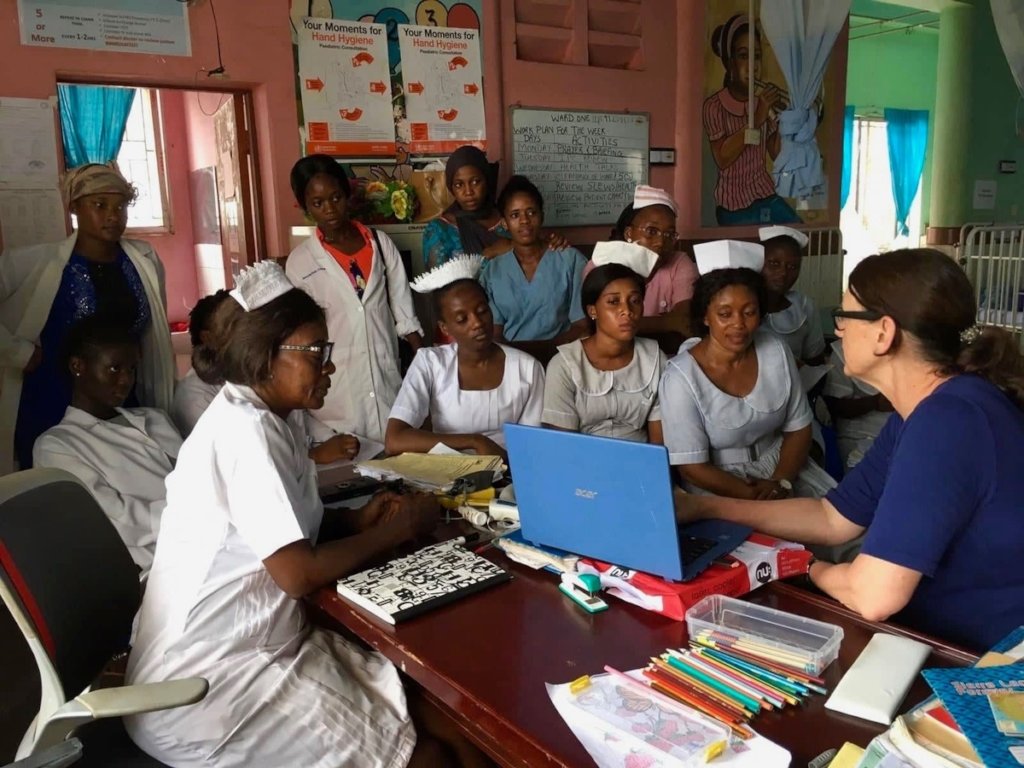 The past quarter has been a busy and exciting period for us here at Welbodi Partnership; we have begun the implementation of our eagerly-awaited Paediatric Nurse Training Programme at Ola During Children's Hospital in Freetown!
This is such an important project as, currently, nurses in Sierra Leone receive no specialist training, meaning the delivery of consistent, targeted healthcare for children is an insurmountable task. Our project takes strides towards providing quality tertiary healthcare for children in Sierra Leone through its strategic approach to strengthen knowledge and practices in the nursing workforce, firstly, through the development of Continuing Professional Development modules in the children's hospital. We then hope to expand this work to catalyse Sierra Leone's first postgraduate qualification in paediatric nursing.
We are delighted that Paediatric Nurse, Dickya Labicane, who worked with us for two years in 2012-14, has come back on-board as Paediatric Nurse Training Co-ordinator. National Paediatric Nurses, Aminata Lahai and Massah Samba, who have also previously supported nurse training with us have re-joined the Welbodi Partnership to help run the project. We are truly delighted with this team, who have a wealth of experience working within the Sierra Leonean health system and in Ola During Children's Hospital. We anticipate the project will have a great impact on the quality of care provided to the hundreds of sick children presenting at the hospital each day.
Whilst we already provide high-level technical support to the hospital, achieved through our partnerships, a fixed presence in the hospital will ensure the ongoing support and growth of health workers in acute needs areas, when partner consultants are not in-country, and help to maintain improved attitudes and morale. Ultimately, training national staff is an integral aspect of our work because we believe effective and sustainable change is initiated and led by health workers themselves; this project will generate long-term health improvements for children by empowering and upskilling the Sierra Leonean nursing workforce.
We are extremely excited to see our extensive work on the design of the project be put into action. We have secured sufficient funding to commence this project, but we desperately need your help to continue this important work. On behalf of the staff and patients at the Ola During Children's Hospital, we thank you for your generosity and urge you to share the work of Welbodi Partnership with your contacts.
Please sign up to our newsletter, via our website, and follow us on Facebook, Twitter, LinkedIn, and Instagram to get the latest news about Welbodi Partnership's work.