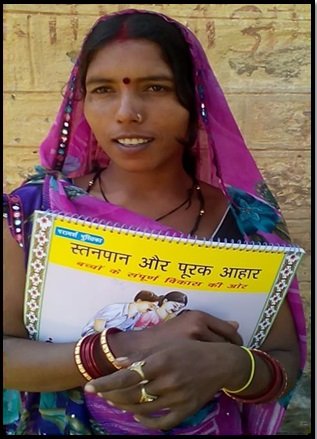 Sunita (ASHA Worker), 'We wanted such training from a very long time, but for some reasons it always got cancelled. I am very happy that we finally got trained on such crucial aspects of infant health and feeding.'
This token of gratitude is sent from the Accredited Social Health Activist (ASHA worker) from Dhanwara village, Uttar Pradesh, India, Our last project report updated you about our aim of saving infant lives by protecting promoting and supporting Breastfeeding through training. We in our efforts to take this vision to the grassroots wish to share the recent training of Frontline Workers (FLWs). Thirty community workers (ASHA/AWW) from Jakhaura Block, Uttar Pradesh, who directly interact with mothers and families, were trained in Infant and Young Child Feeding Counselling Training- The '4 in 1 course' (An Integrated course on Breastfeeding, Complementary Feeding, Infant feeding & HIV and Growth Monitoring). The workshop was conducted in collaboration with B. R. D. Medical College and District Administration Lalitpur, Uttar Pradesh. Maintaining the quality of the training is very crucial thus the monitoring and evaluation of the training was done under the supervision of Chief Development Officer, Lalitpur, UP Government.
Participants comprised of Aanganwadi workers (AWW), Aanganwadi helpers, ASHAs and Social Workers who belong to the health and nutritional care system of the government and provide end level care for health and child development programmes. They have the necessary information but lack counselling skills to disseminate in the community. Through this training they received crucial knowledge on Breastfeeding, complementary feeding, HIV and Infant Feeding and growth monitoring. These trained workers are now going to work towards bringing a positive change in their communities through behaviour change catering to a population of around 25,000.
These trainings not only impart essential knowledge on Infant and Young Child Feeding, but counselling skills too. As it is well established that merely information giving and telling the people what should or should not be done is not enough. Counselling on the other hand is the process of assisting, guiding and exploring possibilities to choose the best solution as per one's own needs. This approach requires the use of certain counselling skills that were paassed on to the participants during the training. Narrating her views, Shivkumari, an ASHA worker says 'I feel a very big responsibility lies on my shoulder's because I am trained now and have the knowledge . Women in our village are not educated and neither do they have a say in making important decisions for their children. Training has given me the confidence to talk and convince mothers and families to choose the best for their children.'
Leela Pathak (AWW Helper), 'After completing the training I feel like a guardian to all the children in my community. Good caring practices can keep the child healthy and prevent malnutrition and deaths. By involving mother groups, together we can give information on breastfeeding and complementary feeding. My knowledge has increased immensely after the training.'
It is the positivity and dedication of workers like Shivkumari and Leela which motivates us to work towards betterment of child health in the community. Thank you for your generous contribution, that drives us in our endeavor. With your support we continue to promote the most natural yet endangered practice of human kind which is Breastfeeding.
.