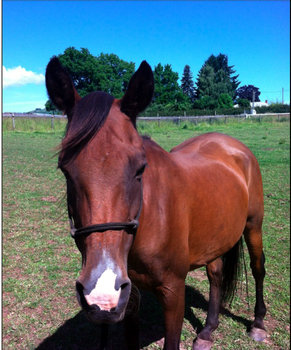 An Estacada woman whose emaciated horses were seized by the Oregon Humane Society has been sentenced to 16 days in jail for animal neglect.
The ten rescued horses, many of them underweight by several hundred pounds and one with a halter embedded in its skin, were seized in March 2012 by OHS and Clackamas County sheriff's deputies from a rural property on SE Randall Road in Estacada. Read the story here. The horses were seized under a search warrant signed by a Clackamas County Judge after efforts to persuade the owner to provide needed food and medical care were unsuccessful.
"We're pleased to see this long legal battle come to end with a jail sentence for the offender and the horses regaining their health," said OHS Executive Director Sharon Harmon. "In Oregon, letting your horse starve and suffer is against the law."
Sentencing Includes Jail Time for Convicted Offender
The owner of the horses, Edith Mae Karlin, 65, was convicted last month of eight counts of second-degree animal neglect. She was sentenced on Aug. 2 in Clackamas County Circuit Court to 48 hours of jail time for each count of neglect (a total of 16 days), plus 60 months of supervised probation on each count. Monetary restitution is to be determined later. Karlin was also barred from owning horses or livestock for five years.
Clackamas County Deputy District Attorney Rose Gibson successfully argued that each neglected horse was a separate victim of neglect and that consecutive penalties for each conviction were warranted.
Since the 10 horses were seized last year, seven have been adopted, one was humanely euthanized because of unresolvable health issues, and two more horses are still seeking homes.
Links: