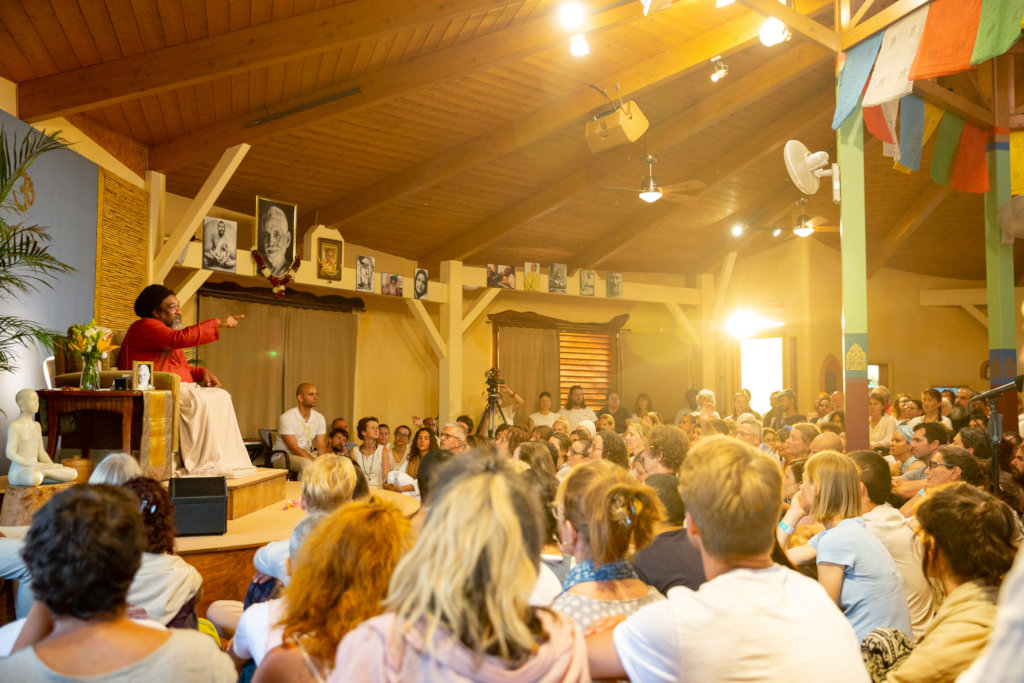 Dear Friends,
We are so happy to share with you what has been gracefully happening and evolving in the sharing of Satsang with Mooji this last quarter.
In April a powerful thunderstorm marked the opening of the 7-day Silent Retreat at Zmar with Mooji. This auspicious retreat quickly became fully-booked with 824 participants onsite with a further 900 online connections, of which were around 40 sangha groups watching together online. For this event Mooji Foundation offered concessions for 24 people to physically attend and for 44 people to join online. Live translations were offered in Russian, Spanish, French, Italian, Portuguese and, on some days, Hungarian.
In May, Mooji's Ashram, Monte Sahaja, welcomed 480 worldwide representatives from 57 countries to their spiritual home for the week-long One Sangha Gathering. Thanks to Mooji Foundation, food and accommodation was provided free of charge for all of the participants. In addition to all those physically present in Monte Sahaja, 911 people and 250 Sangha groups also joined this event online from home. This beautiful gathering was a chance for Sangha members to both connect with others from their country and to meet Sangha from all around the world, offering much opportunity to learn from each other, grow together and to imbibe the spirit and energy of being in Sahaja with Moojibaba.
At this event, live translation was offered in 8 languages: Russian, French, Spanish, Italian, Portuguese and Romanian were offered daily, and on some days Hungarian & Czech were also available. Some of the guests were able to enjoy the opportunity to be a part of the team translating the Satsangs. 63 people were listening to live translation in the hall; 26 in Russian, 9 in Italian, 8 in French and 8 in Portuguese. Many more online participants also enjoyed Satsang in their native languages thanks to this heartfelt service from the Translation team.
In addition to these events, in June Mooji also offered an advanced 7-day Silent Retreat hosted in Monte Sahaja. This retreat comprised of 360 participants onsite and as many as 1,100 online. For this event 9 people were offered concessions to attend physically and 44 people received concessions to join online. Translation for this retreat was offered in 5 languages, with over 130 people benefiting either in the hall or by watching live translated, online video broadcast in their language.
Further abundance ensued this quarter with 4 Sunday Satsangs and 4 Tea Satsangs held in Monte Sahaja, with an average of 433 participants physically present for Sunday Satsang and 391 for the Tea Satsangs. Many people also participated via free broadcast from home with 6,819 as the highest number of online participants for one Satsang. For translation, the total number of people watching with live translation online and onsite was the highest so far during the first Sunday Satsang with 887 people listening in 6 different languages.
Thanks to the loving service of the Translation team, the translation offerings have blossomed this quarter, helping so many people around the world to access and understand Mooji's teachings by tuning into Satsang or reading a web page in their language. The revised version of An Invitation to Freedom was translated into 7 languages. Also, 9 videos were dubbed this quarter and 2 new translated Youtube videos uploaded. During May and June 16 videos from The Invitation Toolkit were dubbed, the team will continue to dub all videos in this package.
On our free online channels, Mooji.tv and Youtube, 13 videos were uploaded and 3 audio uploads were added on mooji.tv. The number of viewers on our Mooji.tv homepage reached an average of 6,500 daily visitors.
Thank you, thank you, thank you for all your love and support. As you can see, your heartfelt generosity is enabling so many people to come into Satsang with Mooji through all these wonderful channels and to experience true and lasting transformation in their lives.
In loving service,
Amita & Reuben