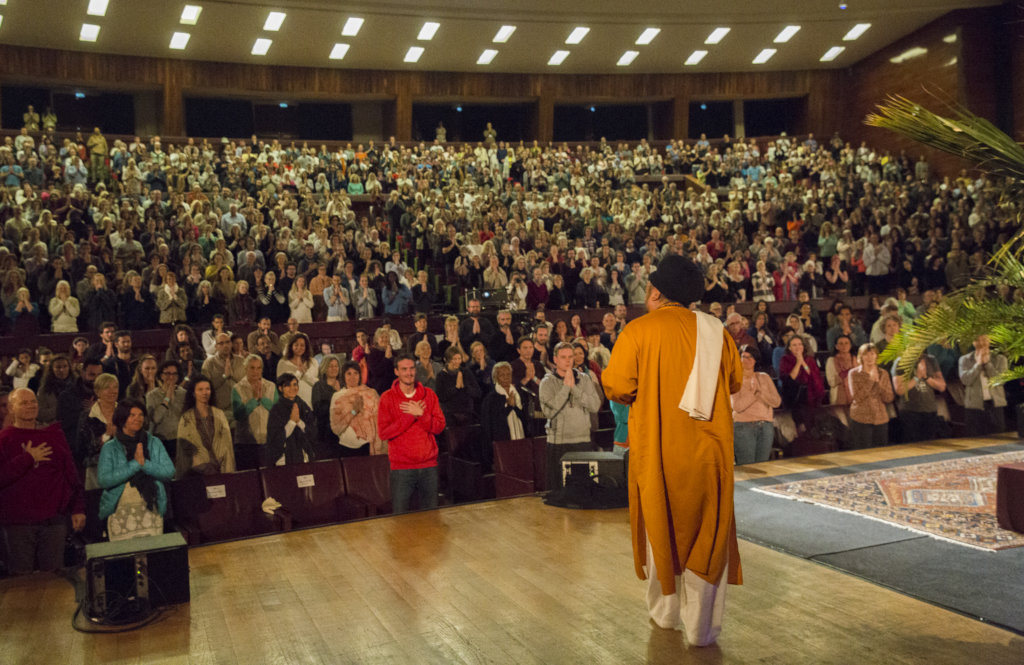 Dear Friends,
It fills our hearts with joy to share with you what has been happening in the broadness of the sharing of Satsang with Mooji in various ways and forms.
During the winter months Mooji and the team spend their time on projects in Monte Sahaja, preparing for the upcoming spring and summer public Satsangs, retreats and intensives.
Following much longed-for and welcomed rain, the nature in Monte Sahaja has been thriving and during this period our land care team planted 211 trees and 148 bushy plants. Seven ancient olive trees were lovingly welcomed to Monte Sahaja and given new homes around the land. These olive trees, up to 1,500 years old, are felt to contribute to the energy field of Satsang with their strong presence and silence. To accompany these majestic trees, 4 very large granite stones were placed, creating deeply silent and beautiful contemplation spaces. To further beautify the new contemplation spaces, some 40 kilos of seeds, varying from grasses; lupins; clovers and other ground covers, were sown during this period.
In January, a small team travelled with Moojibaba to London where two Satsangs with about 240 participants in each were held in Brixton. This was such a rare and auspicious opportunity to meet Moojibaba where he has lived for so many years and where the sharing of Satsang with Mooji began.
In Lisbon, at the end of February, Moojibaba offered a powerful 5-day Satsang Intensive to 1,500 participants at the venue with a further 1,340 joining live online. 13 people in need of financial support were offered concessions to attend this event physically, as well as 39 online. In addition to this, the first Satsang of this intensive was broadcast free for everyone, where 4,900 people joined in live.
This Intensive was our biggest Satsang event in Europe and our wonderful translation team offered live interpreting into French, Spanish, Portuguese and Russian. Up to 130 listeners in the venue and around 110 online viewers benefited from this translation service for the duration of the Intensive. About 670 online viewers listened to the live translation during the public broadcast, Russian was the most popular with around 340 viewers. Second was French with 150 viewers, followed by Spanish with 120 viewers and Portuguese with 80 viewers.
This event also had the highest number of Sangha groups around the world participating together online. 75 Sangha groups from 29 different countries joined online for the duration of this Satsang Intensive. Currently we have 280 Sangha groups registered in 69 different countries around the world.
More and more people with an inner calling for truth are coming into contact with Mooji's pointings via the internet. This quarter there were around 17,000 new subscribers to the Moojiji Channel.
13 video and 5 audio Satsangs were published on Mooji.tv free media page, which received average daily views of 3,500. 12 of these videos were also published on Youtube.
Our heartfelt gratitude to all of you who have helped to make this possible through your donations, love and support.
Thank you.
In loving service,
Amita & Reuben
Mooji Dana team