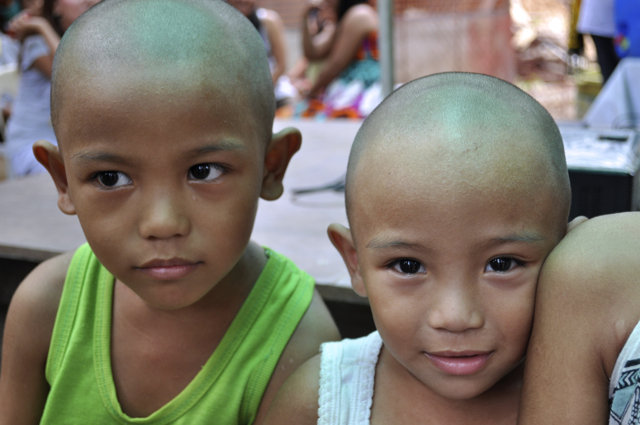 Ryan and David are brothers. They live in a shack by the rivers and when floods come they need to evacuate. But their nearest evacuation centre is miles from their home. That means that in the past they've had to walk for over an hour in the pouring rain to reach safety.
Their parents would love to live somewhere safer, but they can't afford to move. So they cling on living by the river.
It often seems like Ryan and David have only the slimmest of chances at a secure home and prosperous future – but the evacuation centre is changing all that.
The Banaba Livelihoods and Evacuation centre acts as an evacuation centre during floods, and runs poverty reduction projects year-round. Those projects will give Ryan and David's parents the chance they need to learn new skills, find work, and support the family. And, of course, the centre's concrete walls give them safety when Mother Nature turns nasty.
Ryan and David's lives are already better because you've chosen to give, but we still have a way to go. At the moment, the centre lacks the equipment it needs to teach urban gardening, sewing, and other income generation skills on a large scale, and we still can't stockpile all the supplies we need to keep the boys, and hundreds like them, safe during floods.
This Christmas, you can give Ryan and David a brighter future by setting up a recurring donation to help us fund poverty reduction programmes and stockpile essential supplies for when floods come.
When you set up a monthly recurring donation between today and the New Year GlobalGiving will match your gift, and we'll be able to help families like David and Ryan's. Your recurring donation will make all the difference.
Set up your monthly donation here
Not ready to commit to a monthly donation? No problem. Whatever its size, your one-off gift will help vulnerable families thrive.
Thanks so very much - and, if you're celebrating this year, we wish you a very Merry Christmas!