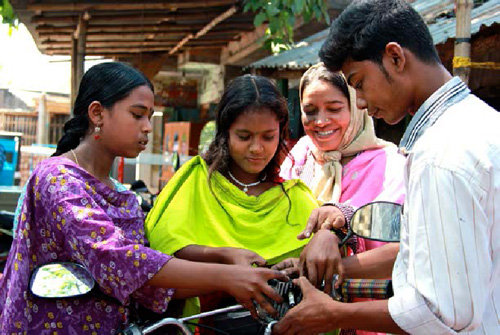 In Bangladesh, close to two million young people join the workforce annually. Many of the opportunities that are currently on the market are not in the formal sector, but rather are entrepreneurial opportunities in the growing informal service sectors.
BRAC caters to hundred of thousands of youths and offers a range of empowering programs and services, including many dedicated to livelihood development and income generation. Last year, BRAC's Social Innovation Lab explored how BRAC's programs are working to support entrepreneurship and where there are opportunities to do more. We learned the most in speaking with current members of BRAC's programs, such as the Adolescent Development Program and listening to their stories.
Contrary to what you may expect (and to our experience in adolescent programs outside of Bangladesh), the adolescents who we spoke to showed a keen interest in job-seeking rather than entrepreneurship. In Dhamrai, Dhaka, we met a Rabeya, a 16-year-old member of ADP. Rabeya is a very bright student and is consistently at the top of her class. She plans to complete higher studies and pursue a career in the job market, but when we asked about applying her talent to become an entrepreneur, she is afraid to even consider it as an option. The risk and stigma associated with entrepreneurial ventures has her choosing the security the formal employment sector over the potential of establishing a thriving business.
In Chittagong, we met Halima, an ambitious15-year-old girl who is receiving training from another BRAC program--STAR or Skills Training for Advancing Resources, to become a tailor. STAR is currently providing vocational training to 1,000 school dropouts, drastically increasing their chances for job placement through training in growing market sectors. Halima is ambitious and displays the characteristics of a natural entrepreneur as she dreams of one day having her own shop. However, she doesn't equate that goal with that of being an entrepreneur. Difficulty in accessing financial resources and knowledge on basic business practices hampers her confidence in pursuing her dream.
This feedback from our participants helps us to understand that drastic improvements are needed at all levels of society to cultivate the entrepreneurial mindsets of young people. Successful entrepreneurs need to be celebrated and their stories and knowledge shared with creative and aspiring youths in Bangladesh.
But just a change of mindset still won't be enough. At the "Investing in Youth" workshop held by the Social Innovation Lab in April 2012, we met Sabila, a young energetic tech entrepreneur running her own company and has great potential for success. Unfortunately, a lack of societal support for her venture and the ventures of other emerging young entrepreneurs like herself is hindering their success in a highly competitive market.
With your support of BRAC's Adolescent Program, we are able to continue identifying opportunities to improve our programs and find new ways to empower these bright young entrepreneurs, cultivate interest in market innovation and break down stubborn taboos that hinder the entrepreneurial spirit of young people in Bangladesh.
Learn more about Sabila, the progress of young entrepreneurs, and much more in: BeyondSkills: Supporting Youth to Become Successful Entrepreneurs in Bangladesh.