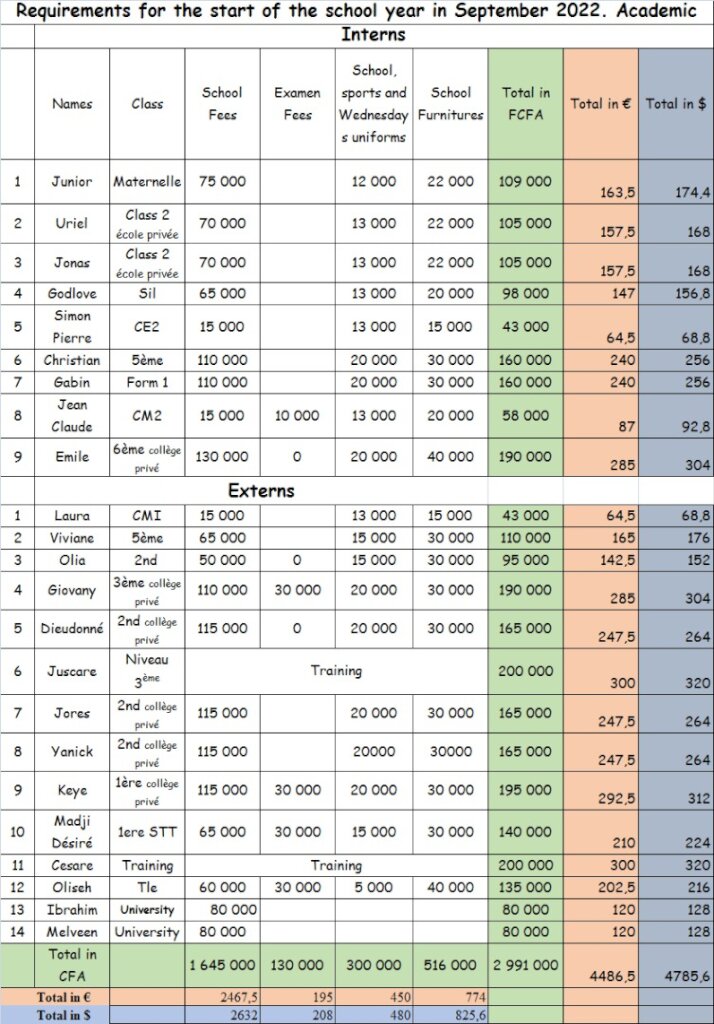 ACADEMIC RESULTS ACADEMIC YEAR 2021/2022

Last school year ended with a global satisfaction at AGAPE Center: 8 students took the official exams and 6 passed.
Details are as it follows:
- 1/1 GCE "A" Level
-1/2 Probatoire exam
-2/3 GCE "O" Level
-2/2 first school leaving certificate

For intermediate classes, the results were mitigated: 2 out of 6 students passed to the next class.
At the beginning of the academic year 2021/2022, we presented 17 children in the list, among these children one who had obtained his GCE "A" Level the year before did not go to school, another child was still under observation because of lack of collaboration with the center's rule and the last one's placement did not happen as initially planned.
For this reason, we are presenting results for 14 children instead of 17.

PREPARATIONS FOR THE START OF THE 2022/2023 ACADEMIC YEAR
Preparations for the start of the 2022/2023 school year are underway. We are compiling information on the potential schools new children, evaluating the material and financial needs and approaching potential donors to solicit their support. Your support is more than welcome. Please find below the summary table of all these needs.
LIFTING OF CUSTODY OF YOUNG PEOPLE OVER 18 YEARS OF AGE AT THE AGAPE CENTER
Center AGAPE works in close collaboration with the Ministry of Social Affairs of Cameroon. The latter does not encourage a child over 18 years old to be taken in charge within an institution of which is his guardian. AGAPE abide to this policy that allows the children to become independent citizen and responsible individuals.
Thus, since last July, we have proceeded to return some of the young people who have reached the age limit to the home where they have relatives. We trust that they are now mature and grounded enough to stay off the streets and move on responsibly with their lives. We still continue to help them at the beginning of each school year, paying at least part or all their school or training fees. We encourage them earning a living while getting trained or studying and of course support them with advices to help them sound make decisions for their future.
Together we took most of them out of the street. Thank you for your support. We could not have made it without you!
WELCOMING NEW RESIDENTS TO THE CENTER
After the departure of the above-mentioned youngsters, we also proceeded to welcome 6 other children in distress whose ages vary between 5 and 12 years. We the AGAPE Center presently support
-14 children as externs
- 8 children as interns
It is with your support that we can and will succeed in giving them all a bright future.
ARRIVAL OF THE ASSOCIATION SOLENCA, PARTNER OF THE ASSOCIATION AGAPE
The main partner of the Association AGAPE has been in Cameroon for some days. Their stays are always an enriching moment for the children, staff and themselves. We work hand in hand with SOLENCA since 2014 years . The members brought to the young people school bags, shoes, sheets and towels. They are preparing with the young people an open day at the AGAPE Center which will take place on Saturday, September 10, 2022 during which, the children of the Center will present small scenes. YOU ARE INVITED AND WELCOME! Please share the word.