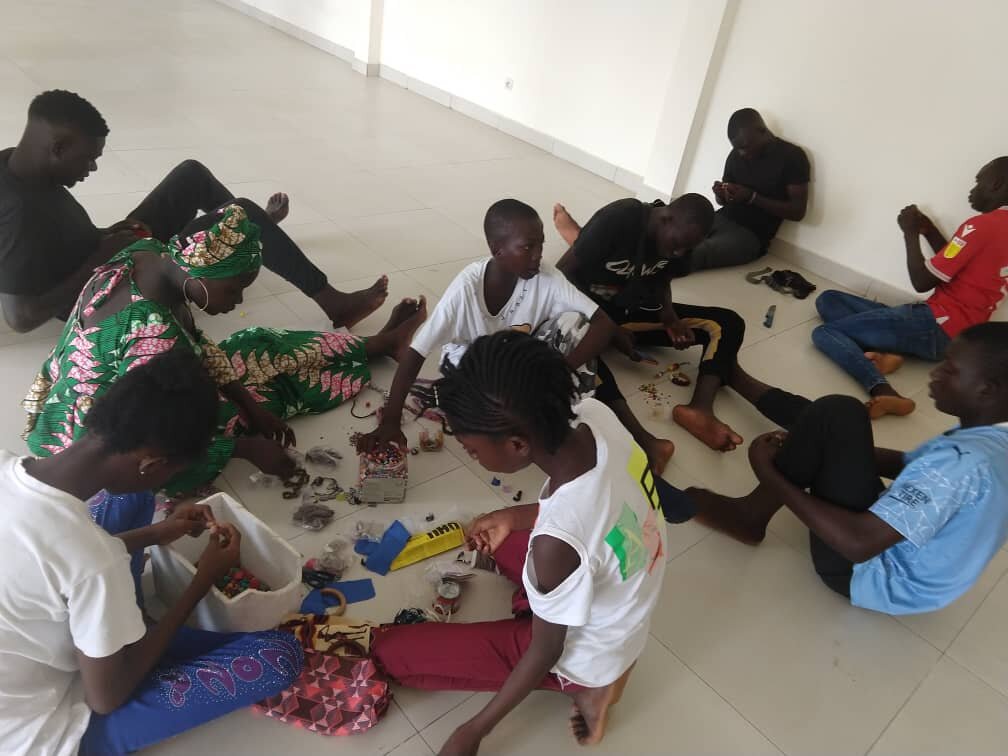 Manuel worship to help the youth who have left the center to earn money while studying
The idea behind this creativity is to encourage these AGAPE children who have left the center to become independent financially while studying. These boys they have reached majority or these girls stay in difficult family situations. We were led to provide them with beads which they used to make jewellery. This project will eventually be extended to the manufacture of other substances such as soap, etc.
First aid
We have integrated a first aid activity into the AGAPE Centre. This activity allows everyone to give the right gesture either to themselves or to another person in case of a problem. With the young people, we studied the behaviour to adopt in case of a snake bite. Afterwards we simulated the use of Aspi-venom. We also demonstrated what to do in case of a fractured upper or lower limb before immobilising it.
Thank you for your support during the Little By Little Campaign
AGPE took part in the Little By Little campaign launched by GlobalGiving between 4 and 8 April 2022. These 5 days of campaigning allowed to solicit the heartbeat of any donor. You responded and we can but thank each of you who contributed and spend the work. Here the important thing is not the quantity, but any donation made in this period of time was multiplied by 50% before being transferred to AGAPE.
Presentation of the results of term 2.
The young people received the report cards for term 2 on 8 April 2022. The results were not up to our expectations for all the children. We understand that a more intensive supervision is needed in this school and area of Japoma. However, we note a slight improvement overall.
Securing the Centre in Japoma.
The continuation of the work at the Japoma Centre continues with the securing of the whole building. Grilles have been installed on almost all the windows in the upper block. Only the basement of the house was secured until now. Metal doors have also been installed in the upper block. The ceiling is installed on about 65% of the house area.
Tutoring
Félicité, a young Cameroonian with a degree in the Anglo-Saxon system, is volunteering at the Centre. She gives English lessons to the young people. She helps them with their homework, with the correction of old tests for those who are in exam classes.
Donations and fundraising

The visit of the Cadets of Mary Immaculate has enabled them to donate some resources to the centre, the UCB company regularly donates juice and flour. The visit of the president of the SOLENCA Association, our partner, last February enabled us to contact local businesses which we are now following up.