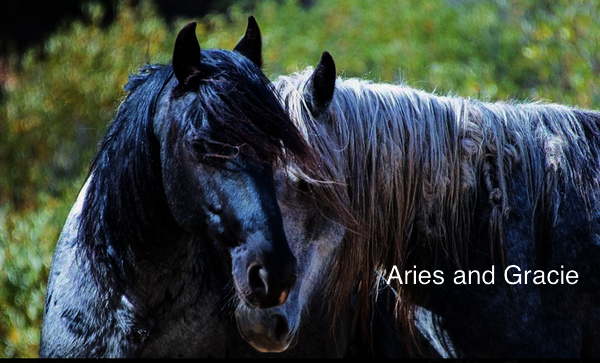 Report from RTF Lompoc Headquarters
Dear Friends of RTF,
Time flies, and it's time again to check in with our Supporters to say thanks, and give a little bit of ranch news. While the care of nearly 450 rescued wild horses and burros is a constant and challenging task, our days are also peppered with landmarks, large and small, that season our daily caretaking chores.
As we've described previously, keeping horse family bands intact and even reuniing horses torn from each other in roundups, is an over-arching principle at RTF. We've accomplished this a number of times, but only with the help of our supporters. These are detectiver stories, takng time and resources, without which these family members and friends would be lost t each other forever. Reunions are a happy time for all of us, horse and human.
Ares and Gracie reunited
Ares and Gracie were reunited a year after the roundup that tore them from each other.
The following report is from Meg Frederick, a celebrated equine photographer who has befriended these horses on the range, and remained a fierce advocate and protector after some of the horses have been heartlessly rounded up and separated.
"Today I wanted to talk a little about family. A wild horse band is made up of the stallion, his mares and the offspring. I keep hearing that these horse don't care about being with their mares. I live out with the wild horses 7 months out of the year. I can tell you for a fact they do care. Some stallions stay with the same mares for years and years. Yes the young ones do move on. I am focusing on the stallion and his mare. Another argument I keep hearing is once they are gelded they longer care about their mares. I was involved in reuniting two family bands last year and I can tell you that is false. The first photo is Ares and his mare Gracie when they saw each other. A once confident band stallion was cowering in the corner of the corral at the auction. His mares were very skittish and terrified. The second we reunited these horses you could see a hundred pound weight just drop off their shoulders. They knew they were safe back together. Yes in the wild bands split up. I have watched several bands at a sanctuary and they stay together and the geldings still fight to keep their band together. So many false narratives out there and mostly said by people who have not spent one day watching a wild horse in the wild. Mustangs are not solitary animals and need to be with a herd. "
We thank all the supporters, volunteers and advocates who work so hard to bring these shattered families and lost friends find each other again. It's one of the most rewarding aspects of our work, but it would not happen without your help..
Amante is now Fully Sponsored
It's very important for us to find personal sponsorship for our horses, burros and herds. Knowing that these animals have ongoing support from outside the ranch not only increases our confidence and stability, it also frees us to do more outreach and advocacy for the wild ones still on the range.
Our handsome friend Amante now has that all-important backup. There are a number of RF residents and groups that still need friends to help ensure their happy lives. Please visit www.returntofreedom.org/sponsor to see the beautiful faces you could be feeding!
Our deep thanks to those who have already put their arms around horses, burros and herds—you can't know how great it makes us feel!
Special Film Screening
In October, RTF hosted a special theatrical screening of The Mustangs: America's Wild Horses.
The 200 seat theater was sold out and remained packed for the panel discussion with a truly engaged audience. The feature documentary--executive produced by Robert Redford, Patti and Jessica Springsteen, takes audiences on an odyssey throughout America to meet just some of the people helping America's mustangs and burros in different ways.

The journey begins with an introduction from Robert Redford and continues with a narrative from Pulitzer Prize-winning journalist David Philipps, songs by Bruce Springsteen, Emmylou Harris, Willie Nelson and an original song written by Diane Warren and performed by Blanco Brown.

Then, a dynamic panel was facilitated by Elizabeth Kaye McCall and included producer Steven Latham, RTF founder Neda DeMayo, Las Cumbres Ranch (regenerative agriculture and holistic land management) owner Patricia Selbert and renowned wild horse photographer Meg Frederick.

"It was a truly engaged crowd filled with familiar and new faces of all ages," said Neda DeMayo

"America's wild horses are fighting their last stand," said Executive Producer Robert Redford --

Thank you to everyone who came to the film and to all of you who stand with America's wild horses and burros.
RTF In Print
RTF is grateful to have been featured recently in Young Rider Magazine!
"On the central coast of California, a special place for wild horses is nestled among the rolling hills and native oak trees. It's a place where both horses and burros find refuge, where the grass grows high in spring and the sun shines warmly nearly all year-round."

So begins a feature article about RTF's American Wild Horse Sanctuary in the September-October issue of Young Rider magazine. The story touches on RTF's efforts to provide a home for wild horses and burros displaced by roundups, even as we work to change the way those still on our public lands are managed by government agencies. The magazine also highlighted our work to conserve rare strains, such as the Choctaw Indian pony, and our ambassador Spirit, the Kiger stallion who acted as muse and model for the beloved animated film "Spirit: Stallion of the Cimarron."

We hope you will visit our website to read the article in full and share with any young wild horse lovers in your life. Thank you to Young Rider Magazine for featuring our work in such a thoughtfully written article.


Advocacy
Until Congress takes action, the needless slaughter of American horses will continue day after day.
Between January and September of this year, 14,402 American horses were shipped to slaughterhouses in Mexico or Canada.
Slaughter is not euthanasia. It is horrific. and even the truck transport there is a living hell.

Time is running out for this Congress to pass the SAFE Act (H.R. 3355 / S. 2732), which would permanently ban horse slaughter in the United States as well as the export of American horses for slaughter.

ACT NOW: Please contact your representative at 202-225-3121 and urge him or her to push for the movement of the SAFE Act (H.R. 3355) to end horse slaughter.
As always, we homnor those people—like you— who love and respect America's symbols of Freedom.

To the Wild ones, and those who stand with them,
All of Us at RTF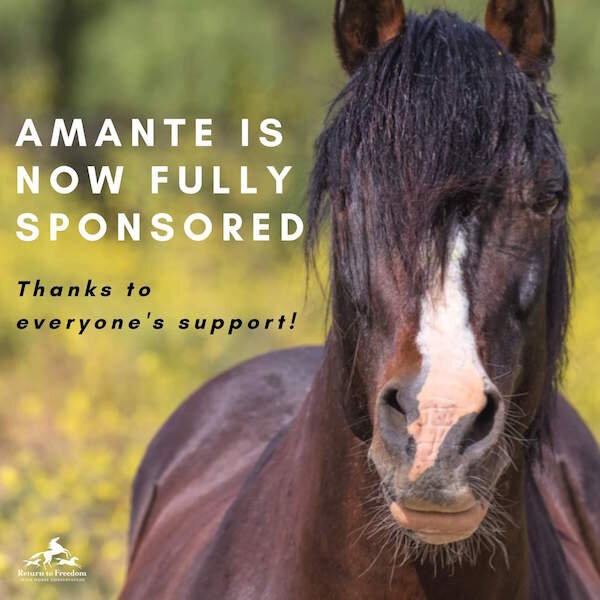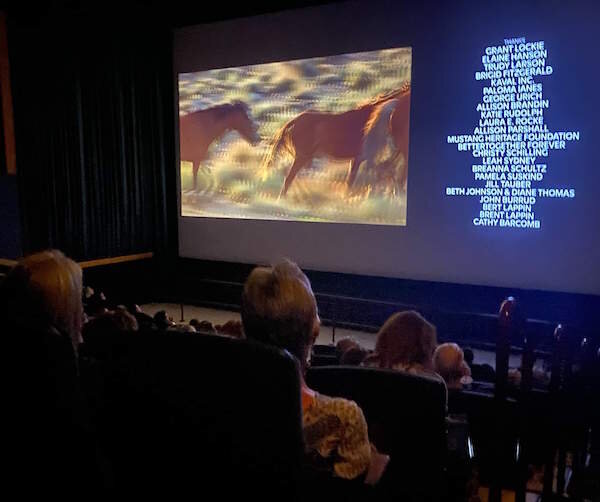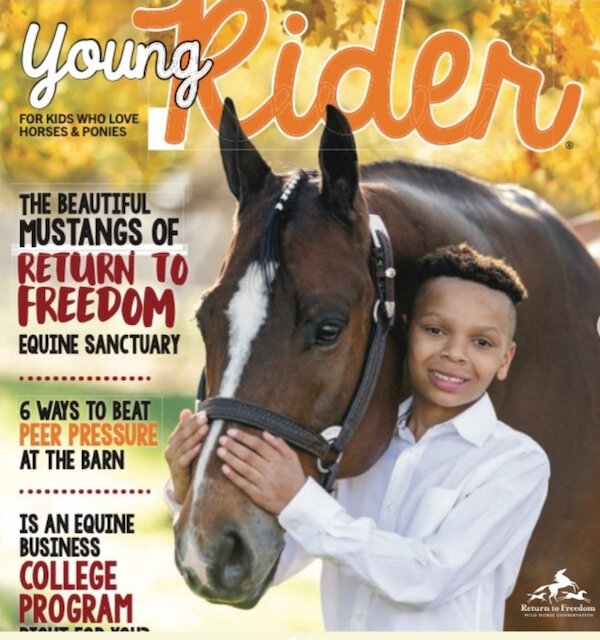 Links: