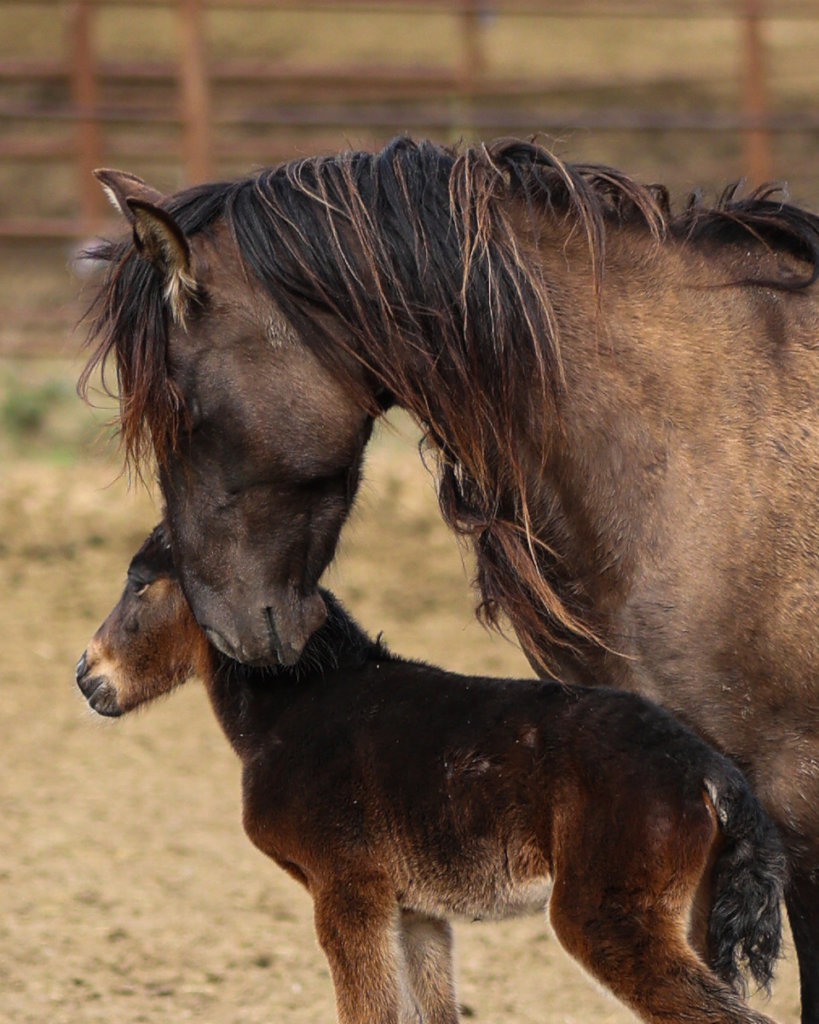 Dear Friend of the Wild Ones,
Like it did for everyone, last year presented extra challenges to Return to Freedom. Our programs, like tours and other events offered to the public, had to be postponed, modified or conducted virtually, online. This was the case with our Spirit birthday celebration. (Spirit was the animation muse and model for the DreamWorks animated feature, "Spirit; Stallion of the Cimarron") But the Birthday Spirit was strong nevertheless, and many friends of RTF took part in the extended Celebration for Spirit.
Work at Return to Freedom's Lompoc headquarters and at our several satellite locations is a constant, but with occasional twists.
At the end of January, the ranch in Lompoc received almost 10" of rain in 4 days. The adobe clay mud here is very hard on the horses and for staff to get around in. Thanks to a generous and compassionate person, we were able to evacuate 16 horses to her empty ranch in Santa Ynez which had shelter and dry ground for the horses. During an intense hailstorm we were able to relocate some of our halterable horses to her empty facility, which made room for other horses here at our headquarters to come in out of the unrelenting storms.
Our farrier and part time superhero, Brian, continued supplemental feeding for the horses living in the rolling hills at our San Luis Obispo (SLO) satellite sanctuary as weather conditions allowed. We did have to relocate two seniors from SLO to our Lompoc facility so that they can receive more individual care now, in keeping with their age.
83 horses were taken off our pasture lease in Alturas and relocated to Dreamcatcher ranch for the Winter. At our Northern CA satellite, Thomas and Jason worked in 18" of snow to set up sorting pens and the squeeze chute, and safely sorted four young Gila colts for gelding. The four colts along with two special-needs senior mares from the Calico herd who need vet attention were safely transported by Thomas to our Lompoc headquarters.
Our ranch manager, Jason, is always busy repairing fences, solving problems and caring for horses. He continues to manage a private ranch set up exclusively for the 66 Gila horses, and we are all ready for him to come back to Lompoc! The maintenance on a ranch is never-ending hard work, and we are lucky to have Jason on board with his many skills and his dedication to the horses.
Two foals have been born in 2021. Although all RTF mares are treated with native PZP, a non-hormonal fertility control, some mares don't respond to it. We have had a 98% efficacy rate, but when one or two slip through the cracks, the whole herd celebrates! We welcomed one Gila filly (still un-named) in December, and a Spanish Brislawn colt just before Valentine's day. His name is Eros!
Advocacy
As you know, Return to Freedom also works on the national level for the wild horses still running free on the range. There is always a lot of activity to report in this area of Return to Freedom's mission.
Since our last report, Return to Freedom scored a legislative win and has filed a lawsuit opposing the Bureau of Land Management's plans to surgically sterilize wild mares.
On Dec. 21, Congress approved a $14.2 million increase in the Bureau of Land Management's Wild Horse and Burro Program, in part to fund "a robust expansion" of "proven, safe, effective, and humane" fertility control. Altogether, the wild horse program received $115.8 million, part of a $1.4 trillion spending package to fund the government through September.
The additional funds from Congress come in response to a May 15 BLM proposal to "institute an aggressive, non-lethal population control strategy to address the current unsustainable trajectory of on-range wild horse and burro population growth." RTF found BLM's report to be vague and often self-contradictory.
Fertility control and on-range gathers are to be "maximized," the committees wrote, "even if Appropriate Management Levels (the number of horses the government believes can be supported in a given Herd Management Area) are not immediately achievable."
RTF has serious issues with maximizing removals, although BLM has been clear since 2017 that that is how it would handle cumulative population growth. However, the language about maximizing fertility control is critically important because BLM has for years insisted on capturing and removing wild horses down to its population target before implementing any fertility control, so that is a positive step forward.
The committees wrote that in Fiscal Year 2021 BLM must also continue to abide by its Comprehensive Animal Welfare Program, a humane-handling protocol, during roundups, transportation, holding, and adoptions, as well as restrictions against selling wild horses or burros without restriction (to slaughter) or killing healthy animals, both requirements for which RTF has lobbied.
The final bill also included language barring the U.S. Department of Agriculture from hiring horsemeat inspectors. The bill did not include specific language barring surgical sterilization of wild mares.
Near year's end, RTF filed suit in federal court in California to halt a Bureau of Land Management plan to surgically sterilize wild mares using a procedure that is dangerous, inhumane, and an unnecessary risk especially when proven, well-studied and previously utilized modes of alternative fertility control exist.
The BLM, in December, completed a helicopter roundup on the Confusion Herd Management Area in Utah. The agency plans to hire presently unknown veterinarians to perform on 17 mares a painful and invasive surgical procedure in which a mare's ovaries are crushed then pulled out with a looped chain instrument. The mares would later be released onto the range.
The BLM continued to move forward with its plan despite 58 members of Congress sending a letter to the Secretary of the Interior calling on BLM to drop its plan. The letter came as a result of lobbying by RTF and colleagues.
RTF's management of hundreds of horses and burros in multiple locations, and our campaign to replace traumatic roundups with safe birth control are difficult tasks, but with the help of so many caring supporters we have and will continue to provide a great life for our sanctuary residents and fight for the lives of the mustangs and burros on our public lands.
We're so grateful for your help in this important work for America's wild equines and we hope you'll continue to be an important part of it.
For the Wild Ones, and those who stand with them,
All of Us at RTF