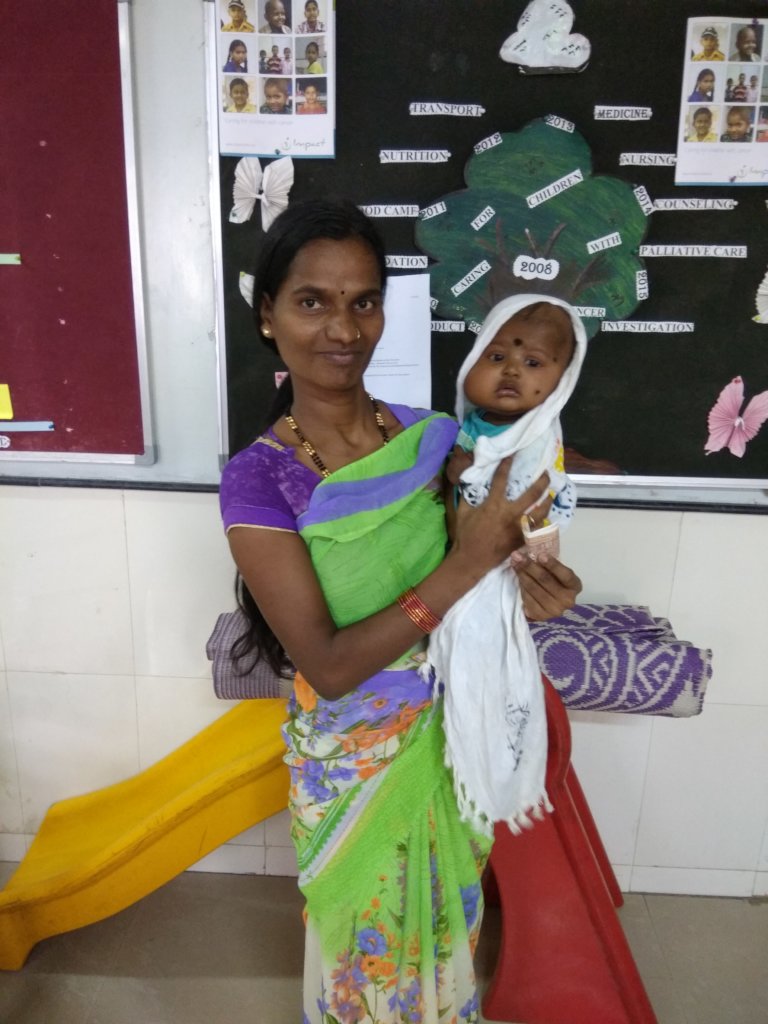 Story of a brave infant
Patient Name : Dinesh
Diagnosis : RMS (Rhabdo Myo Sarcoma)
My name is Padma. I am the mother of Dinesh. My son was seven months old when he was diagnosed with RMS. We are from a small village in East Godavari district. As a matter of fact we have never travelled out of our district. This is the first time we are visiting Hyderabad.
Initially, Dinesh was suffering with severe pain in his throat and nose, he was unable to swallow even water and unable to breathe properly. We consulted in many hospitals finally they referred my son to a private hospital in Hyderabad. We spent a lot of money on my son's treatment in various hospitals until a private hospital doctor referred us to MNJ Institute of Oncology and Regional Cancer Center.
Finally we reached MNJ Institute of Oncology and Regional Cancer Center with my child with severe pain and breathlessness. We consulted with Dr. Sudha Sinha Pediatric Oncologist of Medical Oncology Department.. She was very pleasant to talk with and examined the child and studied all the old reports. She gave us hope that my child will get cured and she started treatment immediately for pain relief and suffering. He was admitted in Pediatric ward which is being run by IMPACT. Impact counselors came forward to explain the entire process of diagnosing and they supported my son's medical investigation.
After five days my son was diagnosed with RMS. At that time , I still remembered, I cried a lot. I was unable to digest and to add to the woes even my husband was not with me. He was in Kuwait. Impact counselors gave me a lot of hope and I was strengthened with their words and they explained entire process of chemotherapy. Counselors talked with my husband on phone and explained about my child's situation and prognosis. IMPACT gave me money for my son's nutrition needs, blood products and assured medicine free of cost.
I felt so relived and happy when my son successfully completed chemotherapy and radiation. Now, my son is finally cured after one year of Chemotherapy and Radiation treatment with help of Impact team especially to Dr. Sudha Sinha. I can't thank enough for the psychological and financial support provided by Impact team. We never lacked a thing after getting admitted into IMPACT ward. They are really godsend in saving our little one struggling with this deadly disease. I am very much thankful to Dr. Sudha Sinha, Impact team and Impact Donors who generously donating money for our little son. May god always bless you for helping needy people like us.
STATUS REPORT
During the period from February 2018 to March 2018, 1098 children have been treated for cancer. Out of these kids, 130 children were in-patients in the IMPACT ward.
New Admissions

Newly Diagnosed cancer cases in these 2 months are.
63 cases in the month of Feb, 2018.
79 cases in the month of Mar, 2018.
SPECIALISED ICU CARE IN PEDIATRIC ONCOLOGY
35 children and 1 adult were taken care in the ICU in the month of Feb, 2018.
29 children and 3 adult were admitted in the ICU care in the month of Mar, 2018.
DAY CARE SUPPORT FOR CHILDREN AND ADOLESCENTS
Chemo administration in the day care for the month of
o Feb, 2018: 25 children and 10 adolescents.
o Mar 2018: 35 children and 15 adolescents.


Transport support

160 Children benefited from our Transport Support.
79 children were treated during the month of Feb , 2018.
81 children were treated in the month of Mar, 2018.
Blood Products Support

Total number of children who received blood units free of cost.
201 children received free blood during the month of Feb, 2018.
179 children received free blood during the month of Mar , 2018.
Hygiene Program Support

Hygiene training was imparted to parent/caretakers of children. Following Hygiene aspects were trained and practices imparted.
Bed side cleaning.
Hygiene boxes, Masks and sanitizers were distributed.
Evening Classes

Several events/programs were held for children refreshment and entertainment .Following programs were conducted:
Birthday Celebration
Academic Classes like Mathematics, English and Telugu.
Drawing and Painting classes
Cultural Activity
Building Blocks and Puzzles
Video games, watching movies and Cartoon videos
Medication

Medicines were procured and administered to several needy children.
09 Children got free medicines in Feb 2018.
28 Children got free medicines in Mar, 2018.
Following medicines were administered with funds from donors. Medicines administered in ICU medical oncology include the followings.
ICU Instruments like NIV MASK and all the necessary items.
Inj.Sodium Bio-Carbonate.
Sterillium
Tab Bactrim DS
Prilox cream.
Volunteering Activities
CHIREC school helped the poor kids with supplements.
Donor Sheetal organized Magic Show.
Blood camp at 3oil Palm company organized through IMPACT.
Deloitte organized program for kids and distributed gifts .
SPURTHI Foundation organized hygiene program for kids and distributed snacks.
Jyothi Bai foundation organized program on 1st Anniversary of their foundation.
Lions Club distributed gifts for kids.
Rotary club distributed snacks for kids.
ASHA Foundation conducted program for kids in remembrance of beloved daughter's death anniversary .
SANGATHI celebration was done in IMPACT ward for kids and mothers participated in rangoli.
UGADHI was celebrated with kids by IMPACT.
HOLI celebration with colorful flowers was done by IMPACT.
Dr. Mohammed Shaa visited the ward and distributed snacks for kids.