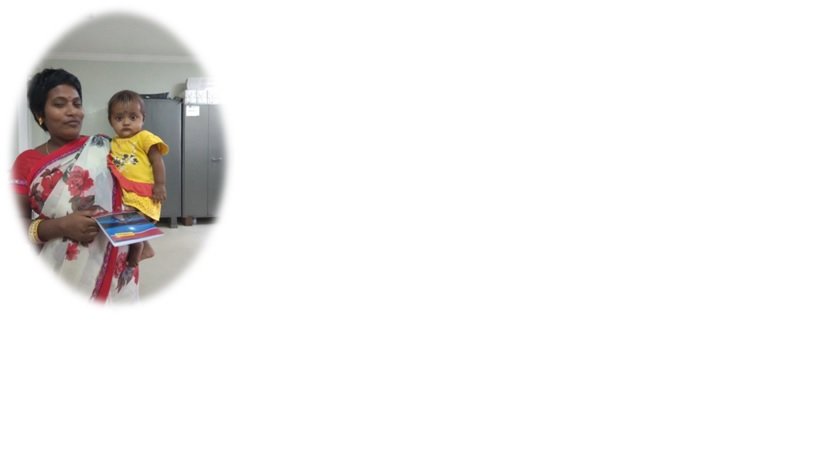 My beloved daughter who is fighting with Blood cancer.
Name : Bindu
Age : 7 month / Female
Diagnosis : Acute Myleiod Leukamia
My name is Gouri. My daughter was detected with blood cancer on 21st December 2017. She was only 7 months old.
The greatest pain in our family was in facing the reality that our child is fighting blood cancer. I have a son who is 3 years old and my husband is a daily labourer. We admitted our child to the pediatric medical oncology ward at MNJ, Hyderabad.
My family members (In-laws and elders) blamed my husband that our child got this disease from me and my son and insisted to take my son for investigations. I forced my husband to admit our daughter to a cancer hospital. But instead, my husband's elder brother took the child to his village; they didn't want us to continue the treatment for cancer. My husband and I tried to convince our family members. With much persuasion and the help of friends and relatives we brought the child for treatment to the cancer hospital.
During the first month of treatment our child faced severe pain and side effects of chemotherapy. We didn't have much hope in her ability to bear the pain. She was fighting each day for her life.
With the help of IMPACT staff at MNJ we were cared for and supported during our painful journey. IMPACT staff members were very kind in helping us financially for purchasing of blood products and for investigation payments.
Presently we have completed the 1st month of induction phase and consolidation phase has started. My child is doing well. I owe my gratitude to the nurses, the doctors who treated my child and all the IMPACT staff member.
I thank my luck for being taken care financially with the help of donors who are unknown to us.
Story of Harshini
Name : Harshini
Age : 2.5 Years / Female
Diagnosis : Ewing's Sarcoma
Address : Khammam.
Harshini is six years old. She is from Kotha Lingala Mandal of Khammam district. Her father's name is Dasu Rao who is working as a daily wages labour and mother's name is Anusha who is a house wife. Harshini priya doesn't have any siblings. She is the only child for her parents. The family is financially poor.
Medical History: In the beginning, the child was unable to pass urine and suffered with stomach pain and swelling. So parents immediately consulted with Mamatha Hospital at Khammam district. There the doctors saw the patient condition and suggested for ultra sound and some scans. After seeing the investigations reports, they identified that child is suffering with piles problems and doctors gave medications for three days. But still the child was not cured.
Then the parents consulted Venkateshwara Hospital. There the doctors suggested for some more investigations like CBP, X-ray and well as urine test. Even after that the doctors was unable to identify the actual cause. So they referred to Srilekha Hospital. There the doctors also suggested same types of investigations. With the help of the investigations, doctors identified a tumor in the stomach and referred the child to Niloufer Hospital which is in Hyderabad.
Immediately parents took the child to Niloufer Hospital and admitted her. But the parents were not satisfied with the treatment of that government hospital.Then the parents took the child to Rainbow private hospital in Hyderabad. There the doctors admitted the child and did some more investigations like Biopsy and CBP tests, after which they confirmed that child is suffering with cancer and they quoted a huge amount for treatment. But the parents were not able to spend such a large amount. So they went to Basvatharaka Cancer Hospital. There the doctors suggested BMA tests and with the help of BMA report they confirmed that the child is suffering with Ewing's Sarcoma, which ia a type of Cancer. The doctors referred them to MNJ Cancer Hospital and parents consulted with the medical oncology doctors at MNJ.
Doctors suggested CBP, LFT/RFT and FNAC tests and confirmed that child is suffering with cancer. Doctors explained about the prognosis and treatment process to their parent and started the treatment.
Psycho-Social Issues: After the explanation of prognosis and treatment process, parents were worried if the child would survive. Presently the child's condition is stable. Both parents are giving good support for the child's treatment.
STATUS REPORT

During the period from December 2017 to January 2018, a total of 1045 children have been treated for cancer in the IMPACT ward.

Transport support

165 Children benefited from our Transport Support.
79children were treated during the month of Dec, 2017.
86 children were treated in the month of Jan, 2018.

Blood Products Support

Total number of children who received blood units free of cost: .
405 children received free blood during the month of Dec, 2017.
509children received free blood during the month of Jan, 2018.


New Admissions

Newly Diagnosed cancer cases in these 2 months are.
47 cases in the month of Dec, 2017.
59 cases in the month of Jan, 2018.

Hygiene Program Support

Hygiene training was imparted to parent/caretakers of children. Following Hygiene aspects were trained and practices imparted.
Bed side cleaning.
Hygiene boxes, Masks and sanitizers were distributed.
Evening Classes

Several events/programs were held for children refreshment and entertainment. Following programs were conducted:
Birthday Celebration
Academic Classes like Mathematics, English and Telugu.
Drawing and Painting classes
Cultural Activity
Building Blocks and Puzzles
Video games, watching movies and Cartoon videos


Medication

Medicines were procured and administered to several needy children.
12 Children got free medicines in Dec, 2017.
18 Children got free medicines in Jan, 2018.
Following medicines were administered with funds from donors. Medicines administered in ICU medical oncology include the followings.
ICU Instruments like NIV MASK and all the necessary items.
Inj.Sodium Bio-Carbonate.
Sterillium
Tab Bactrim DS
Prilox cream.
Volunteering Activities
The following activities were conducted for the kids.
St. Andrew school helped the poor kids with supplements.
NTT Data organized Magic Show.
Blood camp at Dell through MNJ.
GA In SIGHY organized program for kids.
Cancer Helpline organized X-Mas program for kids and distributed snacks.
DHYTHI foundation organized X-Mas program on 1st Anniversary of their foundation.
Lions Club distributed blankets for kids.
Rotary club distributed blankets and snacks for kids.
SIACC Foundation conducted program for kids for NEW YEAR.
REPUBLIC DAY was celebrated with kids by IMPACT.
Sankranti celebration was done by IMPACT.