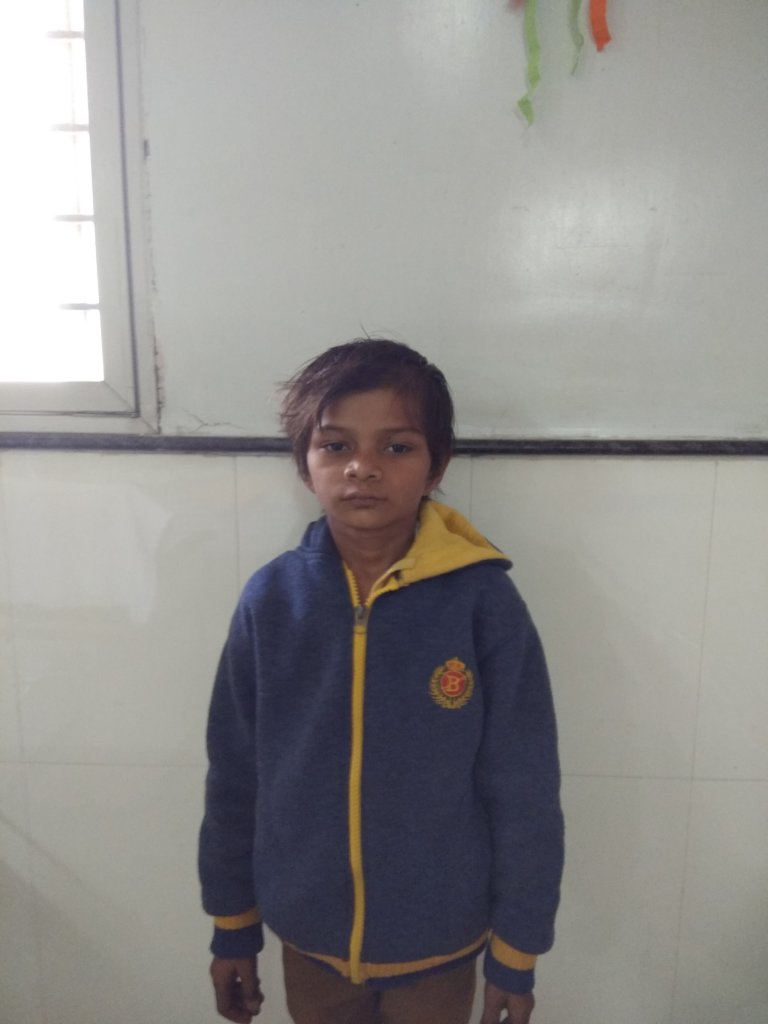 STORY OF A BRAVE YOUNG GIRL

Name : Jaya

Age : 14Years / Female

Diagnosis : AML

Address : Rajamundry

I am the father of Jaya and my wife is 43 years old. My daughter was diagnosed with AML four years ago in 2013. We are from Rajahmundry. Jaya is our second child studying in 10th class who is an active child and a bright student in school and very inclined towards education. We have an elder son studying Intermediate at Sri Chaitanya College.

About four months back, my child was suffered from severe fever. We took her to the nearby RMP doctor and got an injection for the fever. But after three days, the fever recurred. When we were at a relative's marriage, suddenly she has become very sick. Then we took her to The Rajahmundry private Hospital. There doctors observed child and followed up with a dengue test which showed normal results. They did complete blood picture test, which showed very low counts of platelets and HB/high counts of WBC. There the doctors suspected the child with some kind of blood disease referred our child to The MNJ Cancer Hospital at Hyderabad for further investigations. We were in a state of shock as we approached MNJ Hospital and met Dr. Sudha Sinha. The doctors analyzed all the previous reports of our child and advised BMA test to know the diagnosis. After the outcome of result Dr. Sudha Sinha explained the diagnosis of AML to me and my wife. She consoled us and started the treatment. This was followed by 4 months of treatment by MNJ and counselling by Impact.

Impact counselors explained the process of treatment (Chemotherapy) and how it cures the disease of child and provided awareness about the side effects of chemotherapy. I still remember the situation of my child how she was and how we received full support from Impact – blood, finances for travel and medicines as required. They stood by us during the negative situations. In these situations, we were strengthened by the kind words of counselors. We were happy when my daughter completed the treatment successfully. When we were unable to afford the treatment, Impact assured us that they would take responsibility for the entire treatment and need of nutritional support etc.

Finally our daughter has completed the treatment through the support of everyone. I thank all the Impact team and doctors who gave treatment and cured her. Now we are in follow-up routines for next 4 years. Impact fills the needs of children from low psycho-social status families and brings brightness in many children's lives like our child. Thank you.


STORY OF A BRAVE HEART


Name : Parushuram

Age : 8 Years / Male

Diagnosis : Ewings Sarcoma

Address : Sanga reddy


Family History: Parushuram is an eight years old boy. His father is a farmer and his mother is a house wife. Their economical condition is not well.

Medical History: At first, patient felt pain in mouth. They took him to Kangti Hospital. They administered medicines but there was no improvement. They again went to the doctor, who admitted the child in the hospital. After few days, the child got bleeding from nose. By seeing the situation of child, Kangti Hospital doctors referred the child to Bidar Hospital. They did CT Scan and blood test. After receiving the report, they referred the child to Koti ENT hospital at Hyderabad. They did further blood tests, CT Scans and a biopsy. Doctor found a tumor and identified it as cancer and sent them to MNJ Cancer Hospital. At MNJ Cancer Hospital, they met the medical oncologist Dr. Sudha Sinha. She suggested a re-biopsy and admitted the patient in the pediatric ward for treatment.

The patient was identified with Ewing's Sarcoma. The doctors at MNJ Hospital started treatment of Ewing's Sarcoma. Presently, the child is undergoing chemotherapy. The child is taking treatments regularly under the good care, guidance and support of the IMPACT counselors.

Psycho-Social Issues:

The patient's parents solved all their doubts through the counseling by counselors.
The counselors explained the treatment process to the patient and solved all their queries. They were explained the precautions to take during the treatment.
The counselors provided emotional support for the child and parents.

STATUS REPORT

During the period from October 2017 to November 2017, a total of 1045 children have been treated for cancer. Out of these kids, 140 children were in-patients in the IMPACT ward.

Transport support

165 Children benefited from our Transport Support.

79children were treated during the month of Oct ,2017.
86 children were treated in the month of Nov , 2017.


Blood Products Support

Total number of children who received blood units free of cost: .

375 children received free blood during the month of Oct , 2017.
309children received free blood during the month of Nov , 2017.

New Admissions

Newly Diagnosed cancer cases in these 2 months are.

35 cases in the month of Oct , 2017.
52 cases in the month of Nov , 2017.

Hygiene Program / Support

Hygiene training was imparted to parent/caretakers of children.

Following Hygiene aspects were trained and practices imparted.

Bed side cleaning.
Hygiene boxes, Masks and sanitizers were distributed.

Evening Classes

Several events/programs were held for children refreshment and entertainment.

Following programs were conducted:

Birthday Celebration
Academic Classes like Mathematics, English and Telugu.
Drawing and Painting classes
Cultural Activity
Building Blocks and Puzzles
Video games, watching movies and Cartoon videos

Medication

Medicines were procured and administered to several needy children.

23 Children got free medicines in Aug, 2017.
18 Children got free medicines in Sep, 2017.

Following medicines were administered with funds from donors.

Medicines administered include the followings.

Inj.Tigi 50 mg
Inj.Ethyal predmoslve 250mg.
Tabs. Endoxan 50mg.
Tab. Lastet 50mg,
Tomoxefen 20mg.
Methofast 50 mg.
Syp. Zocovit.
Syp. Kids care plus
Inj. Endoxan 500mg.
Inj.Colistine 10 lakhs(Veils)
Inj.Clindazine 300 mg


Volunteering Activities

Birthday celebration of Pt Satwik.
Children's Day celebration by Director organized through the help of Deloitte IMPACT kids who are admitted to ward.
Rakshitha Foundation entertainment programme was organized for the Kids.
Aasiya Foundation organized kids activity for IMPACT on every Saturdays.
Chandana and her friends took initiative for children's activity.
Mrs Kumari relatives took initiative for a small for the kids at IMPACT Ward.
DIYA JYOTHI Foundation organized entertainment programme for the kids.
Drawing competition for kids was organized by CIPLA company for the kids.
Helping Hands foundation participate in the joy of our kids at IMPACT ward.
Mr.Ram and Anitha visited the ward.