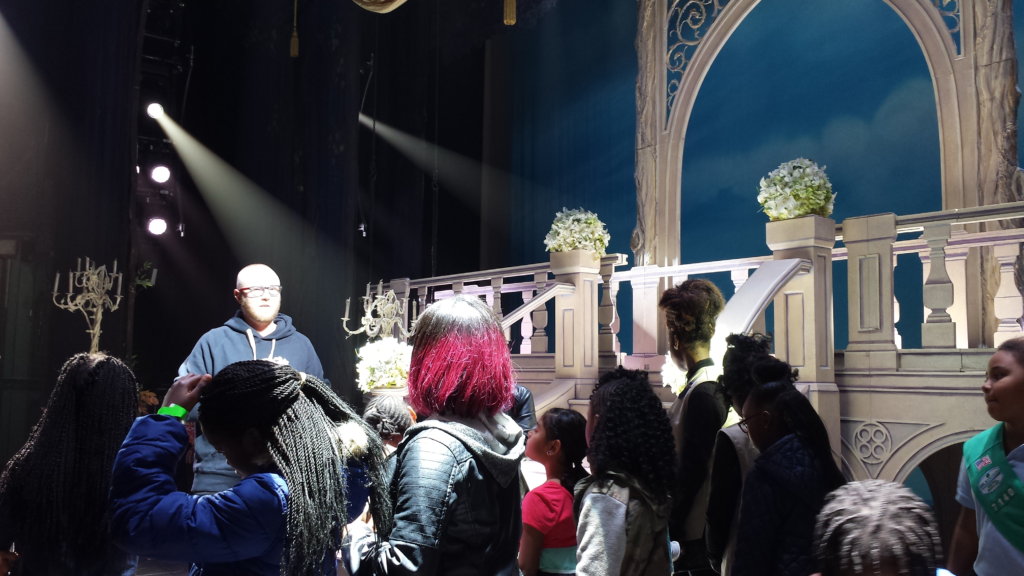 The holiday times for most of us are filled with family and friends, fun and laughter, gifts and good food. Knowing that the girls we serve through "Beyond Bars" may have a more difficult time during this time of year, we made sure that these girls know that they matter. Thanks to your generosity, we have been able to include more activities and learning experiences for these young women. Over the past several weeks, we have embarked on enriching field trips such as the Women's Heritage History Museum, where they learned about strong women and were exposed to various career fields.
Another recent highlight is a field trip to a local live theatre production of Cinderella. The story of Cinderella -- perhaps one of the best-known children's tales and read to children at a very young age -- is not just one story. More than 500 versions have been found with origins dating back to the ninth century. The Cinderella of the 21st Century is more reflective of the original version of this story - a girl who is self-reliant and willing to make her own future. This message resonated with each GSBB girl attending the live play. As a bonus, girls were taught about the many jobs it takes to produce a live play, learned about musical scores and the equipment and technology required to deliver a live play. The experience of live theatre was a first for many of them.
Over the past several months, we have taken extra care to let the girls enjoy a spirit of Thanksgiving and giving back. We have engaged them in activities that help them create joy for others. They made fleece blankets and donated them to the Meals on Wheels Program to be delivered with meals at the homes of home-bound residents. During this time, each girl worked on her "journey," a name given to a special Girl Scout process that culminates in earning a badge. The journey for the girls was titled "Agent of Change." This is all part of making the girls feel empowered with control over their life and surroundings, something they have had abruptly disrupted with the incarceration of their mothers. This journey slowly allows them to see a return of their world to their control, and produces great byproducts such as increased self-worth and confidence. They learn to be great within themselves, and to know they can achieve great things despite the challenges they have faced at a young age. They learn that they don't have to accept being abused or neglected or turn to drugs to escape.
Girls have also learned during this time to cook together - something they cannot learn from their moms. These experiences form a bond between these girls, that history with this program has shown us lasts into their adulthood.
This year marks the 25th Anniversary of the Girl Scouts Beyond Bars program. We are one of the few programs in our State that allows for trips to the prison to visit with moms. We are granted this privilege by the Maryland Correctional Institution for Women because of the great care we take with the girls and with the rules we must observe while we are inside the institution. An overnight stay is allowed once each year and is a special treat for both mothers and daughters, who rarely have this time for closeness. We plan to make the 25th year special in many ways for the girls, as well as reach out to alums of this program. We hope you will continue to support this worthwhile investment in the future of very vulnerable young women at a critical period in their lives.