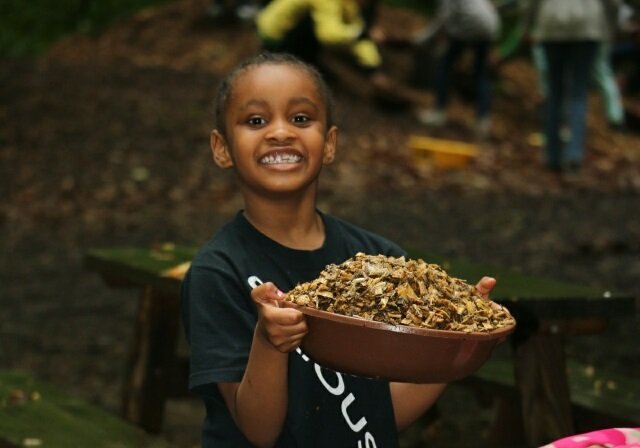 Thanks to generous donors like you, we were able to purchase a van for transporting girls to the Maryland Correction Insitution for Women (MCIW) for troop meeting and to other activities. Since then, our girls have been on the move!
In April, during a troop meeting at MCIW, girls and their mothers planned the Annual Sleepover, which was held at MCIW in April with a luau theme: grass skirts, leis, Hawaiian pizza and decorations. Eighteen girls, 11 mothers and five volunteers participated in the sleepover. In addition to sharing dinner and breakfast, girls spent time with their mothers doing badge work, arts and crafts, and playing games.
In May a troop meeting focusing on first aid was held at the Girl Scout of Central Maryland's (GSCM) Seton office. A police officer and three nurses taught the girls how to recognize signs of injury and get help from 911. Volunteers helped girls create first aid kits and bandage-themed SWAPS. Later in May, 15 girls had a weekend at Camp Woodlands in Annapolis. Although the weekend was rainy and chilly, the girls had fun learning about animals from a Girl Scout ranger, and cooking s'more treats. They also created skits, did science projects and completed two service projects at the camp.
On June 18, a investiture, bridging and rededication took place at MCIW. New girls received their uniforms and older girls received this year's badges or next-level uniforms, while their mothers applauded.
With the support of donors like you, Girl Scouts Beyond Bars gives girls with incarcerated mothers a more normal childhood. The camping trips, the sleepovers, the investitures--these are are critical activities that help our girls, who are often isolated and stigmatized by their peers, overcome these obstacles and gain the confidence and strength they need to succeed in life.
Over 1,000 women and daughters have been touched by the Maryland Beyond Bars program, and many more have benefitted. Thank you for helping Girl Scouts of Central Maryland make a difference with Beyond Bars!
Links: