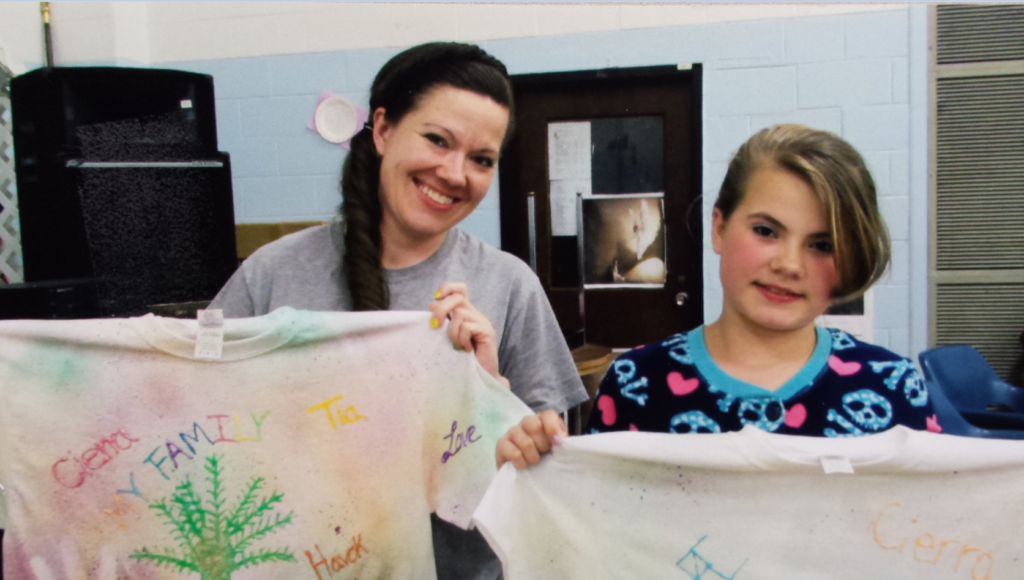 On My Honor…Be a Sister to Every Girl Scout.
We started our meeting as usual, with an opening circle. Yet this one was different; it was bittersweet. "On My Honor, I will try…" Those were the words that were gently spoken by our oldest scout, Jamie, as she opened her last meeting as a Girl Scout in Troop 7856. This year, Jamie became an 18-year-old high school graduate. She has been a member of Girl Scouts Beyond Bars (GSBB) since kindergarten and this was her last meeting. She had being coming to see her mom, Anne Marie, at the Maryland Correctional Institution for Women even before she was able to participate in the Girl Scouts Beyond Bars program. But it was through this program that Jamie was able to share intimate moments that don't happen during a regular visit when a mother is incarcerated. During the past 13 years of scouting in GSBB, Jamie has been to Africa and Costa Rica, gone camping and attended annual GSBB sleepovers with her mom.
Jamie stepped into the circle and began reciting the Girl Scout Promise and Law. Domonique, Program Specialist for Girl Scouts Beyond Bars Program, nudged Anne Marie to join her daughter in the circle but Anne Marie held back -- until Jamie reached out her hand and gingerly pulled her mother into the circle with her. They recited the rest of the Girl Scout Law arm in arm. With their arms still interlocked, Jamie and her mom rejoined the circle and Jamie explained why she had been selected to open the meeting. "It has been a great 13 years here with my mom and this is my last meeting," she explained.
And then the moment came, time to say goodbye to her mom and "sisters"/fellow Girl Scouts. Jamie hugged her mom and eased out of the door. It is what happened next that solidified how impactful and necessary this program truly is. Justice, who has also participated in the Beyond Bars program since her early elementary school days, turned to Jamie, linked arms and said, "We've been in this together for awhile… since Amanda" (Jamie's older sister Amanda had previously aged out of the program).
"Yep, soon it will be your turn," Jamie said to Justice. Justice will be the next girl in the troop to graduate from high school and age out of the Beyond Bars program. The two girls are of different races, from different counties, with different post-high school aspirations. But, unified through Girl Scouts Beyond Bars, they remained linked arm in arm as they walked out of the prison gymnasium, up the stairs, down a long hallway, through the gate house, all the way to the front entrance of the prison, while talking about their years and experiences in Girl Scouts Beyond Bars. It is moments like this, which most people don't see, that make this program worth every donation and more.
To our supporters and friends, we want to give you the good news that Girl Scouts of Central Maryland has been given a generous donation by a local foundation, which makes the purchase of a van much closer to a reality for us. Our Beyond Bars program has been busy this fall, with a Career Fair and other activities. We registered mothers and girls for the new Girl Scout year, which began October 1. Uniforms and books were purchased for new girls joining our GSBB troops.
During our most recent sleepover at the prison, the girls and their moms decorated T-shirts to memorialize their time together. One mom and daughter show off their beautiful work in the photo below.
Please help us buy our van before the cold weather sets in. We need just $6,000 more to buy a passenger van outright. A gift by October 21, 2015 will also secure our place in the Global Giving Open Challenge.